Alen BreatheSmart Flex is the smallest member of the Alen BreatheSmart series air purifiers. It has the same design and filters as other BreatheSmart air purifiers, only in smaller form factors. You can choose from the different front panel design options and filter types. It is also completely ozone-free as it has no ionizers.
Here is our in-depth review of the Alen BreatheSmart Flex Air Purifier.
Let's go.
Jump to: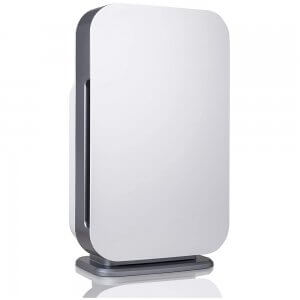 Alen BreatheSmart Flex Specifications:
Parameter
Value
Filtration Technology

Mechanical 3-Stage: Foam-type pre-filter, HEPA filter, and *activated carbon filter. (*4 types of filter you can choose from)
Electronic: none.

Common air cleaning technologies of air purifiers.
HEPA Class

True HEPA

Filter Life
9 - 12 months
Maximum CADR
187 cubic feet per minute (cfm)
Room Coverage (8 ft ceilings)
280 sq ft with 5 air changes per hour (calculate ACH for your room)
Sensors
❌
Fan Speeds
4
Automatic Mode

❌
Noise Level
39 - 55 dB(A)
Rated Power
56 Watt
Weight
15 lbs
Dimensions
25″H x 15″W x 8.5″D
Deal Alert
Alen FLEX Air Purifier, Quiet Air Flow for Large Rooms, 700 SqFt, Air...
RECOMMENDED FOR: Capturing dust, dander, small airborne particles, pet fur, and odors. Sleek design fits in any space from small to...
B4-PURE FILTER: Standard filter that helps capture asthma and allergy triggers.
TRUE HEPA: Includes a Medical Grade H13 True HEPA layer that captures 99.99% airborne particles larger than 0.1 micron. True HEPA...
CLEANS AIR FAST: Cleans 700 SqFt every 30 minutes, twice as fast as key competitors on Turbo speed. Perfect for any space from small to...
PERFECT GIFT WITH A RANGE OF APPLICATIONS: Alen air purifiers aim to maintain our community's health and wellness with cleaner pure...
Last update on 2023-01-27 at 20:43 / Affiliate links / Images from Amazon Product Advertising API
In-depth Review of Alen BreatheSmart Flex Air Purifier:
Alen is an American brand based in Austin. It's one of the top-rated air purifier manufacturers globally. The company's mission is to improve people's lives by making the best air purifiers. Speaking of air purifiers, one of the best-selling units built by the company is the Alen BreatheSmart Flex Air Purifier.
Here are its features.
Elegant Design
The Alen BreatheSmart Flex Air Purifier has a stylish and elegant design. As a good-looking purifier, it features a design panel that you can customize. The panels come in six premium finishes – White, Brushed Stainless, Espresso, Weathered Gray, Oak, and Graphite.
These multiple-colored panels compliment your home decor.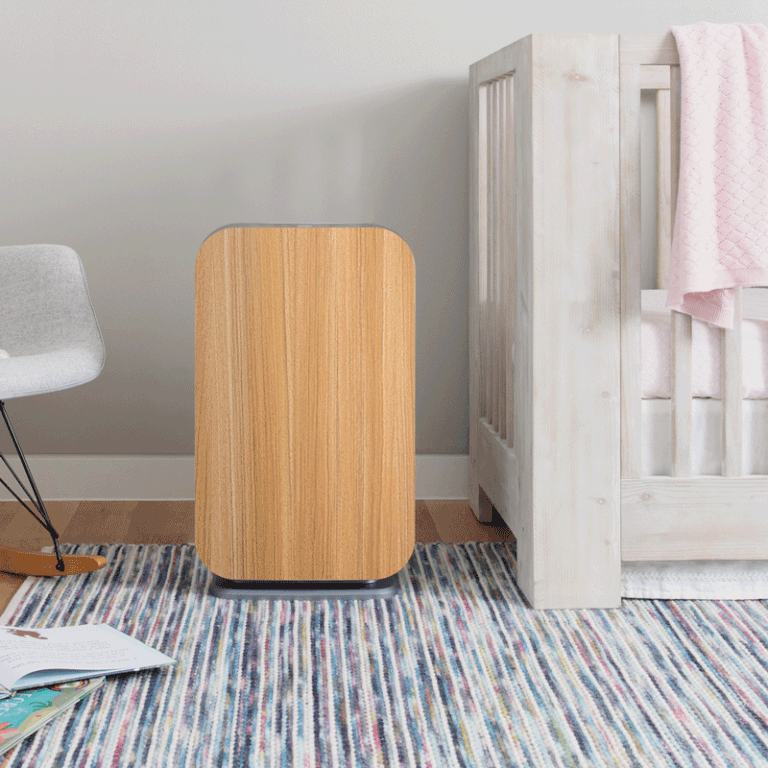 This unit has the following dimensions – 25 by 15 by 8.5 inches and weighs 15 pounds. It is one of the slimmest and lightweight models from Alen. As such, you can move the unit from room to room with ease.
As a floor model, it will not take up much space for its space-saving design. The intakes are on the side, which means the unit takes in air from the sides and distributes it via the top outlet on the back. As such, you can place this unit close to or against a wall without compromising its performance.
The touch control panel is at the top of the unit. It has the following controls – filter reset, timer, power button, speed, and child lock function.
To turn on/off the purifier, tap the power button once. Next, select fan speed. This unit has three fan speeds plus Turbo mode.
At all fan speeds, the purifier generates pink noise. This has a lower tone than white noise and helps you sleep up to 25% better. In fact, it sounds like a gentle rain. This means you can run this unit all night long at lower speeds and still enjoy your sleep.
The touch controls are easy to use with no tricky interface to navigate.
Higher-Grade H13 True HEPA
The Alen BreatheSmart Flex Air Purifier has a deep bed H13 True HEPA filter to remove particulate allergens. This layer removes 99.99% of airborne particles as small as 0.1 microns. It traps both small and large particles, including pollen, fine dust, smoke particles, viruses, and other microorganisms.
Alen BreatheSmart Flex has four types of filters you can choose from:
Standard (B4-Pure): Pre & H13 HEPA filter, no odor filter. Suitable for allergens (pollen, dust, pet dander) control.
True HEPA Fresh Filter (B4-Fresh): Pre, H13 HEPA, and 0.66 lbs of activated carbon. Suitable for both allergens and odor control.
True HEPA-OdorCell Filter (B4-Odor): Pre, H13 HEPA, and odor adsorbing material. Suitable for strong odors and allergens control.
True HEPA-Smoke Filter (FL40-H): Pre, H13 HEPA, and 2.3 lbs of activated carbon. Suitable for heavy smoke and odors plus allergens control.
The standard filter has no odor filter. So, if you don't need to control odor, you can save money by selecting the standard filter.
Speaking of the activated carbon filter (B4-Fresh), it's composed of 0.66 pounds of activated carbon pellets. It adsorbs medium to strong smells and VOCs. You can select the Heavy Smoke filter for strong odors and VOCs, which has 2.3 pounds of activated carbon pellets.
Activated carbon often re-release chemicals after adsorbing. To solve this problem, Alen also has the OdorCell filter. This filter has nontoxic adsorbing material to neutralizes odors without off-gassing.
All of the composite filters last 9 to 12 months at recommended 24 hours per day operation. The unit has a filter replacement indicator that informs you when to replace the filter. By replacing the filter, you ensure the continuous delivery of clean air in the room.
Room Coverage and Noise
The Alen BreatheSmart Flex Air Purifier has a maximum CADR of 187 cfm. It can clean 700 square feet every 30 minutes or 280 square feet every 12 minutes ideally. That's why it's perfect for medium and large living spaces—for example, bedrooms, living rooms, guest rooms, offices, bathrooms, and kitchens.
At the lowest fan speed, the sound level of the purifier is 39 decibels. This is higher than a whisper but lower than a refrigerator humming (40dB). Despite this, you can run the unit all night long without interrupting your sleep. The reason is the purifier features WhisperMax technology. This technology allows the Alen BreatheSmart Flex Air Purifier to emit a frequency called pink noise.
This frequency has a lower tone than white noise. Pink noise reduces jarring noises, which jolt you out of sleep. Such noises include a car horn honking, someone snoring or a door slamming. Thanks to the pink noise, you can fall asleep faster and have a deeper sleep longer. Also, you'll feel rested when you wake up.
Besides whisper-quiet operation, the purifier is Energy Star, and CARB certified. At max fan speed or Turbo mode, the unit consumes 56 watts and 0.8 watts on standby. If you run the air purifier for 12 hours a day at 56 watts, it will consume 0.672 kWh/day and 20.16 kWh/month.
Running this purifier at the lowest setting will cost you less than 50 cents a month. This saves you on your energy costs.
As a no-electronic and CARB-certified purifier, it does not emit ozone. If exposed for longer periods, ozone can harm lung tissue and worsen asthma and bronchitis. Since the purifier does not emit ozone, you and your family can continue to breathe fresh, clean air.
Suitable Room Size for Alen BreatheSmart Flex:
*The room size calculation is based on an ideal situation. For best practice, consider the size of the room a little less than the calculated value.
If you have higher ceilings, then use our Air Changes per Hour Calculator to calculate the suitable room size.
Alen BreatheSmart Flex Operating Costs:
Filter Replacement Cost: ~ $64, 4 months (3000 hrs) usage (check availability & filter price).
Monthly Energy Consumption: ~ $1.7 (based on 12 cents per kWh and 12 hours use on turbo mode per day). Use our Energy Usage Calculator to find out the bill based on your usage and the local energy rate.
Official Introduction Video:
Last update on 2023-01-27 at 20:43 / Affiliate links / Images from Amazon Product Advertising API
Pros & Cons:
Check out our review >>> Alen BreatheSmart Fit50 Air Purifier.
Questions and Answers
Q. My apartment is 1,200 square feet with a bedroom and living room. Will one Alen BreatheSmart FLEX Air Purifier meet my needs efficiently?
A. The Alen BreatheSmart FLEX Air Purifier can clean up to 700 square feet (2 times per hour). For efficient removal of airborne particles, it's best to get two and place one in each room. If you can only buy one, place it in the room you spend the most time in. We recommend the bedroom as indoor air pollutants can affect your sleep quality.
Q. How many filters are in the unit?
A. The Alen BreatheSmart FLEX Air Purifier has 4 types of filters. The standard one has a foam-type pre-filter and a HEPA filter. The rest have a foam-type pre-filter and a composite filter (HEPA + odor).
Q. Is this purifier ozone-free?
A. Yes, the purifier is ozone-free. It has no ionizer or any other electronic filtrations, certified by the California Air Resources Board.
Final Thoughts
The BreatheSmart FLEX Air Purifier is a stylish and modern air purifier, perfect for medium-sized rooms. It comes with a long-lasting H13 HEPA filter that removes 99.99% of airborne pollutants as small as 0.1 microns. This includes aerosolized viruses, smoke, and allergens.
If you want to protect you and your family from indoor air pollutants, we recommend the Alen BreatheSmart FLEX Air Purifier.