The Awair Element is a retro-looking modern air quality sensor that can monitor five major air quality metrics. It's a lightweight 6-inch USB-powered smart air quality sensor, which you can pair with your smartphone via Wi-Fi. Also, you can check all of the air quality metrics and an overall score (Air Quality Index – AQI) from the monitor itself.
In this Awair Element review, we discuss its specs, top features, pros, and cons based on in-depth market research.
Let's go.
Jump to…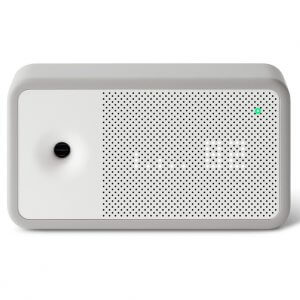 Awair Element Specifications:
| Parameter | Value |
| --- | --- |
| Number of Sensors | 5 |
| Sensors | Particulate Matter (PM2.5), Volatile Organic Compounds (VOCs), Carbon Dioxide (CO2), Temperature, and Humidity. |
| Onboard Air Quality Display | ✔️ (colored LED indicator and dot matrix display for air quality levels and the AQI score) |
| Smart App Support | Both iOS and Android (Link: App Store, Google Play) |
| Smart Home Connectivity | Amazon Alexa, Google Assistant, and IFTTT |
| Supported Wi-Fi Network | 2.4GHz only |
| Power | 5V USB Type-C. Comes with a USB cable and a power adapter. |
| Battery | ❌ |
| Weight | 1.15 lbs |
| Dimensions | 6.06"L x 1.8"D x 3.33"H |
Awair Element Indoor Air Quality Monitor - AQM8002A
KNOW YOUR AIR - Track temperature, humidity, carbon dioxide (CO2), chemicals (VOCs), and particulate matter (PM2. 5) in your space
GAIN ACTIONABLE INSIGHT - Receive real-time insight into your indoor air quality and track changes over time in the Awair Home app
TRANSFORM YOUR ENVIRONMENT - Browse in-app feedback and tips to improve the health of your space
SMART ASSISTANT INTEGRATIONS - Seamlessly integrate Element with Alexa or Google Assistant
WI-FI CONNECTED DEVICE - Awair Element requires Bluetooth (for setup) and a 2.4 GHz Wi-Fi Connection.
In-depth Review of Awair Element Air Quality Monitor:
Awair is the brainchild of two long-time friends, Ronald Ro and Kevin Cho. They founded the company in 2013 with a mission to make smart home solutions to create a safe living environment for families around the world.
One of their latest air quality monitors is the Awair Element. Here are the top features:
5 Air Quality Sensors
If you are looking for a device to track both odors and particulates, this is for you. The Awair Element can track temperature, humidity, carbon dioxide, VOCs, and PM2.5 (microscopic particles). Here is how these factors affect the quality of your life.
Temperature influences your sleep quality and performance. Too little or too much moisture in the air is not suitable for your health. Also, molds grow in humid conditions.
High levels of carbon dioxide in your home can trigger headaches, fatigue, and impaired decision-making. Building materials, furniture, and cleaning products emit VOCs, which are also harmful.
Breathing microscopic particles are also not healthier. With the Awair Element, you can get all these vital air quality metrics reading from a single unit.
To keep the results accurate, Awair uses advanced sensors and algorithms. For example, the Carbon Dioxide sensor has an algorithm to achieve accurate results over time by self-correcting itself, known as Dynamic Automatic Background Calibration Logic (ABC Logic).
However, you have to manually recalibrate some sensors like the TVOC sensor when you changed the sensor location. Also, you have to place it properly. It should leave at least an inch of space around it. Keep it a little higher to catch the carbon dioxide as it tends to rise upwards.
Awair Element Sensors Specifications:
| AQI Metric | Unit | Sensor Type | Range | Tolerance |
| --- | --- | --- | --- | --- |
| Fine Dust (PM2.5) | µg/m3 | Laser sensor | 0 to 1000 µg/m3 | ±15 µg/m³ / or ±15% |
| Chemicals (VOCs) | ppb | Metal oxide TVOC sensor | 0 to 60,000 ppb | ±10% |
| Carbon Dioxide (CO₂) | ppm | NDIR carbon dioxide sensor | 400 to 5,000 ppm | ±75ppm / or 10% |
| Temperature | °C | Combined temperature and relative humidity sensor | -40 to 125°C (-40 to 257°F) | ±0.2°C |
| Relative Humidity | % | Combined temperature and relative humidity sensor | 0 to 100% | ±2% RH |
Sleek Design
A glance at the Awair Element air quality monitor may lead you to believe it's a smart Bluetooth speaker. Well, the resemblance is uncanny, but it cannot play any music or store your playlist.
It can send alerts when it detects the rising levels of a particular air quality factor. For example, if the device detects a drop in temperature, it will alert you to adjust your thermostat settings.
Cold temperature aids in the spread of diseases. By increasing the room temperature, your immune system gets to function normally.
Back to the design of the air quality monitor. It has a box-like design with the following dimensions 6.06 by 1.8 by 3.33 inches. White/gray and portable, it weighs 18 ounces which means, you will not have trouble moving it around.
The front of the device has a simple design too. On the front panel, you have a set of LEDs matrix. These lights shine through the panel holes to form numbers and bar graphs. The numbers and bar graphs indicate a variety of air quality levels.
You need to know that the device tracks all five air quality factors and compares them on a scale of 1 to 5. If the device displays a single dot, that factor is healthy, and 5 dots mean the factor is unhealthy.
It also computes all scores to display an overall score between 1 and 100. There are three tiers:
0 to 59 – poor
60 to 79 – fair
80 to 100 – good
For example, if the device displays a score of 83 and above, all the air quality factors are at the desired level. The device also has a single LED indicator in the upper right corner of the front panel.
If the indicator displays a green light, everything is good, but the air quality is not good if it shows red.
Awair Smart App
You can monitor the air quality in your living space on the go using the Awair app. The app provides readings from all five sensors. Besides that, it can monitor sensor readings from multiple Awair monitors. For example, you can place an air quality monitor in your kitchen, bedroom, and living room.
On your app, you will receive the overall score and readings from all these devices. This makes it easy for you to identify pollution sources and take steps to mitigate the problem. For example, if you are cooking in the kitchen, the air quality monitor will alert you of increased temperatures in the kitchen via the app.
It will also offer tips to lower the temperature, such as running your AC. To track changes in your air quality, navigate to the Trend tab on your app. A color-coded line graph will display the trend. The graph allows you to see how your actions impact the health and air quality in your home.
Smart Home Integrations
Awair Element is also compatible with smart assistant devices such as Google Home and Amazon Alexa. These devices allow you to check the air quality monitor using voice commands.
To connect your air quality device to Google Assistant, follow these steps:
First, open Google Assistant on your smartphone.
Second, issue a simple voice command like "Ok Google, Ask Awair." The smart assistant will redirect you to a page where you must enter your Awair email and password
Third, if your details are correct, Google Assistant should link to your Awair air quality monitor. You should also receive a notification.
Now, to find out the score of the air quality factors, speak the following phrase: "Ok Google, ask Awair the humidity." Besides connecting the Awair air quality monitor to Google Assistant via your smartphone, you can do so via a Google Home device.
Pros & Cons:
Check out our top picks >>> The 7 Best Air Quality Monitor.
Awair Element vs. Awair 2nd Edition
The Awair Element and Awair 2nd Edition are great air quality sensors. They measure humidity, temperature, VOCs, carbon dioxide, and PM2.5. Besides measuring the air quality factors, they offer recommendations to your Awair app.
For example, if the temperature in a room is high, the device will alert you to turn on your air conditioner.
Besides their similarities, the devices have a couple of differences.
Design
The Awair Element has a sleek design, but the enclosure is plastic. For the Awair 2nd Edition, the enclosure is made of North American walnut timber. Due to this, the 2nd Edition allows for the knocking feature. Also, the use of timber gives the device a stylish look.
Sound Alert
The Awair Element can send alerts and notifications to your app, notifying you of changes in the air quality. But the device itself does not generate any sound alerts, unlike the Awair 2nd Edition.
Knock-activated Display Change
The Awair 2nd Edition has a knock-activated display change feature, which allows you to check the time or AQI score (from default display settings) for 10 seconds. But the Awair Element lacks the feature.
Awair Air Quality Monitor
Classic
Awair 2nd Edition
Image
Sensors
PM2.5, TVOC, CO2, Temperature, and Humidity
PM2.5, TVOC, CO2, Temperature, and Humidity
Device sound alert, Double knock feature
Low Cost
Awair Air Quality Monitor
Image
Sensors
PM2.5, TVOC, CO2, Temperature, and Humidity
Device sound alert, Double knock feature
Classic
Awair Air Quality Monitor
Image
Sensors
PM2.5, TVOC, CO2, Temperature, and Humidity
Device sound alert, Double knock feature
Questions and Answers
Q. Can the Awair Element detect leaking gas from a heating unit or stove?
A. No, you need a carbon monoxide detector, a safety device with carbon monoxide sensors. The air quality monitor offers carbon dioxide readings only.
Q. Will this detect cigarette smoke?
A. The device can detect cigarette smoke as long as the source is close to the device. For second-hand cigarette smoke, the device may not detect the smoke.
Q. Does the device break down the VOCs specifically, or does it display one reading for all VOCs?
A. The air quality monitor displays readings from all VOCs.
Q. Should I recalibrate the sensors over time?
A. All the sensors are factory calibrated. However, you have to recalibrate the TVOC sensor if you move the sensor to a new environment. It's easy, and there is a guide in the app.
Final Thoughts
If you want to create a healthy living environment for your family and discover pollution sources in your home, you need the Awair Element. The device has five sensors that can monitor humidity, temperature, VOCs, carbon dioxide, and dust particles. You can check the AQI score on the device or from the app.
With its accurate readings and integration with smart assistants, this is an excellent choice for people who want to transform their living environment.