If you are a big fan of vintage design in modern appliances and you need an all-round air purification device, then this Bissell air320 air purifier could be a perfect fit for you. The intuitive design with super air filtration capability from both particles and odors makes it a great minimalist air purifier.
In our Bissell air320 review, we discuss the specs, features of the air purifier as well as its pros and cons. After reading this, you will know whether it is the right air purifier for your home or office.
Jump to…
Bissell air320 Specifications:
Filtration: Separate 3 stage fabric pre-filter, HEPA, and activated carbon filter
HEPA class: True HEPA ( 99% removal of 0.3 microns particle)
Filter life: 6 months
CADR: 136 cubic feet per minute (cfm)
Room Coverage: 205 square feet with 5 air exchange per hour
Sensors: Particle (PM2.5) sensor, ambient light sensor
Number of manual fan speed: 5
Automatic mode: Yes
Size: 14.5″W x 8.3″D x 24″H
Device weight: 18.3 lbs
Noise level: 24 – 50 dB
Rated Power: 45 Watt (0.97 Amps at 120V)
Voltage: 120 V AC 60 Hz
Model No: 2768A
Bissell air320 Smart Air Purifier with HEPA and Carbon Filters for Large...
Every Bissell purchase helps save pets. Bissell proudly supports Bissell Pet Foundation and its mission to help save homeless pets.
3 Stage Filtration. Includes a fabric pre-filter, an activated carbon filter and a HEPA filter which captures 99.97% of 0.3 micron...
Honeycomb-Structured Filter. Activated carbon filter captures gases and VOC's including odors from pets, cooking, smoke, and other...
Automated CirQulate System. Monitors and provides indoor air quality readings in real-time and adjusts to the appropriate fan speed.
Peaceful Sleeping Environment. Whisper-quiet fan speed option and automated night mode make it the perfect addition for bedrooms.
Check out other Bissell air purifiers:
In-depth Review of Bissell air320:
3-Stage Filtration: A pro tip to help you out when shopping for an air purifier is that the more filters it has, the more capable it is in removing pollutants from the air. In this case, the Bissell air320 has a 3-stage filtration, which entails a fabric pre-filter, a high-efficiency filter, and finally, a honeycomb activated carbon filter.
In the first line of this air purifier's defense is the fabric pre-filter. Its role is to hold back bigger particles also protect the high-efficiency filter. Other than that, it also acts as the front cover of the device. Bissell recommends to vacuum it occasionally to remove dust from the front panel.
The second stage is the high-efficiency filter, which is the primary filter of the air purifier. It removes 99% of the remaining smaller particles that passed the fabric pre-filter, which include the tiniest pieces of dust, pollens, and smoke particles at 0.3 microns and larger.
Finally, we have a honeycomb structured activated carbon filter whose role is to trap odors and VOCs. It will absorb cooking odors, pet odors, and some types of VOCs.
However, to ensure it functions optimally, both HEPA and carbon filters should be replaced every six months.
Check out our review >>> The 9 Best Air Purifier for Smoke.
Auto Mode, Air Quality Sensor: Other than purifying air, the Bissell air320 allows you to set it on auto mode. When sets on auto mode, it will adjust the fan speed based on the surrounding air quality. This feature will not only just save energy but also increases the filter lifespan.
Being one of the most advanced air purifiers in the market, the Bissell air320 boasts of having a particle (PM2.5) sensor. Not only it just helps to adjust the fan speed automatically, but also it shows the realtime particle count on the beautiful dot matrix digital display and with a color light indicator.
Auto Night Mode: When the darkness kicks in, this device automatically switches to sleep mode, thanks to the ambient light sensor. The LED lights go off to avoid distracting you when you are asleep.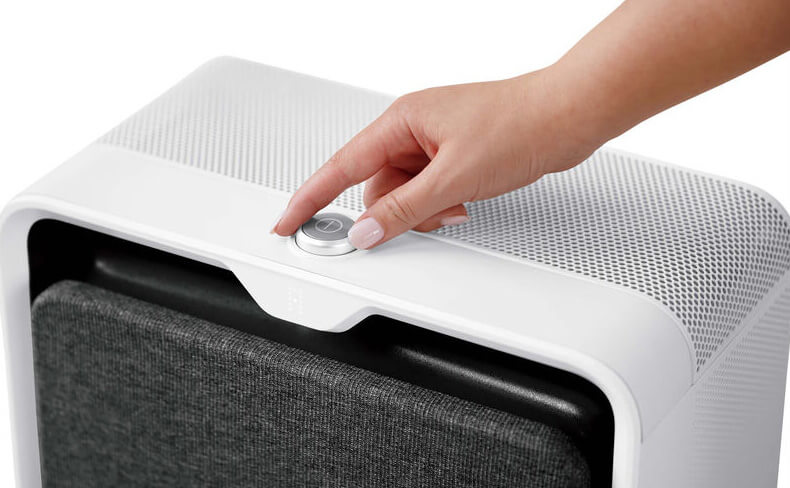 Aesthetics, Retro-modern Design: If you are looking for an air purifier that will clean your air and also complement your decor, then the Bissell air320 is a suitable choice. It is a modern device with a vintage look. Despite being a bit bigger, the sleek design allows you to keep it against the wall.
The four faux legs allow it to stand firmly on the ground and keep it elevated, making it easy to clean the floor beneath it. As mentioned earlier, the cloth pre-filter features a subtle grey color that can blend with any theme or style. There is a cord storage in the back that ensures extra cord doesn't lie on the ground, tampering with your home aesthetics.
Suitable Room Size for Bissell air320:
*The room size calculation is based on an ideal situation. For best practice, consider the size of the room a little less than the calculated value.
If you have higher ceilings, then use our Air Changes per Hour Calculator to calculate the suitable room size.
Operating Costs:
Annual Filter Replacement: ~ $82 for all filters. $44 for HEPA filter based on 6-month use per filter (check availability & filter price) and $38 for carbon filter based on 6-month use per filter (check availability & filter price).
Monthly Energy Consumption: ~ $5 (based on 12 cents per kWh and 12 hours use on top speed per day). Use our Energy Consumption Calculator to find out the bill based on your usage and the local energy rate.
Pros & Cons:
Questions and Answers:
Q. When should I change the filters?
A. According to Bissell, these filters should be replaced every six months. You have to vacuum the fabric front panel occasionally.
Q. Does it emit ozone?
A. The Bissell air320 is a 100% ozone-free air purifier. It's because it doesn't have electronic filters. Also, the unit is CARB approved air purifier.
Q. Are the filters washable?
A. The fabric pre-filter can be washed, whereas the other two should be replaced as recommended.
Final Thoughts
Bissell air 320 is a perfect example of modern technology with design aesthetics. This decorative air purifier will not only clean your indoor air from both particulates and odorous pollutants but also enhance the beauty of the interior.