When you are going to select an air purifier for smoke, you also need to consider its efficiency against the smell from the smoke. Bissell air 400 air purifier is one of the best in 2 in 1 performance, smoke, and odor removal. The company is well known for making vacuum cleaners for many years in the US, and now they are making air purifiers. Here we are going to review the Bissell air400 air purifier comprehensively about their claims and how worth it is really.
Specifications and Features:
At first, let's see the specs and features:
Filtration: 2 filter set, one is Pre-filter + HEPA, and another one is activated carbon filter
HEPA class: HEPA
Filter life: 6 months for each filter
CADR: 279 cubic meter per hour (smoke) or 160 cfm approximately
Sensor: Particle sensor PM 2.5, ambient light sensor
Coverage: 400 sq ft at 3 air changes per hour
Number of manual fan speed: 3
Automatic mode: Yes
Size: 27.24″H x 18.9″W x 12.20″D
Device weight: 26.46 lbs
Rated power: 75 W
Maximum Noise: 64 dB(A)
Voltage: 110-120 V AC 60 Hz
On the front, there is beautiful air quality display and Bissell branding. The particle sensor is on the left vented with cover and screwed. Carrying handle placed on the left and right side. Air inlet is on the backside, and the vent is large. On the top, there is a control panel and an air vent for the air outlet.
Sale
Bissell air400 Smart Purifier with High Efficiency and Carbon Filters for...
3 STAGE FILTRATION system includes a pre-filter, a 1 inch thick activated carbon filter, and a High Efficiency Filter which captures...
SMART CIRQULATE SYSTEM uses a particle sensor to continuously monitor your indoor air, adjusts the air400's speed of air flow...
POWERFUL PERFORMANCE and THOUGHTFUL DESIGN air400 is powerfully equipped with a large fan and long lasting, quiet, digital DC motor....
LIBRARY QUIET air purification. The air400 has an automated dimming night mode and provides the air purification at noise levels as low...
Recommend for medium to large rooms between 300 and 400 square feet. The air400 is best suited for large bedrooms, kitchens, living...
Comprehensive Review on Bissell air400 Air Purifier:
HEPA Filtration: Its primary filtration is HEPA, and the filter is large. A thin pre-filter sheet attached to the HEPA filter. It helps the primary HEPA filter not to get saturated quickly. You can rinse the pre-filter as it is washable. Theoretically, the HEPA filter is capable of capturing fine smoke particles and other airborne pollutants that are sizes down to 0.3 microns at 99.97% efficiency. The large filter surface area speeds up the filtration and also has a longer lifespan. Bissell suggests changing the filter every six months. Though the filter life depends on your usage and the air quality, however, the air purifier has a filter life indicator for both HEPA and Carbon filter.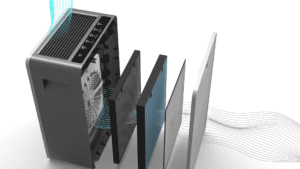 Activated Carbon Filtration: Bissell air 400 featured a large 1 inch thicker activated carbon filter to catch odors from smoke, cooking, pets, or VOCs. The filter contains 50000 of small activated charcoal pellets that weigh nearly 465 gm. The amount of carbon substance is impressive. For this, we have placed it on our list of best air purifiers for smoke and odor. If you are very much concerned about odor, then you can pick it for your shortlist.
The life of the carbon filter is about six months, and it saturated quickly on highly contaminated air. Check the current price of the HEPA filter and Carbon filter on amazon.
So, the annual filter replacement cost is slightly higher than the others. Though if you look at the filter's capacity and performance, then it seems fair.
Coverage, CADR, and ACH: Bissell advertised the unit is suitable for 400 sq ft at 3 air changes per hour, which look decent capacity. From this data we can calculate the actual CADR in cfm (cubic feet minute) with the formula: CADR = (3 ACH x 400 sq ft x 8 ft ceiling)/60 minute = 160 cfm. Bissell listed the unit as the CADR 206 cubic meter/hr for pollen, 279 cubic meter/hr for smoke, and 307 cubic meter/hr for dust, and these numbers are self-tested by them, not certified by AHAM.
Though a CADR of 160 cfm with a super odor filter could be great to choose, you have to select it for your room size carefully. Check out our recommendations on selecting it later on the review.
Noise: On the highest fan speed, its noise level is about 64 dB, which is pretty much loud, but on the low fan mode, it drops to 30 dB that is very quiet. The refrigerator sound level is around 40 dB. So, for overnight running, it won't bother you by noise. It uses a brushless DC motor, and they claim 20000 hrs of runtime.
Particle Sensor (PM2.5): Bissell air 400 has a built-in particle sensor and displays the air quality with color indicator and PM 2.5 count. The automatic mode, which they called CirQulate system, runs based on the particle sensor. You have to clean the sensor every two weeks to run it smoothly. On automatic mode, it adjusts the fan speed depending on the sensor value like every other air purifier.
Control: Its super easy to control, has 3 modes: max, auto, and silent. Also, you can set the fan speed manually: low, mid, and high. It features a preset timer of 1, 4, and 8 hours.
Night Mode: The white lights on the control panel and the front display turned off based on the ambient light condition. The color indicator goes dim. However, it doesn't change the mode of operation; you have to change it manually. Better you can leave it to auto mode so it will remain auto mode in night.
Video Commercial:
Our Recommendations to select Bissell air400:
You can calculate what air changes per hour you will get for your particular room size with the formula ACH = (CADR x 60) / (room square footage x 8 ft ceiling), or you can use our ACH calculator for air purifier.
Warranty: Bissell air400 comes with a 2-year limited warranty.
AHAM, Energy Star Rating: The unit is not AHAM certified for its CADR rating. However, it is EnergyStar rated.
Pros & Cons
Similar: Medify MA-40 Air Purifier Review
Small coverage: Bissell MyAir Personal Air Purifier Review
Newer model: Bissell air220 Air Purifier Review
Frequently asked questions:
Q. How long the filters last?
A. It depends on usage. At first, it has 2 types of filters, one is HEPA, and another is carbon. Usually, carbon filters saturated quickly. Also, it depends on usage and air quality. You will be notified when a single one or both filter needs to be replaced.
Q. How much it cost the replacement filters?
A. Each replacement filter cost around $25. So, a yearly filter replacement cost will be around $100 on heavy usage.
Q. Could I select it for my allergy?
A. Yes, you can, as it uses HEPA filtration. Also, it is quieter on low fan speed mode, which will help you to run it during sleep.
Q. Does it produce Ozone?
A. No, as the device has no other filtration system like ionizer or plasma rather than the HEPA and activated carbon filtration so there the zero chance to produce ozone or other harmful byproducts.
Read our article on 30+ common questions and their answers about air purifiers from here.
Is it worth it to buy?
Most of the time, smoke contains the smell, and when it comes to purifying the air, we need to remove both of them. Bissell air 400 is one of the best to clean both smoke and odor at the same time. Comparing with others, this device is a total worth to buy as a mid-ranger air purifier, especially if you need for odor and smoke elimination.