What do you think is the scariest thing in your home?
Is it the oven, iron box, refrigerator, or garbage disposal? While all these things are dangerous if not handled properly, they are not the scariest thing in your home. The scariest thing in your home is the unfiltered air.
If you spend more than 90% of the time indoors, you expose yourself to many pollutants.
If you and your family have respiratory problems, you are at a higher risk. Pollutants present indoors include airborne bacteria, viruses, VOCs, carbon monoxide, and mold.
To trap or remove these pollutants faster in a large room, you need a high airflow air purifier. In this post, we will talk about the Blueair Blue Pure 121 air purifier, which is perfect for medium-sized, and large rooms.
To find out more about this fantastic device, read our review below.
Jump to: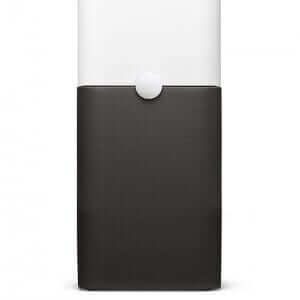 Blueair Blue Pure 121 Specifications:
Filtration: Fabric pre-filter, 2-in-1 particle filter, and activated carbon filter enhanced by electronic filtration with electrostatic charging.
HEPA class: Non-HEPA
Filter life: 6 months based on 24 hrs use per day
Filter Replacement Indicator: Yes
Maximum CADR: 400 cubic feet per minute (cfm)
Coverage: 600 square feet with 5 air exchange per hour (ACH)
Sensors: N/A
Number of manual fan speed: 3
Automatic mode: N/A
Size: 28.3″H x 13″W x 13″D
Device weight: 18.2 lbs
Noise level: 31 – 56 dB(A)
Rated Power: 61 Watt
Voltage: 120 V AC 60 Hz
Blueair Blue Pure 121 Air Purifier 3 Stage with Two Washable Pre-Filters,...
3-part filtration system captures 99% of common airborne PM 2.5 pollutants such as Allergens, odors, smoke, mold spores, dust mites and...
Activated carbon filter removes common odors caused by smoke, pets, cooking, dorm room smells and gases (VOCs) as well as smoke caused...
Two washable pre-filters come with each unit to capture large particles such as dust and pet hair and can be changed to match any...
Quiet operation enabled by advanced filters that allow for a higher air flow at a lower noise level
Designed for large rooms between 600 square feet. And 700 square feet. (AHAM rated at 620 square feet) make this purifier perfect for 3...
In-depth Review of Blueair Blue Pure 121 Air Purifier:
Blueair is a Swedish brand that designs air purifiers and other home solutions with smarter and reactive features. Made from 100% recyclable materials, these products stay on top of your indoor air quality.
Not only do they track the changes in air quality. But they can adjust certain settings such as fan speed to ensure you have a healthy living environment. One of the best air purifiers is the Blueair Blue Pure 121.
Stay tuned to find out more.
Proprietary Filtration System
The Blue Pure 121 has a total 4 stage filtration system, 3 stages of mechanical filtration system, and one stage electronic filtration. The mechanical filtration composed of a fabric pre-filter, a particle filter, and an activated carbon filter.
The fabric pre-filter is the first stage. It traps large particles such as pet dander, pet hair, and lint.
What you need to know is that the unit comes with two washable pre-filters. One is dark blue, and the other is gray. You can buy different colors to customize the look of your air purifier to match your home decor.
Cleaning the pre-filter is easy. You can vacuum or toss the pre-filter in the washing machine.
The second and third stages are the particle and activated carbon filters. This particle filter helps to trap and remove 99% of contaminants from the air. Made of dense fibrous material, it traps PM2.5 particles.
Such particles include pollen, dust, mold spores, dust mites, and smoke. When the air flows through the carbon filter, it absorbs the odors and VOCs. What you need to know is that you can upgrade the filtration system with Extra Protection Filter.
This filter has activated coconut carbon pellets. They absorb odors, chemicals, and heavy gases from your home.
The electronic filtration system used in Blue Pure 121 is an Electrostatic precipitator (ESP). It makes pollutants stickier, so they can easily be trapped on the mechanical filters.
This is a unique combination of mechanical and electrostatic filtration, which they named HEPASilent. Due to this technology, Blueair uses less dense filters. Also, they are quiet and energy-efficient.
Sleek and Modern Design
Blueair is popularly known for making smart home solutions with a sleek design. Measuring 13 by 13 by 28.3 inches, the unit has a box-like design that blends well with modern, contemporary home decor.
It has a 360-degree intake covered by the fabric pre-filter. Since the pre-filter covers the intake, you can change the color to match your space. Available colors include Diva Blue, dark Shadow Gray Pink, and Yellow. If you prefer a Scandinavian look, you can remove the pre-filter to show off the sleek white-mesh frame.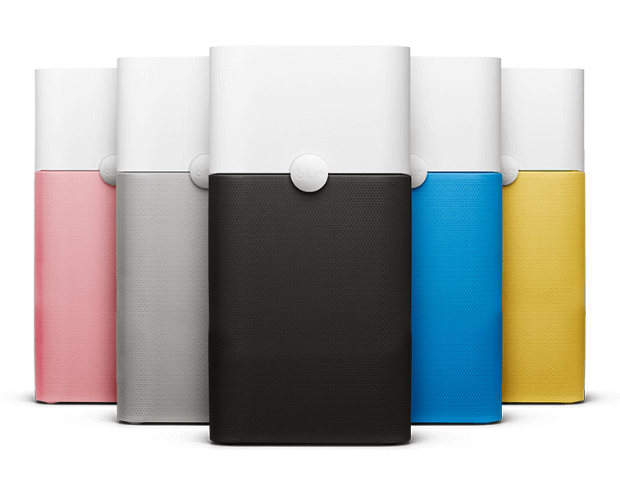 But doing so means buying the Extra Protection Filter to boost the efficiency of the other two filters.
At 18.2 pounds (8.26 kg), the unit is not lightweight but portable. To place the unit in your room, make sure it's in an upright position on the floor. It's essential to place the unit where there is no foot traffic.
Do not place the unit 10 cm closer to another object. This will disrupt the flow of air in and out of the unit. Avoid placing the unit near wet areas or close to heat sources like fireplaces, radiators, and ovens.
Lastly, we have a one-button design. This single button allows you to control the unit. That includes changing the fan speed and even learning when to replace the filter. For optimal performance, the manufacturer recommends replacing the filters every 6 months.
Performance
The unit has three-speed control options. You can change the fan speed using the single button on the unit. To set the fan at the low fan speed, press once to turn the unit on and set it to low fan speed.
For medium fan speed, press the button twice, and for high fan speed, press the button three times. The unit has a high CADR of 400 cfm. It can clean a room size of 600 square feet five times in an hour.
As such, it's perfect for your living room and bedroom.
The unit has an Auto Start feature. It can automatically restart at the set speed if you use the power switch timer or due to power failure.
It's energy-efficient, and at the lowest fan speed, it consumes 30 watts. At the highest fan speed, it consumes 61 W. This means it consumes less than traditional light bulbs at the lowest fan speed. It's 40% more efficient compared to standard air purifiers.
As such, you can run it for 24 hours without concern about power consumption.
Noise Level
The air purifier uses specialized polypropylene filter media. It processes more unfiltered air resulting in more clean air. While doing so, it produces less noise. At the lowest fan speed, it produces 31 decibels.
This is comparable to rustling leaves or a whisper. Also, it's below the average home noise at 40 dB. At the highest fan speed, the unit produces 56 dB(A). This is below a normal conversation or music playing in the background.
Suitable Room Size for Blueair Blue Pure 121:
*The room size calculation is based on an ideal situation. For best practice, consider the size of the room a little less than the calculated value.
If you have higher ceilings, then use our Air Changes per Hour Calculator to calculate the suitable room size.
Blueair Blue Pure 121 Operating Costs:
Annual Filter Replacement: ~ $159 – $199 based on 6 months use per filter (check the current filter price for Regular Filter, Extra Protection Particle + Carbon Filter). Optional color fabric pre-filter costs $9.99 (check availability & filter price).
Monthly Energy Consumption: ~ $4(based on 12 cents per kWh and 18 hours use on the top speed per day). Use our Energy Usage Calculator to find out the bill based on your usage and the local energy rate.
Pros & Cons:
Check out our best picks:
Blue Pure 121 vs. Blue Pure 211+
The Blue Pure 121 and Blue Pure 211+ are high cfm air purifiers from Blueair. They feature the signature Blueair One-Button design.
They both have a three-stage filtration system composed of a pre-filter, a particle filter, and a carbon filter.
Despite the similarities, they have a couple of differences.
Room Size
Both devices can clean large rooms with a higher air delivery rate. But the Blue Pure 121 can clean a room size of 600 square feet while the Blue Pure 211+ can clean a room size of 540 square feet with five air changes per hour. This means the stellar performance for larger rooms goes to the Blue Pure 121.
Design
Both purifiers have a box-like design, but one of the units is taller. The Blue Pure 121 measures 28.3 by 13 by 13 inches while the Blue Pure 211+ measures 20 by 13 by 13 inches. Guess which model is taller? You guessed it right. The Blue Pure 121 is taller by 8.3 inches.
Weight
The Blue Pure 121 weighs 18 pounds while the Blue Pure 211+ weighs 13 pounds. As such, the former is heavier than the latter. The weight difference is due to the height difference and the size of certain internal components.
Image
Room Coverage
600 sq. ft. with 5 air exchanges/hr
540 sq. ft. with 5 air exchanges/hr
Higher Coverage
Image
Room Coverage
600 sq. ft. with 5 air exchanges/hr
Compact
Image
Room Coverage
540 sq. ft. with 5 air exchanges/hr
Complete review >>> Blueair Blue Pure 211 Plus Air Purifier
Questions and Answers
Q. Does this model have air quality sensors?
A. No, it does not have particle or VOC sensors. However, running this unit in the recommended room size should lower the particles' level in the air.
Q. Is this unit CARB certified?
A. Yes, the Blue Pure 121 is CARB certified.
Q. Does Blue Pure 121 has a night mode?
A. Yes, the unit dims the LED light by 10% automatically after 7 seconds. However, it doesn't have a built-in ambient light sensor.
Final Thoughts
The Blue Pure 121 air purifier is good and can help you create a healthy living environment. Even with the absence of features such as timers or air quality sensors, the unit can lower particle levels in the air with combined filtration systems.
We highly recommend the Blue Pure 121 to homeowners looking for an energy-efficient and high cfm purifier.