As a homeowner, indoor air quality is of utmost importance to you, your family, and your pets. Indoor air pollution is a common risk factor for premature death. On average, Americans spend 90% of their time indoors. At home, they are usually exposed to concentrations of pollutants, which are two to five times higher than the outside air.
The good news is, you can improve indoor air quality and safeguard your health, that of your families and pets. One of the best solutions that have proven to work by capturing 99% of airborne pollutants is the BlueAir Blue Pure 211+ Air Purifier. In this post, we review the BlueAir Blue Pure 211+ Air Purifier by discussing its specs, features, pros, and cons.
Jump to…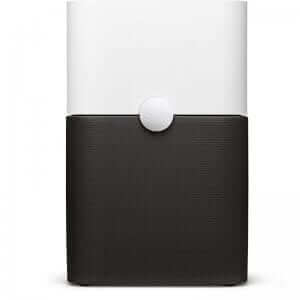 Blueair Blue Pure 211+ Specifications:
Filtration: Fabric pre-filter, particle, and carbon filter.
HEPA class: Non-HEPA
Filter life: 6 months or 4380 hours
Maximum CADR: 360 cubic feet per minute (cfm)
Sensor: N/A
Room Coverage: 540 sq ft with 5 air changes per hour (ACH)
Number of manual fan speed: 3
Automatic mode: No
Size: 20″H x 13″W x 13″D
Device weight: 13 lbs
Rated power: 61 W
Noise Level: 31-56 dB(A)
Blueair 211+ Air Purifier 3 Stage with Two Washable Pre, Particle, Carbon...
Advanced Swedish Design: Swedish Filter Technology Captures 99% of Airborne Pollutants Like Viruses, Pollen, Dust, Pet Dander, Mold,...
Eliminates odors. Activated carbon filter reduces gases, VOCs, and annoying odors from pets, smoking, cooking, wildfires and more
Colorful. Includes machine washable fabric pre-filters in diva blue and dark shadow. Leave the mesh filter housing exposed for a...
Quiet. No louder than a whisper on the lowest speed (31 decibel.) and equivalent to the noise level of rainfall on the highest setting...
Low energy consumption. Rated by energy star for low energy consumption (30–60 w). Energy consumption: 30 – 61 watts
In-depth Review of BlueAir Blue Pure 211+ Air Purifier:
Washable Pre-Filter: The Blue Pure 211+ has comes with a washable fabric pre-filter available in multiple colors. The pre-filter helps to take care of the large contaminants. For example, hair and dust. This type of filter is easy to clean as you can vacuum or wash it. It's recommended that you should wash the pre-filter occasionally. In the package, you will find two fabric pre-filter covers.
Super Efficient Particle filter: The Blue Pure 211+ air purifier is one of the most outstanding products from BlueAir, especially when it comes to handling the particulate contaminants in the air. The particle filter is a 46 square feet pleated filter made with Polypropylene, the same material used to make a HEPA filter. The efficiency is 99% at 0.1-micron particle size, which is close to HEPA performance. This particle filter will be able to capture most of the airborne particulates like pollen, household dust, dust mites mold spores, and smoke particles.
To ensure efficiency, users must replace the filter every six months.
Carbon filter: This Blue Pure 211+ air purifier is also can remove household odors, VOCs, smoke, airborne chemicals, and smog with its activated carbon mesh filter. Also, the mesh-type carbon filter performs relatively less than the deep bed granular carbon filter.
High CADR and Coverage: To ensure adequate air circulation, the air purifier draws in air from all sides. As such, it helps to ensure that no pollutants escape. With a Clean Air Delivery Rate of 350 cubic ft/min, no other model can match its cleaning power. Many users have praised the model for its superior cleaning power.
Check out our top pick >>> The 7 Best High CADR Air Purifier
Intuitive Design: A lot of users have also commented about its simple design and controls. Unlike other models that have numerous buttons and indicators for speed and other settings, this model has a one-button design. With the one-button design, you are in total control. You can configure the fan speed between 1,2, and 3. Also, you can start or shut off the air purifier.
Filter Replace Indicator: You don't need any expertise to replace the filter. First off, the air purifier will notify you when to replace the filter thanks to the built-in LED warning system. It will glow red to inform you it's time to replace the filter. Follow the instructions in the owner's manual, and you are good to go.
Low Noise Profile: What we really liked about the Blue Pure 211+ is the noise level, which is 31-56 dB(A). As you already know, its recommended to run an air purifier 24/7, but it should not be at the expense of your sleep or health. This air purifier is whisper quiet thanks to a specialized polypropylene filter media. As such, the air purifier can process more air while you sleep while generating less noise.
Certifications: Blue Blueair Blue Pure 211+ is CARB certified, which means it is ozone-safe and can be used for everyone. Also, the purifier is Energy Star certified, and AHAM verifies the CADR.
Blue Pure 211+ vs. Blue Pure 411:
BlueAir is a trusted brand when it comes to air purifiers. Founded two decades on the principle that "freedom to breathe is a basic right," BlueAir continues to manufacture award-winning purifiers that improve the well-being of people. They also build products that provide low noise and superior performance without compromising on quality.
Some of the best air purifiers the company manufactured are the Blue Pure 211+ and the Blue Pure 411. Both products are excellent and perform exceptionally well but, which is better?
In this section, we compare the Blue Pure 211+ and the Blue Pure 411.
Image
Room Coverage
540 sq. ft. at 5 air exchange/hr
180 sq. ft. at 5 air exchange/hr
Image
Room Coverage
540 sq. ft. at 5 air exchange/hr
Image
Room Coverage
180 sq. ft. at 5 air exchange/hr
Room Size: The Blue Pure 211+ is best for large living rooms and bedrooms, unlike Blue Pure 411, suitable for small living rooms and bedrooms. According to BlueAir, the Blue Pure 211+ is perfect for large rooms of up to 540 square feet. In large rooms, the air purifier can completely capture air pollutants and filter the air in 12 minutes. By doing so, it helps to lower bacteria, virus, and particulate count.
For the Blue Pure 411, its best for rooms sizes of up to 175 square feet. Like the Blue Pure 211+, it can also capture and filter room air in 12 minutes. As such, it helps to create a comfortable environment for you and your family.
CADR: The Clean Air Delivery Rate (CADR) is a metric unit to measure the airflow and the efficiency of the air filter to capture air pollutants. For example, if an air purifier has 100% efficiency and 200 cfm, the Clean Air Delivery Rate is 200 (cfm). To create a comfortable environment with little or no air pollutants, air purifiers should have a high Clean Air Delivery Rate.
AHAM independently verified the Blue Pure 211+ for CADR of dust 350, pollen 350, and smoke 350. For the Blue Pure 411, it's also independently verified by AHAM for CADR of dust 120, pollen 120, and smoke 105.
Sound Level: The Blue Pure 211+ has a sound level of ranging from 31 to 56 dB(A) while the Blue Pure 411 has a sound level range of 17 to 46 dB(A).
Suitable Room Size for Blue Pure 211+:
*The room size calculation is based on an ideal situation. For best practice, consider the size of the room a little less than the calculated value.
If you have higher ceilings, then use our Air Changes per Hour Calculator to calculate the suitable room size.
Blueair Blue Pure 211+ Operating Costs:
Annual Filter Replacement: ~ $119 per year at 24hr usage daily (check availability & filter price).
Monthly Energy Consumption: ~ $5.3 per month (based on 12 cents per kWh and 24 hours use on turbo speed per day). Use our Energy Usage Calculator to find out the bill based on your usage and the local energy rate.
Pros & Cons:
Air Purifier FAQs:
Q. Can you run an air purifier all the time?
A. Yes, it's highly recommended to leave your air purifier all the time. You cannot run your air purifier for a few minutes or hours and expect your indoor air to remain contaminant-free all day. If you're worried about energy use, turn the fan speed to low.
Q. Where do you place the air purifier?
A. We recommend choosing a location that does not block the intake of the air purifier. Most air purifiers have the intake near the front of the machine. The Blue Pure 211+ has a large 360-degree air intake. As such, you are free to place it anywhere in the room and not worry about compromising its performance.
Q. Should I use washable air filters?
A. A lot of people choose to use a disposable air filter. They do so because they believe washable filters get mold quickly and are less effective. The washable filter on the Blue Pure 211+ is of high quality. It does not get moldy and comes in several colors.
Final Thoughts
Blue Pure 211+ is an outstanding air purifier able to clean a room of up to 540 square feet in 12 minutes. Easy to operate and maintain, you can freely place the air purifier in any room without compromising its performance due to its 360-degree air intake.
We highly recommend the Blue Pure 211+ air purifier for an allergy sufferer when they always have to turn it on and don't need features rather than the aesthetics and particle filtration capabilities.