Blue Pure 211+ is the most popular air purifier model from Blueair. You will get almost 50 percent more air delivery rate from it compared to the Medify MA-40 at almost the same price. Despite having a low-dense particle filter, it works well just as close to High-Efficiency (HEPA) filter air purifiers. In fact, the purifier is the #2 top-rated air purifier tested by Consumer Reports.
In this post, we review the Blueair Blue Pure 211+ Air Purifier by analyzing its specs, features, pros, and cons, including a comparison with Blue Pure 311 Auto Air Purifier.
Jump to…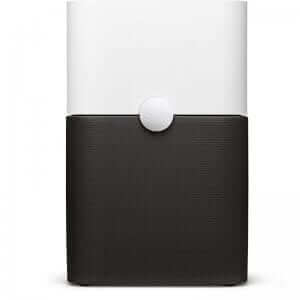 Blueair Blue Pure 211+ Specifications:
Parameter
Value
Filtration Technology
Fabric pre-filter and 2-in-1 particle plus carbon filter boosted with electrostatic charging

(

HEPASilent™

)

HEPA Class
Non-HEPA
Filter Life
6 months for continuous usage (4380 hours)
Maximum CADR
350 cubic feet per minute (cfm)
Room Coverage (8 ft ceilings)
525 sq ft with 5 air changes per hour (calculate ACH for your room)
Sensors
❌
Fan Speeds
3
Automatic Mode
❌
Noise Level
31 – 56 dB(A)
Rated Power
61 Watt
Weight
13 lbs
Dimensions

20″H x 13″W x 13″D
Blueair Blue Pure 211+ Air Purifier 3 Stages with Two Washable Pre-Filters,...
Advanced Swedish Design: Swedish Filter Technology Captures 99% of Airborne Pollutants Like Viruses, Pollen, Dust, Pet Dander, Mold,...
Eliminates odors. Activated carbon filter reduces gases, VOCs, and annoying odors from pets, smoking, cooking, wildfires and more
Colorful. Includes machine washable fabric pre-filters in diva blue and dark shadow. Leave the mesh filter housing exposed for a...
Quiet. No louder than a whisper on the lowest speed (31 decibel.) and equivalent to the noise level of rainfall on the highest setting...
Low energy consumption. Rated by energy star for low energy consumption (30–60 w). Energy consumption: 30 – 61 watts. Sound...
In-depth Review of Blueair Blue Pure 211+ Air Purifier:
Washable Pre-Filter
The Blue Pure 211+ comes with a machine-washable fabric pre-filter available in multiple colors. The pre-filter helps to take care of the large contaminants. For example, hair, lints, and dust. This type of filter is easy to clean as you can vacuum or wash it. It's recommended that you should wash the pre-filter occasionally.
In the package, you will find two fabric pre-filter covers.
Super Efficient Particle Filter
The Blue Pure 211+ air purifier is one of the most outstanding unit from Blueair, especially when it comes to handling the particulate contaminants in the air. The particle filter is a 46 square feet pleated filter made with Polypropylene, the same material used to make a HEPA filter.
The efficiency is 99% at 0.1-micron particle size, which is close to HEPA performance. This particle filter will be able to capture most of the airborne particulates like household dust, mold spores, airborne bacteria, and smoke particles.
The particle filtration is also boosted with an electrostatic method, which they called HEPASilent™. However, this filtration doesn't produce any traceable amount of ozone, and the purifier is also CARB certified.
To ensure efficiency, users must replace the filter every six months.
Activated Carbon Filter
This Blue Pure 211+ air purifier can also remove household odors, VOCs, smoke odors, airborne chemicals, and smog with its activated carbon mesh filter. Also, the mesh-type carbon filter is less effective than the pellet-based or granular carbon filter.
Large Room Coverage
To ensure adequate air circulation, the air purifier draws in air from all sides. As such, it helps to ensure that no pollutants escape. With a Clean Air Delivery Rate of 350 cubic feet per minute (cfm), the purifier can clean a 525 square feet room five times an hour. Check more room coverage recommendations below.
The low-dense particle filter makes it possible due to the less air pressure drop in the filter compared to the HEPA filter. As such, the motor consumes less energy and produces less noise.
The high air delivery rate also ensures more air exchanges per hour in the same room, which is beneficial especially for filtering smoke or highly contaminated air.
Check out our top picks >>> The 7 Best High CADR Air Purifier
Intuitive Design
A lot of users have also commented about its simple design and controls. Unlike conventional air purifiers with numerous buttons and indicators for speed and other settings, this model comes in a one-button design. With just one button, you are in total control. You can configure the fan speed between 1, 2, and 3. Also, you can start or shut off the air purifier.
Filter Replacement Indicator
You don't need any expertise to replace the filter. First off, the air purifier will notify you when to replace the filter, thanks to the built-in LED warning system. It will glow red to inform you it's time to replace the filter. Follow the instructions in the owner's manual, and you are good to go.
Low Noise Profile
What we really liked about the Blue Pure 211+ is the noise level, which is 31 to 56 dB(A). Where most air purifiers at this CADR level produce a lot more noise. It's recommended to run an air purifier 24/7, but it should not be at the expense of your sleep or health.
This air purifier is whisper quiet thanks to the specialized low-dense polypropylene filter media. As such, the air purifier can process more air while you sleep while generating less noise.
Certifications
Blue Blueair Blue Pure 211+ is CARB certified, which means it is ozone-safe. Also, the purifier is Energy Star certified, and AHAM verifies the CADR.
Suitable Room Size for Blue Pure 211+:
*The room size calculation is based on an ideal situation. For best practice, consider the size of the room a little less than the calculated value.
If you have higher ceilings, then use our Air Changes per Hour Calculator to calculate the suitable room size.
Blueair Blue Pure 211+ Operating Costs:
Annual Filter Replacement: ~ $140 per year based on 6-month use per filter (check availability & filter price on Amazon, Sylvane).
Optional Washable Pre-filter: $8.99 each (check on Amazon).
Monthly Energy Consumption: ~ $2.6 per month (based on 12 cents per kWh and 12 hours use on turbo speed per day). Use our Energy Usage Calculator to find out the bill based on your usage and the local energy rate.
Pros & Cons:
Blue Pure 211+ vs. Blue Pure 311 Auto:
Blueair Model
High Room Coverage
Blue Pure 211+
Auto + Medium Coverage
Blue Pure 311 Auto
Image
Room Coverage
525 sq ft with 5 air changes/hr
375 sq ft with 5 air changes/hr
High Room Coverage
Image
Room Coverage
525 sq ft with 5 air changes/hr
Auto + Medium Coverage
Image
Room Coverage
375 sq ft with 5 air changes/hr
Questions and Answers
Q. Can you run an air purifier all the time?
A. Yes, it's highly recommended to leave your air purifier all the time. You cannot run your air purifier for a few minutes or hours and expect your indoor air to remain contaminant-free all day. If you're worried about energy use, turn the fan speed to low.
Q. Where do you place the air purifier?
A. We recommend choosing a location that does not block the intake of the air purifier. Most air purifiers have the intake near the front of the machine. The Blue Pure 211+ has a large 360-degree air intake. As such, you are free to place it anywhere in the room and not worry about compromising its performance.
Q. How to reset the filter replacement indicator?
A. You have to press and hold the "blue" button for 10 seconds to reset the filter replacement indicator.
Final Thoughts
Blue Pure 211+ is an outstanding air purifier able to clean large rooms a lot faster. Easy to operate and maintain, you can place the air purifier in any room without compromising the aesthetic due to the multi-color options.
We highly recommend the Blue Pure 211+ air purifier for an allergy sufferer when they always have to turn it on and don't need lot of features rather than the aesthetics and particle filtration capabilities.