Want to make your living environment cool and healthy?
You can do so with an air purifier fan. Asthma and other respiratory problems can be easily triggered at home by pollutants in the air. According to the CDC, more than 300 known contaminants in the air can cause or even worsen asthma.
Typically, asthma symptoms can develop shortly after exposure. In some cases, it may take months. To protect your family, you need an air purifier fan.
Blueair Blue Pure Fan is a fantastic device that has an efficient filtration system that can trap and remove pollutants from the air. Such contaminants include dust, pollen, lint, pet dander, and pet hair, among many others.
In this post, we'll discuss the features, pros, and cons of the Blue Pure Fan.
Jump to:
Blueair Blue Pure Fan Specifications:
Filtration: Washable fabric pre-filter and replaceable particle filter
Particle filter type: Non-HEPA, pleated polyester fiber (PET)
Filter life: 6 months
Filter replacement indicator: Yes
Maximum CADR: 182 cubic feet per minute (cfm) for pollen
Coverage: 270 square feet with 5 air exchange per hour (ACH)
Sensors: N/A
Number of manual fan speed: 3
Automatic mode: N/A
Size: 14.9″H x 13″W x 11″D
Device weight: 11.6 lbs
Noise level: 31 – 56 dB(A)
Rated Power: 61 Watt
Voltage: 110 – 120 V AC 60 Hz
Pure Fan
Unlike a standard fan, the Blue Pure Fan cleans as it cools; Removing over 99% of airborne dust and pollen particles
Patented fan technology delivers a gentle stream of clean, cooling air across a 90-degree range- no oscillation required​
The only purifying fan with customizable pre-filters; Fabric pre-filters are washable and available in 5 colors; Diva Blue and Dark...
Promotes sleep with gentle airflow to help lower temperature, purify the air of allergens that can irritate and disrupt sleep, and...
Minimalist design uses a single button to turn the fan on/off, cycle through 3-speed settings and alerts when it's time to replace the...
Last update on 2023-01-28 at 00:53 / Affiliate links / Images from Amazon Product Advertising API
In-depth Review of Blueair Blue Pure Purifying Fan:
Blueair is a Swedish brand known to incorporate design aesthetics in all their products. They use 100% recyclable materials to make their products. As such, they minimize the impact on the environment.
Besides using responsibly sourced materials, Blueair devices are energy star certified. In fact, they consume less energy compared to a traditional lightbulb. One of the newest products to come from the company's production line is the Blue Pure Purifying Fan.
Patented Fan Technology
The Blueair purifier fan features patented fan technology. This technology helps to deliver a gentle stream of clean, fresh air across a 90-degree range without oscillating it. As such, the air purifier fan delivers cool air breeze in the room effectively, and you don't have to move it around the room.
Sadly, the manufacturer did not reveal any details about the fan, especially the number of blades, RPM, and other forms of data.
The device comes with dust-free fan blades. Unlike standard fans that get covered with dust, pollutants do not stick on the blades.
This makes cleaning to be easy. With standard fans, the blades get covered with dust and other pollutants. This makes it difficult to clean. How you may ask. To clean the blades, you have to disassemble the unit, and it takes time.
Two-stage Particulates Removal
Besides cooling yourself, the Blueair Pure Fan can trap and remove pollutants from the air. As said before, indoor air has pollutants such as pet dander, dust, dust mites, mold spores, and pollen. Most of these pollutants originate indoors while some originate outdoors.
For example, dust can be easily kicked up as you and your family members walk on the carpets and rugs. Breathing in the dust can trigger asthma and respiratory problems. Thankfully, this air purifier fan comes with a top-notch 2-stage filtration system.
The filtration system includes a fabric pre-filter and a pleated particle filter. The pre-filter helps to trap and remove larger particles such as dust, pet dander, pet hair, and lint. After the pre-filter, you have the particle filter.
What you need to know is that the pre-filter is at the back of the device while the outlet is at the front. So, as the unfiltered air passes through the pre-filter, pollutants get trapped and outcomes clean, fresh air that also cools you.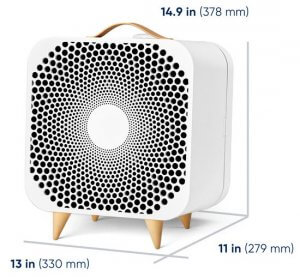 The particle filter is made of non-woven gradient PET fiber, which is also recyclable. It removes and traps particles that include pollen and dust. According to the manufacturer, this filter has a 99% efficiency rating. This means, in 20 minutes, the air purifier fan can trap and remove 99% of pollutants in the air.
The data above comes from a third party test. In the test, they discovered that the removal rate of pollen (7.23 microns) and dust (2.84 microns) took place in 20 minutes. The room used for this test measured 125 square feet of space with a standard 8 feet ceiling.
The CADR rating of the device is 182 cfm for pollen. Measuring 14.9 by 13 by 11 inches, this air purifier fan can clean a 270 square feet room, five times an hour. As such, it's perfect for your living room, bedroom, office, home office, and nursery.
What you need to know is that the pre-filter colors are customizable. Easy to wash, the pre-filter is available in five colors. To clean the filters, vacuum, or toss them in a washing machine.
Sleek Design
The air purifier fan comes in a box-like/cube design. White in color, it features a carry handle on the top. This makes it easy to move from room to room. You can move the air purifier from the floor to a table.
It has four short legs. As a result, the air purifier fan has a low center gravity, making it difficult to knock over. Besides providing support to the device, they also complete the minimalist design.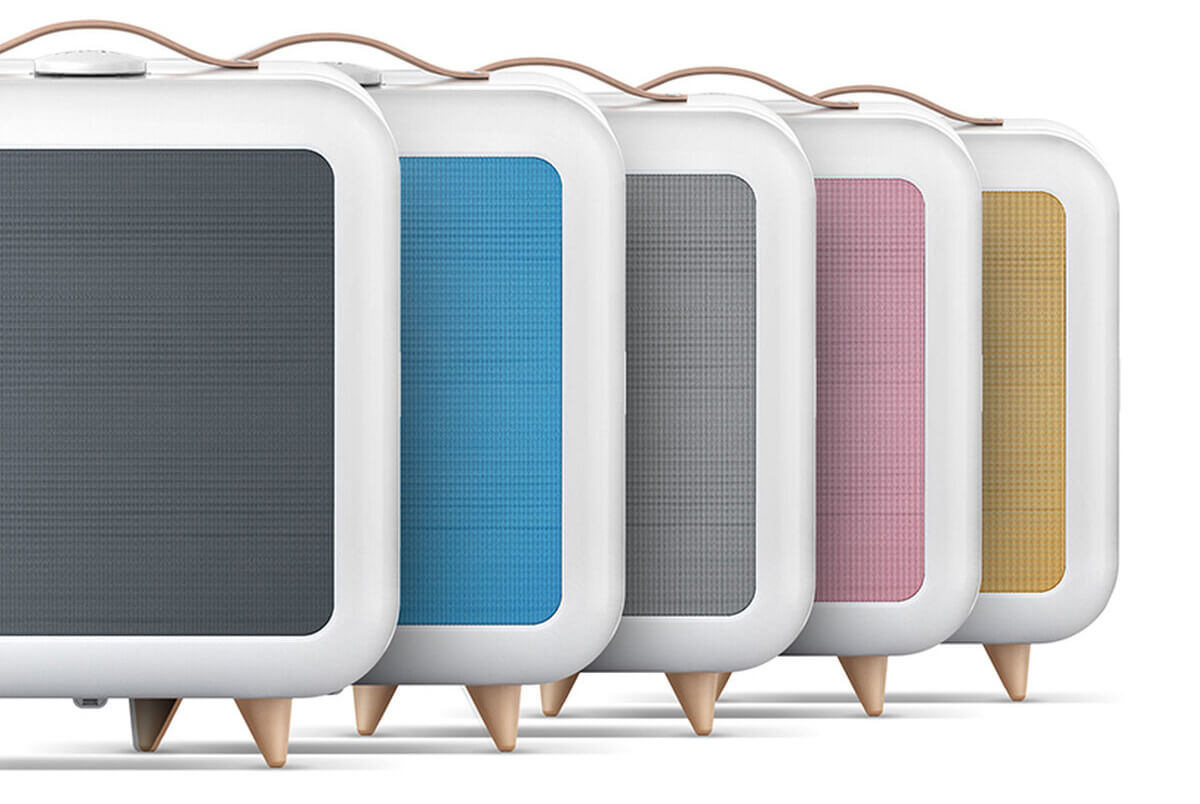 The manufacturer has provided no information on the material used on the body. What we do know is that it features a one-button design. This is a breath of fresh air. The single button allows you to turn the fan on/off.
It also allows you to change the speed settings and alerts you when to replace the filter. Besides the benefits of the one-button design above, other benefits include ease of learning and use.
Some gadgets have several buttons, which can take time to learn. This also makes it difficult to use as you must refer to the owner's manual from time to time.
Quiet and Energy-efficient
Besides the minimalist design and cooling fan, this air purifier fan is quiet at the lowest setting. According to the manufacturer, the device has three fan settings. At the lowest setting, it produces 31 dB(A).
This is not harmful to the ear. As such, you don't need any hearing protection such as earmuffs and earplugs when close to this device. The noise level of this air purifier fan at the lowest fan setting is comparable to leave rustling, whisper, or soft music at 30 dB(A).
What you need to know is that this is lower than the average home noise at 40 dB. At the highest fan setting, the device can produce 56 dB(A). A normal conversation or background music is 60 dB.
This means that you can keep your home healthy and cool while carrying out a conversation with your family or friends. Due to the low noise level, this device is perfect for your bedroom or baby nursery. Even at the highest setting, it provides a calming white noise.
Suitable Room Size for Blueair Blue Pure Fan:
*The room size calculation is based on an ideal situation. For best practice, consider the size of the room a little less than the calculated value.
If you have higher ceilings, then use our Air Changes per Hour Calculator to calculate the suitable room size.
Blueair Blue Pure Fan Operating Costs:
Annual Filter Replacement: ~ $49, based on 6-months usage per filter (check the current filter price Blueair).
Monthly Energy Consumption: ~ $4 (based on 12 cents per kWh and 18 hours use on the top speed per day). Use our Energy Usage Calculator to find out the bill based on your usage and the local energy rate.
Pros & Cons:
Check out our top picks >>> The 5 Best Air Purifier Fan Combo
Blueair Blue Pure Purifying Fan vs. Dyson Pure Cool Me Purifying Fan
Blueair and Dyson are great brands. For years, they have been making smart air purifiers that trap and also cool your home. Two of their products include The Blueair Blue Pure Fan and the Dyson Pure Cool Me.
These products are excellent, and here is how. They have filtration systems capable of trapping and removing pollutants from the air. They also have powerful fans that suck unfiltered air into the system and distribute fresh, cool air in the room.
Despite their similarities, they have a couple of differences.
Oscillation
The Blueair Blue Pure fan has a patented air circulation technology. It can deliver fresh, cool air across a 90-degree range without oscillation. When it comes to the Dyson Pure Cool Me, it features the Core Flow technology. This allows the precise distribution of purified air that occurs at a smooth 70-degree oscillation.
Intake
The Blueair Pure Fan has its intake on the back of the machine. This intake has a colored pre-filter that captures large particles. For the Dyson Pure Cool Me, it has a 360-degree intake. It sucks air from all sides and passes it through the filtration system before releasing fresh air.
Filtration System
The filtration system for the Blueair purifier fan includes a pre-filter and a particle filter. The particle filter has a 99% efficiency rating. For the Dyson Pure Cool Me, it features a 360 degree HEPA and activated carbon filters. The filter has a 99.97% efficiency and captures microscopic particles of 0.3 microns.
Purifying Fan
Minimalist Design
Blueair Blue Pure Fan
Feature-rich
Dyson Pure Cool Me Fan
Image
Minimalist Design
Image
Feature-rich
Image
Last update on 2023-01-28 at 00:53 / Affiliate links / Images from Amazon Product Advertising API
Questions and Answers
Q. Does this device contain an ionizer?
A. No, it does not have an ionizer. As such, this unit does not produce any amounts of ozone.
Q. How often should you change the filter?
A. The pre-filters are washable. You can toss them in a washing machine or vacuum them. For the particle filter, you can replace it after six months. Alternatively, monitor the filter replacement indicator.
Q. Does the air purifier fan show the current air quality?
A. No, the air purifier fan lacks air quality sensors.
Q. Can the Blue Pure Fan cool a room?
A. No, it cannot reduce the temperature of a room like an air conditioner.
Final Thoughts
The Blueair Blue Pure Fan is a great device. As a 2-in-1 air purifier and fan, it has a powerful fan with dust-free blades. Not only will the fan distribute clean, cool air in your home. But, cleaning the fan and the entire unit is hassle-free.
We did like the minimalist design and the one-button control that makes it easy to use this device. Although it does not come with a medical-grade HEPA filter and activated carbon filter, it removes 99% of PM2.5 airborne particles.
We highly recommend it to those looking for the best air purifier fan.