Quality air is an essential requirement for every homestead. After a busy day, when you get home, it feels good to breathe quality air that is free from any toxic. This is exactly what you get when you invest in this ColzerBkj-33 air purifier. The purifier has numerous features, and it is environmentally friendly. This air purifier cleans your home against pet dander, food odor, dust particles, and much more. It is also suitable for use in a room of up to 800ft and still maintains the same air quality.
In this article, we talk about the specs, features, pros & cons, commonly asked questions about Colzer Bkj-33, and will compare with its larger sibling Colzer PM-1556.
Jump to: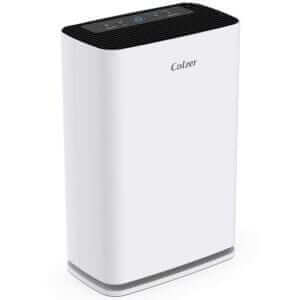 Colzer Bkj-33 Specifications:
Filtration: Combined 3-in-1 pre-filter, HEPA, and activated carbon filter
HEPA class: True HEPA
Filter life: 6 months
Maximum CADR: 194 cubic feet per minute (cfm)
Sensor: Laser-based particle sensor PM 2.5
Room Coverage: 290 sq ft with 5 air changes per hour (ACH)
Number of manual fan speed: 3
Automatic mode: Yes
Size: 23.6″H x 16.5″W x 10″D
Device weight: 17 lbs
Rated power: 65 W
Lowest Noise Level: 28 dB
Voltage: 110-120 V AC 60 Hz
No products found.
In-depth Review of Colzer Bkj-33 Air Purifier:
3-Stage Filtration with True HEPA: Purifying the air is quite a challenging process. However, with this air purifier, you are guaranteed that the process will be easy and convenient. It has 3-stage filters, which ensures that it releases clean and friendly air in the room. The filters include a net pre-filter, a true HEPA, and an activated carbon filter combined in a package.
The true HEPA filter will eliminate any airborne particles that are sized down to 0.3 microns. Honeycomb structured odor filter is capable of filter the odor, gases, and VOCs. All the filers work together to ensure that your room is continuously filled with clean and fresh air free from any toxic.
Filter life is approximately six months based on the usage and the condition of the indoor air.
Coverage, CADR, and ACH: The maximum airflow rate of the Colzer Bkj-33 air purifier is 194 cfm, which is suitable for medium-sized rooms. The best room size to use the air purifier is up to 300 square feet room where you will get five air changes per hour. The calculation is based on 8 feet ceilings. If you have a high ceiling, then you can find out how fast this air purifier could clean the air from your room with our ACH Calculator.
Auto Mode: What makes this unit unique and different from other purifiers, is that it has an auto mode setting. In other words, it automatically senses the air quality from a laser-based particle (PM2.5) sensor and sends real-time readings hence adjusting the fan speed to clean the air. Therefore, even when you are not around, you are sure that your interior air will be clean.
The air purifier also indicates the real-time indoor air quality with a colored LED indicator with 3 levels: Blue for excellent, Green for good, and Red for poor air quality.
No products found.
Sleep Mode & Child lock: With this purifier, you are guaranteed of both quality air and sleep with minimal interruption. The unit has a sleep mode feature where you press the button, and it changes the lights. Additionally, while at sleep mode, the motor runs on low speed hence assuring that it will not make noise and disturb your peaceful sleep. Therefore, you will rest peacefully as the unit continues to clean the air quietly.
It also features a child lock to prevent any unwanted button pressing, which will help homeowners who have kids and pets in the house.
Lightweight Construction: The unit is super thin and can be easily transported from one room to the other. The lightweight design also makes it convenient for you to travel with as you try and monitor the quality of the air you breathe.
Easy To Use: Unlike other air purifiers on the market, this has an easy to use design. It has an intuitive touch control panel where you can customize specific settings to meet your room expectations. Additionally, the control panel allows you to set the unit for the number of hours you want it to operate, depending on your room's air quality. Therefore, it will be easy for you to monitor the quality of air at a particular time.
Silent Operation: After a busy day, all you need is to relax and enjoy resting in your room. With this purifier, you are sure of ample resting space and quality air supply. The noise level of this unit goes up to 28dB, which allows you to rest with minimal disturbance. Additionally, when you activate the sleep mode, the motor adjusts automatically, enabling you to enjoy deep sleep all night.
Check out our top picks >> The Best Quietest HEPA Air Purifiers
Different Timer Settings: To avoid frequent movement to either turn on or off, this unit has 4-timer setting options to choose from. You can either set it to 1/2/4/8 hour timer, allowing you to enjoy quality air within the set period. Therefore, it becomes easy to save energy and still monitor the quality of air in your home.
Reliable and Safe: This unit has undergone rigorous testing for quality. It meets all the stringent requirements and has the certification of CARB, ETL, and FCC. Therefore, when you buy this unit, you are sure that it will serve its purification purposes and also ensure that your safety is observed.
Suitable Room Size for Colzer Bkj-33 Air Purifier:
*The room size calculation is based on an ideal situation. For best practice, consider the size of the room a little less than the calculated value.
If you have higher ceilings, then use our Air Changes per Hour Calculator to calculate the suitable room size.
Colzer Bkj-33 Operating Costs:
Annual Filter Replacement: ~ $99 based on 6 months usage per filter (check availability & filter price).
Monthly Energy Consumption: ~ $2.8 (based on 12 cents per kWh and 12 hours use on the top speed per day). Use our Energy Usage Calculator to find out the bill based on your usage and the local energy rate.
Video Commercial:
Pros & Cons:
Colzer Bkj-33 vs. Colzer PM-1556 Air Purifier:
Colzer Air Purifier Model
Image
Coverage at 5 air exchanges/hr
Sensors
Particulates PM 2.5, Temperature & Humidity
Colzer Air Purifier Model
Image
Coverage at 5 air exchanges/hr
Colzer Air Purifier Model
Image
Coverage at 5 air exchanges/hr
Sensors
Particulates PM 2.5, Temperature & Humidity
Last update on 2022-05-24 at 07:42 / Affiliate links / Images from Amazon Product Advertising API
Questions & Answers:
Q. Is it an ozone-free air purifier?
A. The air purifier is entirely ozone-free without any electronic filter used and also CARB compliant.
Q. How often I need to change the filter?
A. It is recommended to replace the filters every six months. However, the lifespan of the filter depends on daily usage time and air quality. Also, it includes a filter status indicator that will tell you when to replace the filter.
Q. Is the filter washable?
A. No, the filter is not washable. You can clean the front pre-filter side with a low-speed vacuum cleaner to remove dust from the surface.
Q. Will it remove the smoke?
A. Yes, as the true HEPA filters are capable of removing tiny smoke particles. The activated carbon filter will absorb the odor out of the smoke.
Q. Is it suitable for pets?
A. Pets in the house mean lots of hair and dander everywhere. Colzer Bkj-33 is capable of removing all the pet hair and dander that are in the air. But it won't be very cost-effective because it has no dedicated pre-filter that you can use many times by frequently washing. The filter will be clogged with hair quickly.
Q. What about the maintenance?
A. You have to replace the filter in time. Also, you have to clean the dust particle sensor every two months to run the air purifier smoothly. You might need to clean the sensor more frequently based on the dusty condition of the air.
Is It Worth To Buy?
When thinking of buying an air purifier, there are critical things to put into consideration. Some of the issues to consider include filter composition, operating speed, durability, etc.
With this Colzer Bkj-33 Air Purifier, there are several reasons as to why you should consider buying regardless of its cost.
Suitable For Any Room: The purifier can function in any room, including bedrooms, living rooms, and offices. The different fan speed settings guarantees that it can filter the air and still give you sufficient time to concentrate on other issues. Additionally, its compact size allows you to flexibly move it from one room to the other hence ensuring your entire home has fresh and clean air.
Saves Energy: The auto mode sensor helps in ensuring that the purifier only cleans the air when it is necessary.
Long-Lasting: Another reason as to why you should invest in this air purifier is that it is designed to last longer. Its filter is replaceable, too, ensuring that you can keep the unit for a couple of years. It is durable and can withstand numerous weather challenges.
Final Thoughts
When it comes to purifying your interior air, it's essential to invest in a purifier that will keep your home and everyone safe. Colzer Bkj-33 air purifier is safe and reliable. It cleans and purifies the air as well as ensuring that everyone is safe.
If you have pets, it cleans and eliminates all pet dander to give you ample time. Additionally, the purifier is also suitable for people with sensitive respiratory conditions, including allergy and asthma sufferers.