If you have allergies and want to keep the air in your home clean and safe for everyone, you must find the best purifier. The ideal purifier would be one that will clean the air and still fit into your home's decor. With the numerous models and brands manufacturing purifiers, you must find a method to sieve the wheat from the chuff.
For a long time, the Coway Company has been producing air purifiers in the low and mid-range. The Airmega 300 smart is a high-range cost premium design that has a great variety of intelligent features. This purifier has replaced the Coway AP-1511FHE, which is designed to have a high-end level. You need to find out whether this purifier can stand the test of time and be an excellent choice for all homes. This in-depth review will give you all the pros and cons so you can make an informed decision.
Comparison between the 300, 300S and 400, 400S models:
The truth is that there is little difference between the Airmega 300 and the 300s because both have similar designs, airflow performance, and filtration setup. Their main differences come in because the Airmega 300 is cheaper and non-smart. The S models can be connected to your home Wi-Fi, and you can monitor and control it with the app. Also, the S models have a built-in ambient light sensor to activate sleep mode automatically.
The main difference between the Airmega 300 and 400 is that the Airmega 400 is more prominent in size and the airflow rate. The difference between these two is mainly the size of the rooms they can work in. Another difference is the 400 comes with two color variants while the 300 is only in the white color variant.
We will discuss later on exactly which models are worthy and which are not.
Specifications and Features:
Let's take a look at its specs below:
Filtration: 2 sets of pre-filter and combined HEPA with activated carbon filter
HEPA class: True HEPA
Filter life: 12 months
CADR: 335 cubic feet per minute
Sensor: Particle sensor PM 2.5 (S models have the light sensor)
Coverage: 1060 sq. ft. at 2 air changes per hour or 420 sq. ft. at 5 air changes per hour
Number of manual fan speed: 3
Automatic mode: Yes
Size: 21.2″H x 13.6″W x 13.6″D
Device weight: 21.4 lbs
Rated power: 57 W
Noise Level: 22-52 dB
Voltage: 110-120 V AC 60 Hz
Sale
Coway Airmega 300 Smart Air Purifier with 1,256 sq. ft. Coverage
Coway Airmega 300 room air purifier is designed to accommodate room sizes up to 1,256 square feet and cleans the air at least two times...
Coway Airmega Max2 filter – combined activated carbon and True HEPA filter – captures and reduces up to 99.97% of particles 0.3...
Coway Airmega's pollution sensor communicates indoor air quality in real-time. The brightly colored LED ring lets you know how clean...
Coway Airmega has five fan modes: Smart, Sleep, Low, Medium and High. The noise level is nearly silent at lower speeds and the max...
Smart mode with three settings, Coway Airmega smart air purifier adapts to its surroundings. Fan speed automatically adjusts based on...
Coway Airmega 300 Smart air purifier is one of the very premium looking air purifiers out of the market. It is made of high-quality plastic and feels so premium to touch. It's square-shaped, and it takes air from both sides. The covers are magnetically locked, and it is effortless to operate in terms of running and maintenance.
It featured a smart mode based on surrounding air quality, sleep mode, and eco mode. The primary filter is an activated carbon featured true HEPA filter with a high lifetime. Lets deep dive into its features and capabilities.
In-depth Review of Coway Airmega 300 Smart:
Without further ado, let's analyze the features of the Airmega 300 smart air purifier, so you know whether it is a good buy for your needs.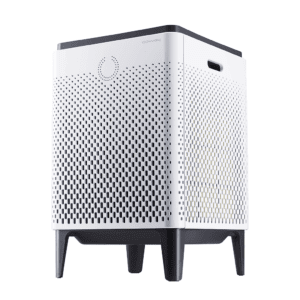 Filtration: The primary filter is a combined true HEPA with an activated carbon filter, which they called Max2 filter. Two sets of filters increase the total filter surface area, and the CFM is also high. They claimed the efficiency of the HEPA filter is 99.97% on 0.3 microns particles and 96% on traping multiple VOCs and gases. The filter is reasonably thicker, and it will good for removing light to medium odor. The pre-filters are washable and permanent.
It uses only 3 stage filtration: Pre-filter, activated carbon, and HEPA. The unit has no optional ionizer, UV-C light, or other filtration, so its 100% ozone-safe air purifier. It has a filter life indicator, and the filter lasts almost a year.
Annual filter replacement cost: ~ $65 (check current filter price)
Airflow rate, CADR: It takes air from two sides with two sets of the filter and delivers through the top. The airflow rate is 335 cubic feet per minute or 560 cubic meter per hour, which is a decent airflow rate. That means it can clean a 1256 square feet room twice per hour or 500 sq. ft. room with 5 air exchange/hr rate. The high airflow rate is effective against highly contaminated air like smoke. Although the CADR rating is tested on their own and not certified by AHAM, use our CADR Calculator to find out your required airflow rate for your room.
Mode of Operation: In smart mode, the purifier will detect the number of pollutants in the air and adjust the speed of its fans. It comes in three fan speeds- low, medium, and high. The smart mode also has three options for you to select- auto, Eco, and sleep mode. If you live in areas with risk for wildfires, this purifier will keep your home free of the harmful and toxic smoke fumes automatically. It also features three timer modes: 1, 4 & 8 hours.
Particle sensor: It has a built-in particle sensor, and it shows the real-time air quality as a colored LED circle indicator. It determines the air with four types of parameters: Good, Moderate, Unhealthy, and Very Unhealthy.
Noise: The noise produced from this air purifier is surprisingly low. At lowest, it is only 22dB, below the whisper level. On the highest fan speed, the noise is also low, only 52dB. Thus, it can help you with overnight operation on the highest settings, especially on smoky days, when you need to run air purifiers at the most top speed. The sleep mode is where this purifier outshines the others.
Check our reviews on Top picks of Silent HEPA Air Purifiers.
Power: The rated power of airmega 300 smart is 56w, which is close to average power ratings of moderns air purifiers. The monthly electricity cost will be no more than $3 based on daily 15hrs of usage at 12 cents per kWh energy rate. The device is not Energy Star certified, though. You can calculate your air purifiers monthly power consumption with our Energy Consumption Calculator.
Aesthetics: This air purifier comes with white as its only color variant. This color is great because it blends in effortlessly with other colors. It will, therefore, suit most homes without throwing off the aesthetics. The controls are also centrally aligned and are segregated into two sections. It also has a small air filtration quality indicator that you can choose to enable or disable.
Video Commercial:
Our Recommendations to select Coway Airmega 300:
Use our air exchange rate calculator to find out the ACH for specific room size.
Pros and Cons:
Let's make a quick Comparison before concluding which models you need actually:
Image
Coverage at 5 air exchange/hr
Image
Coverage at 5 air exchange/hr
Image
Coverage at 5 air exchange/hr
Is it Worth to Buy?
Airmega 300 is the most affordable in the airmega lineup. It comes with a wide array of features that are great for indoor air cleaning. The modern design, dual air inlet, high-quality filters, extended filter life, an excellent airflow rate makes it one of the superb air purifier.
We suggest you choose airmega 300 if it does fulfill your requirements. You can select the 400 models as it has a graphite-silver gradient color options which look great, an extra 26 CFM of airflow rate, and an impressively low noise level at the maximum speed. We don't suggest to choose the S models (300S or 400S) as their native app has some issues, and it has an abysmal rating on both android and iOS app stores.
Frequently Asked Questions:
Q. Is It Ozone Free Or Not?
A. Yes. It has a pollution sensor in auto mode, and the HEPA filters prevent the release of ozone into the air.
Q. When Do I Have To Change The Filters?
A. The Max2 filters (HEPA and carbon filters) need to be changed once every year. It has a filter life indicator, so you will be notified when to change. Filter life depends on two things: daily usage time and the quality of the indoor air.
Q. Are The Filters Washable?
A. Yes, the pre-filters are dishwashable and permanent. The Max2 filters are not, though you can clean its surface softly.
Ensuring the air is clean demands that you are careful about the air filter you buy. With the in-depth review of the Coway Airmega 300 smart air purifier, you can make an informed decision.