Dyson, who is famous for making futuristic bladeless fans, has now combined air filter to them, making air purifier fan. Dyson DP04 is their latest desk series air purifier fan that comes with air filters and their signature loop amplifier. All three shared the same airflow rate, Dyson DP04 (Desk series) is compact, TP04 (Tower series) is intended to use on floor and HP04 has heater function.
If you need portability and no heating, then Dyson DP04 might be useful for you, especially for summer. You can move it easily between rooms while breathing allergens-free air with a cool breeze.
In our Dyson DP04 Review, we explore its specs, features, pros, and cons.
Jump to…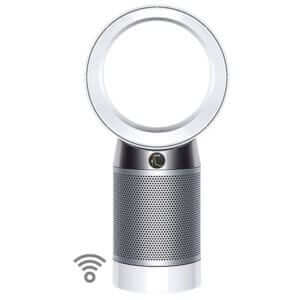 Dyson DP04 Specifications:
Filtration: 360-degree cylindrical HEPA filter, and carbon filter
HEPA class: True HEPA
Filters life: 12 months for both HEPA and Carbon filter
Maximum Airflow: 77 gallons per second or 617 cubic feet per minute (cfm) with air multiplier technology
CADR: approximately 42 cfm (calculated by us)
Room Coverage: 320 square feet with one air exchange per hour (ACH)
Sensors: PM 2.5, PM 10, VOC, NO2, Temperature and Humidity
Number of manual fan speeds: 10
Automatic mode: Yes
Smart Home Automation: Dyson Link app for both iOs and android, Siri, Alexa. Doesn't support Google Home or Apple HomeKit.
Tilt Functionality: Manual two way: upward and downward
Size: 27.2″H x 13.9″W x 8.8″D
Device weight: 10.2 lbs
Noise level: 42.3 – 62.5 dB(A)
Rated Power: 40 Watt
Voltage: 120 V AC 60 Hz
Dyson Pure Cool, DP04-HEPA Air Purifier and Fan WiFi-Enabled, Large Rooms,...
The only purifying fan to clean a whole room properly
Intelligently purifies and cools you.
Dyson technology helps create a cleaner, healthier home - Our vacuums and purifiers are scientifically proven to capture particles as...
360° filtration system uses activated carbon to remove gases and odors and a HEPA filter to capture 99.97% pollutants as small as 0.3...
Air Multiplier technology circulates purified air throughout the whole room
Check out other Dyson air purifiers:
In-depth Review of Dyson DP04 Air Purifier:
Dyson is a trusted brand that designs and manufactures hand dryers, heaters, bladeless fans, and air purifiers. Founded in 1991 by Sir James Dyson, the company began by making vacuum cleaners.
By the turn of the new millennium, Dyson expanded its product portfolio and began making other appliances. They include a bladeless fan and bladeless fan heaters.
This also led to the introduction of bladeless air purifiers to help remove air pollutants.
One of the best air purifiers to come off the Dyson assembly line is the Dyson DP04 air purifier. Here is why.
Performance
The Dyson DP04 air purifier is one of the most popular purifying fans that removes ultrafine particles from the air. What we liked about this purifier is that it comes with multiple air quality sensors. These sensors work by automatically detecting and alerting you of the presence of pollutants in the air.
That includes ultrafine particles (PM 2.5), VOCs, Nitrogen dioxide, larger allergens (PM 10), temperature, and humidity. When the purifier detects pollutants in the air, it alerts you via your Dyson Link app. Besides intelligent reporting, the Link app allows you to control and customize your purifier settings.
The app is compatible with iOS and Android smartphones. To ensure it works, just follow the instructions to pair with your air purifier.
Besides the Wi-Fi capability, this air purifier features the Air Multiplier technology.
What's impressive about this technology is that it delivers 77 gallons of air per second or 617 cubic feet of air per minute.
Even at night, you can sleep better. Just set the night mode, and the purifier will dim the LCD.
State-of-the-art Design
At 10.2 pounds, the Dyson Pure Cool DP04 design is not only sleek but compact too. The total height of the purifier is 27.2 inches, with the base diameter plus the plate at 8.8 inches.
Speaking of the base, it houses the filtration system and the LCD. It also houses the intake vent for the air purifier. The bottom of the air purifier has a 360-degree intake with perforated holes.
The design allows the purifier to suck in more dirty air from all sides for purification. Once the unfiltered air gets purified, its redistributed via the loop amplifier. The cool amplifier has a diameter of 13.9 inches, and it's impressive.
You can adjust the up and downward tilt of the air purifier manually. Also, you can set the oscillation angle between 45-degrees to 350-degrees. This will help to project the purified air all around your living space.
So, if you want the air purifier to release purified air in your home and cool you at the same time, set it to the forward airflow mode. But if you don't want the air purifier to cool you but to do its job, set it to the backward airflow mode.
However, Dyson DP04 doesn't drop the room temperature. You will just feel cooler as the wind blows on you on the forward airflow mode.
Read our blog post >>> Does Air Purifiers Cool the Room?
The air purifier comes in white/silver and blends easily with your home décor. When it comes to materials, the air purifier has a solid build thanks to its metallic body.
As such, it's stronger and durable. The good news is the compact design makes it suitable for any living space in your home. You can place it in your living room, bedroom, or kitchen.
Multi-Stage Filtration System
Dyson DP04 comes with a 2-stage filtration system that includes a sealed HEPA filter and an activated carbon filter. The HEPA filter is not only fully sealed but available as a 360-degree version. This filter captures and removes 99.97% of microscopic pollutants and allergens as small as 0.3 microns.
They include dust, pet dander, pollen, smoke particles, and others. What you need to know is that this is a glass HEPA filter. It has 29 feet of borosilicate microfibers, which is pleated over 238 times.
After the unfiltered air passes through the HEPA filter, it moves to the activated carbon filter. Here, the activated carbon filter absorbs and neutralizes odors.
It also helps to remove VOCs and household odors such as nitrogen dioxide and formaldehyde. What we liked about the activated carbon filter is that it's made of high-quality carbon material. This is unlike other models that come with paper carbon.
As such, you should experience a significant difference in indoor air quality when you run the Dyson Pure Cool DP04 air purifier all the time.
After the air passes the activated carbon filter, it's released via the bladeless air multiplier loop.
The air purifier is certified by the Asthma and Allergy Foundation of America for allergy and asthma friendly. Not only that. The purifier is ozone-free because it lacks a negative ion generator.
As such, the California Air Resources Board certified the purifier as safe for use in homes and offices.
Room Coverage and CADR
Thanks to the air multiplier technology available in the air purifier, you can enjoy a healthier home as you work on your projects. What we noted is that Dyson failed to reveal the room coverage specs of the air purifier.
They also failed to reveal its CADR and ACH ratings.
Dyson DP04 delivers 77 gallons of air per second (~ 617 cfm) with the help of the loop amplifier, which multiplies the air up to 15 times than it takes from the base. So, the CADR (Clean Air Delivery Rate) is approximately 42 cfm, which contributes almost 7% of the total airflow.
From an air purifier perspective, the filtration rate is much slower than a regular air purifier. However, the high airflow and the oscillation will circulate the air much better through the room.
With the CADR of 42 cfm, it will filter the air from a 320 square feet room in one hour. As such, it's perfect for your living room, bedroom, and home office where you can enjoy a cool breeze with gradual air filtration.
However, if your primary concern is faster air filtration in a medium to large-sized room, then Dyson Dp04 won't help you much.
Suitable Room Size for Dyson DP04:
320 sq ft with one air exchange per hour.
105 sq ft with three air changes per hour.
If you have higher ceilings, then use our Air Changes per Hour Calculator to calculate the suitable room size.
Dyson DP04 Operating Costs:
Annual Filter Replacement: $79 per year for the HEPA and the Carbon filter (check the current price on Amazon).
Monthly Energy Consumption: ~ $2.6 (based on 12 cents per kWh and 18 hours use on top speed per day). Use our Energy Usage Calculator to find out the bill based on your usage and the local energy rate.
Official Introduction Video:
Pros & Cons:
Questions and Answers:
Q. Are the filters washable?
A. No, the HEPA and activated carbon filters are not washable. But you can replace them with original filters from Dyson.
Q. How often should I change the filters?
A. The Dyson DP04 air purifier has a filter life indicator. It tracks the life of the HEPA and activated carbon filters. When the time comes, it will alert you to change the filters. This should be after one year of use.
Q. Will this air purifier remove litter box odors?
A. Yes, the Dyson DP04 air purifier can remove litter box odors as it has an advanced charcoal filter.
Q. Does Dyson DP04 cools the room?
A. No, it doesn't lower the room temperature. Dyson called it 'Pure Cool' because the forward-airflow will give you a chill feeling like a fan.
Final Thoughts
Dyson DP04 is a beautifully designed air purifier fan that comes with numerous features and automation. The airflow is weaker than a conventional fan, and the clean air delivery rate also lower than a regular air purifier. However, if you are looking for a combo of air purifier and fan blended with state-of-the-art technology and design, then Dyson DP04 could be a perfect choice for you.