Are you having trouble with the quality of the air you breathe while at home? Here is a solution for you. This Dyson TP04 air purifier is designed with two functionalities in one unit. It has a fan that makes you feel cooler and a purifier to ensure the air is convenient. With this unit in the house, you will not have to deal with food odor after preparing your meals as well as pet dander and dust mites.
Dyson TP04 is also designed ergonomically to ensure that it's durable and maintains the same quality performance for an extended period. Here we talk about its specs, features, who is this for, how it works, pros & cons, and about some common questions.
Who is this air purifier for: You might probably think this Dyson TP04 would be an excellent replacement for an air purifier and an air cooler as it says Pure Cool. However, the "Pure" indicates it has an air filter, but the "Cool" doesn't mean it cools the air in the room. Rather than, the forward-facing wind will give you a fresher feeling like a fan does. If you are more curious, read our article: Does Air Purifiers Cool the Room?
So, if your primary concern is getting an air purifier to improve indoor air quality, that also can be used as a fan, then this Dyson TP04 could be a classy choice. But, if you are more concerned about cooling (by Fan or AC), then Dyson TP04 is not for you as the airflow rate is much lower than a standard desk or ceiling fan.
Dyson calls it fan because the aerodynamics of the air delivery mechanism multiplies the airflow than the air it takes through the filters. So, you may call it a 60 percent air purifier and a 40 percent fan device.
Jump to…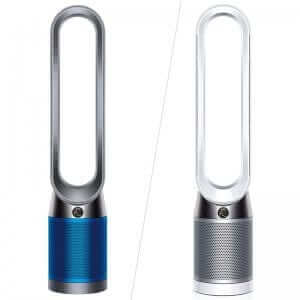 Dyson TP04 Specifications:
At first, take a look at the specifications below:
Filtration: 360-degree split HEPA, and activated carbon filter
HEPA class: True HEPA
Filter life: 1 year for both filters
Maximum Airflow: 77 gallons per second or 617 cubic feet per minute (cfm) with air multiplier technology
CADR: approximately 42 cfm (calculated by us)
Sensors: PM 2.5, PM 10, VOC, NO2, Temperature and Humidity
Room Coverage: 320 square feet with one air exchange per hour (ACH)
Number of manual fan speed: 10
Automatic mode: Yes
Smart Home Automation: Dyson Link app for both iOs and android, Siri, Alexa. Doesn't support Google Home or Apple HomeKit.
Size: 41.5″H x 8.1″W x 4.6″L
Device weight: 10.9 lbs
Rated power: 40W
Maximum Noise: 55dB
Voltage: 120V AC 60 Hz
Dyson Pure Cool, TP04 - HEPA Air Purifier and Tower Fan, White/Silver
The latest Dyson purifying fan. It senses pollution and allergens, captures them in a sealed HEPA activated carbon filter, and projects...
Connected: Wi Fi connected. See real time reports, remotely control your machine and create schedules around your day using the Dyson...
Senses: Automatically senses & reports air quality levels on LCD display on air purifier, including ultrafine particles (PM 2.5),...
Captures: The sealed HEPA filter captures 99.97 percent of allergens as small as 0.3 microns makes this an ideal air purifier for...
Projects: Projects purified air throughout the whole room. Air Multiplier technology delivers over 77 gallons per second of smooth, yet...
Check out other Dyson air purifiers:
In-depth Review of Dyson TP04 Air Purifier:
Advanced HEPA filtration: Dyson TP04 uses a true HEPA grade filter, which is 60 percent larger than the previous generation, as Dyson claims. The filter medium is glass fibers, and they can capture tiny particles of 0.3 microns with 99.97% efficiency.
The filter fiber is pleated over 238 times in a sealed plastic case, which lasts up to 1 year depends on the usage and the indoor air quality. You can check the remaining filter life through the Dyson Link app.
Activated Carbon Filter: The second stage filter is impregnated with activated carbon, which absorbs various types of odors and VOCs. Although these types of filters are less effective than the honeycomb filter with activated carbon pellets, Dyson claims the filter has three times more carbon material than the previous generation.
Like the HEPA filter, this activated carbon filter also lasts for a year, and you can check the remain filter life through the native app.
High airflow, aerodynamic design: Dyson first launched its bladeless futuristic-looking fan with Air Multiplier technology, where the delivered air multiplied (up to 15 times) by the aerodynamic airflow shape than the air it takes from the bottom.
The same technology adopts in Dyson TP04, where it can deliver 77 gallons of air per second or 617 cubic feet of air per minute with the help of the multiplier at top speed. However, Dyson didn't reveal the multiplication number. If we take 15, then the air comes through the filters is about 42 cfm.
If you are curious about Dyson Air Multiplier technology, then you can watch the explanation from Sir James Dyson:
This system is ideal for both medium and large rooms. When you set it on, it will filter and project the air with up to 350-degrees of variable oscillation angles. This ensures good air circulation throughout the room, which is necessary for air filtration.
However, with the low air filtration rate (~ 42 cfm), you won't be able to get faster air cleaning. To get the best result, turn the air purifier all the time.
If you need very faster cleaning in your room, don't select it.
Wireless Connectivity: It connects to the internet thanks to its Wi-Fi feature. This guarantees that you can operate the unit remotely through the Dyson Link app. This way, it becomes easy for you to monitor your home air even while you are away. It also records and sends you real-time reports of how your interior air is and when you should increase your cleansing speed.
Additionally, with the app, you can also create and set schedules as to when the unit should start purifying. Therefore, you are sure that whenever you get home, you will not be surprised by poor air conditions.
Dyson Tp04 is also compatible with Alexa and Siri; however, it doesn't support Google Home. Dyson Tp04 supports both 2.4 GHz and 5 GHz Wi-Fi network.
Also, Dyson TP04 comes with a beautiful remote controller you can operate. The remote also can magnetically be attached to the top of the loop amplifier, which is very convenient.
Allergy and Asthma Friendly: This air purifier is tested and certified by the Asthma and Allergy Foundation of America. Therefore, people with such health conditions have the assurance that the unit will not only purify their air but also assist in improving their living standards.
In other words, with this unit ON, it eliminates up to 99.97% of airborne allergens, including the smallest particles as 0.3 microns. It can eliminate pollen, mold spores, dust mites, pet dander, and other allergies in your air. The true HEPA filter is super effective and gives you the confidence that nothing unusual gets to your breathing system.
Different Operating Speeds: The quality of air varies from time to time. Therefore, there are moments when you will require a purifier that can operate on both high and low speeds. With this unit, that should not be your fear.
It has up to 10 different speed settings giving you the assurance that you have full control of the purification process. In automatic mode, it operates between 1-4 fan speed.
Additionally, the different settings also guarantee that the system can also operate at low speed for enhanced filter durability. While on running, it is also ideal for night operation thanks to the night-time mode. This ensures that you can enjoy both quality sleep and air under the same roof.
Multiple Air Quality Sensors: Dyson TP04 air purifier is loaded with sensors for convenience operation. You can check the different air quality parameters in real-time on the LCD and from the Dyson Link app.
It monitors two types of particulates: PM 2.5 and PM 10. Also, it senses Nitrogen dioxide, VOCs, Temperature, and Humidity.
In auto mode, the air purifier changes its fan speed when it detects pollution in the air.
Air Purifier & Fan: Quality and fresh air is an essential requirement for almost everyone. When you are relaxing in the house, it feels good when you breathe fresh air and enjoy catching up with friends and family with hot air interruption. Instead of hustling up to buy separate units to purify and fan, Dyson TP04 is all you need. Its designed with both fan and purifier mechanism to ensure the air circulation in your room is convenient.
Oscillation, Up/Downward Airflow: Since Dyson called it a tower fan, it incorporates all the features for a fan. It has a customizable oscillating feature from 45 degrees to 350 degrees. You can set the oscillations for 45°, 90°, 180° or 350° or keep it stationary.
Also, you can change the airflow direction from forward to backward as the winter and the summer mode for a fan. This feature will allow you to use it all year round.
Power Consumption: The standby power consumption is 2 watts (Wi-Fi on) and 0.5 watts (Wi-Fi off). The input power for Dyson TP04 is 6W for the lowest fan speed and 40W for maximum settings. It comes with a separate 6 feet long power cord with an adapter that can connect with a 120V power outlet.
Suitable Room Size for Dyson TP04:
320 sq ft with one air exchange per hour.
105 sq ft with three air changes per hour.
If you have higher ceilings, then use our Air Changes per Hour Calculator to calculate the suitable room size.
Dyson TP04 Operating Costs:
Annual Filter Replacement: $79 per year for the HEPA and the Carbon filter (check the current price on Amazon).
Monthly Energy Consumption: ~ $2.6 (based on 12 cents per kWh and 18 hours use on top speed per day). Use our Energy Usage Calculator to find out the bill based on your usage and the local energy rate.
Dyson TP04 vs. DP04 vs. HP04:
Choosing between TP04 and DP04 can be a little tricky as the two purifiers are almost similar in their functionality. However, the TP04 unit has a sleek design, and although they both project the same amount of air with oscillation angles of 350 degrees, the TP04 is a little bigger.
Another notable difference is that the TP04 is intended to place on a floor while the DP04 is best while on the desk. Although, DP04 and HP04 have a tilt feature to change the airflow to upward or downward directions.
The HP04 model integrates a heater coil into its loop amplifier so that you can use this for room heating during the winter.
Dyson Air Purifier
Dyson Pure Hot+Cool™
HP04
Image
Dyson Pure Cool™
Image
Dyson Pure Cool™
Image
Dyson Pure Hot+Cool™
Image
Complete review >>> Dyson DP04 Air Purifier
Official Introduction Video:
Pros & Cons:
Questions & Answers:
Q. Can I use it only as a fan without air purification?
A. No, the motor sucks air through the air filters. The air multiplier adds some air to the output than it takes from the bottom. So, it's an air-purifying fan where you cannot use it as an air purifier or a fan independently.
Q. Does TP04 cools down the room?
A. No, there is no air cooling unit built-in. It will only give you a cool breeze like a fan.
Q. How strong is the airflow?
A. The maximum airflow rate of Dyson TP04 is 617 CFM. But, it is much less than a regular desk fan where the airflow is 1000 CFM on average.
Q. Can it remove odors?
A. Dyson TP04 has an activated carbon filter that is capable of absorbing VOCs from sprays, paints, and cooking odors. It also has a built-in VOC sensor that will help to detect VOCs in the air.
Q. Can it remove pollutants from traffic?
A. Traffic pollutants mainly contain NO2 and particulate matters (PM2.5). Dyson TP04 has both gas and particle filters, and it also has a NO2 and a PM2.5 sensor that will trigger the air purifier if they detect pollutions in the air. However, activated carbon is not suitable to remove gases like Carbon Monoxide.
Q. Are the filters washable?
A. None of the filters are washable. You have to replace the non-disposable filters every 1 year or earlier based on the usage and the air quality.
Q. Can I carry the air purifier by the loop?
A. No, you shouldn't use the loop as a carrying handle. You have to use the base to move it between places.
Final Thoughts
Dyson's bladeless air purifying fans are revolutionary. Dyson TP04 is a hybrid air purifier fan that filters the air and creates wind. If you are looking for an all-round air purifier with a fan combo that also has nice aesthetics, then the Dyson TP04 Air Purifier could be a perfect match.