If you are looking for a beautiful and sleek air purifier to control allergens and odor in large rooms, then the Hathaspace HSP002 might be a good fit for you. The color-coded AQI light bar will tell you instantly whether the purifier is working or not. Hathaspace HSP002 is a nice upgrade to the best-selling HSP001 model with more coverage and an H13-HEPA filter.
In this Hathaspace HSP002 review, we discuss its specs, top features, pros, and cons.
Let's go.
Jump to:
Hathaspace HSP002 Specifications:
Parameter
Value
Filtration Technology

Mechanical 5-Stage: Permanent pre-filter and 4-in-1 fabric pre-filter, H13 HEPA filter, activated carbon filter, and cold catalyst filter.
Electronic: none.

Common air cleaning technologies of air purifiers.
HEPA Class

H13 True HEPA

Filter Life
4 months (3000 hrs)
Maximum CADR
265 cubic feet per minute (cfm)
Room Coverage (8 ft ceilings)
400 sq ft with 5 air changes per hour (calculate ACH for your room)
Sensors
✔️ (particle sensor)
Fan Speeds
3
Automatic Mode
✔️
Noise Level
30 - 60 dB
Rated Power
40 Watt
Weight
25 lbs
Dimensions
27″H x 9″W x 16.5″L
Deal Alert
HATHASPACE Smart Air Purifier 2.0 for Home Large Room with True HEPA Air...
Purify your air – Our 5-in-1 filter system targets pollen, dust, pet dander, VOC's, smoke, and odors. Superior to standard true H11...
What you get – Large smart air purifier, H13 True HEPA composite filter, washable filter, manual, 5-year warranty, award-winning...
Remove odors, smoke, & VOC's – Both an air cleaner and odor eliminator, our air purifier features a unique honeycomb...
Breathe easier – Nothing feels better than breathing clean air. Read our 10,000+ reviews and see just how much our air purifier can...
Smart air purifier – In AUTO mode, a smart air quality sensor detects pollutants in your air, adjusting the fan speed in real-time. A...
Last update on 2023-01-27 at 12:31 / Affiliate links / Images from Amazon Product Advertising API
In-depth Review of Hathaspace HSP002 Air Purifier:
Here is an in-depth look at Hathaspace HSP002 Air Purifier features.
5 Stage Physical Filters
The sleek Hathaspace HSP002 Air Purifier comes with a 5 stage physical-only filtration system. It's composed of:
A washable pre-filter (Permanent)
Polypropylene pre-filter
H13 True HEPA filter
Activated carbon filter impregnated with zeolite
Cold catalyst filter
The washable pre-filter is the first stage of the filtration system. It traps large particles that include dust, pet hair, lint, and others. This filter is permanent. Next, you have the 4-in-1 replaceable filter.
The first layer of the 4-in 1 filter is a polypropylene pre-filter. Unlike the fabric pre-filter, the polypropylene pre-filter is a thermoplastic polymer. This filter traps smaller particles than the washable fabric pre-filter.
It traps pollen, pet dander, dirt, and others. By trapping these pollutants, the pre-filters extend the main filter's life and ensure clean air delivery in the room.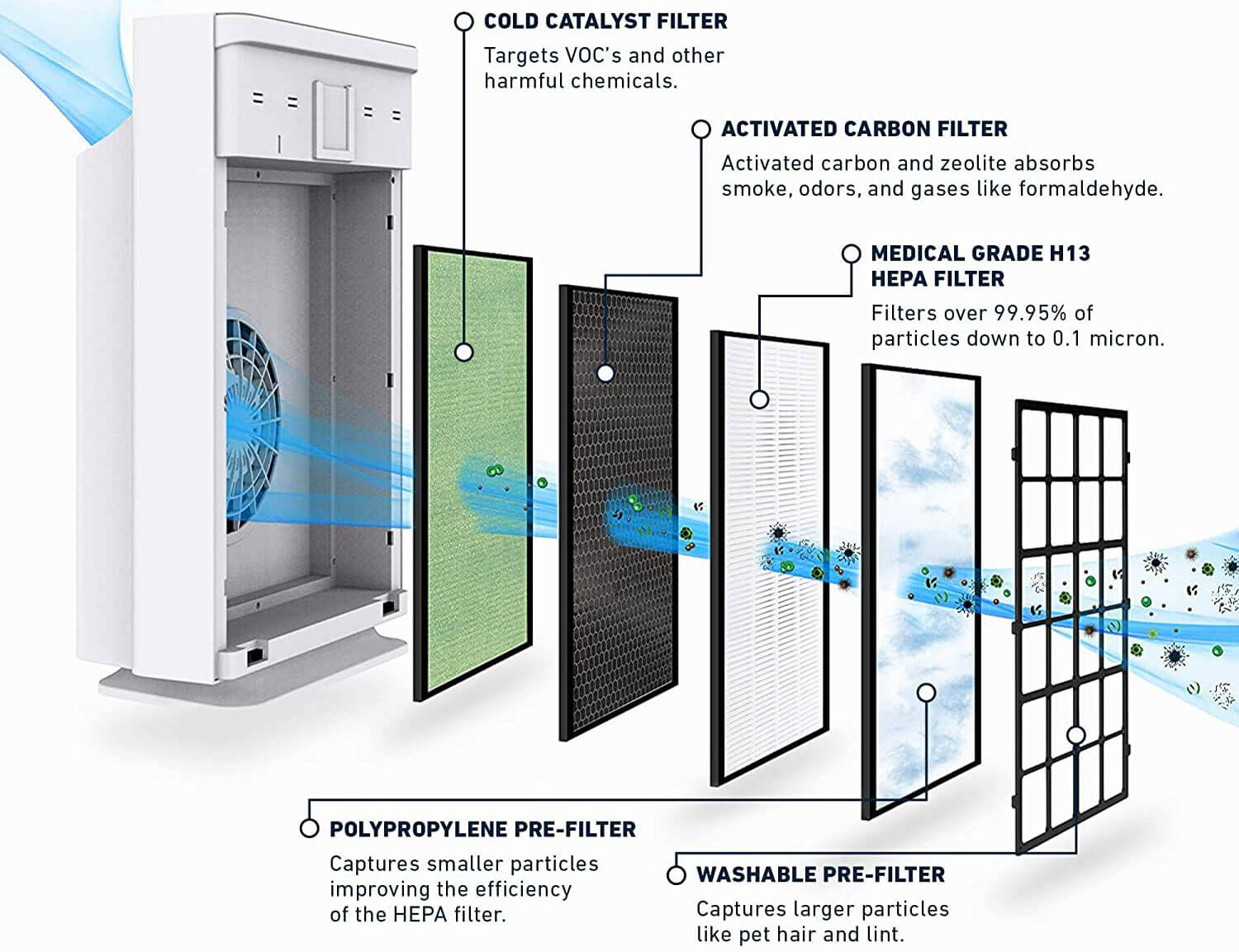 The third stage of the filtration system is the H13 HEPA filter. As the purifier's main filter, it's more efficient than the traditional HEPA filter or H11. The H13 HEPA filter traps 99.95% of particles as small as 0.1 to 0.3 microns. They include ultrafine dust, mold, bacteria, viruses, lead dust, and common smoke.
By removing these pollutants, the H13 HEPA filter improves indoor air quality and reduces the risk of respiratory issues. After the H13 HEPA filter is the activated carbon filter. Composed of activated carbon and zeolite, the filter adsorbs odors, smoke, formaldehyde, and VOCs.
A higher concentration of VOCs can cause liver and kidney damage. By eliminating these pollutants, you and your family get to breathe fresh air, day and night.
Lastly, we have the cold catalyst filter. Like the activated carbon filter, it targets VOCs and other harmful chemicals. A cold catalyst filter absorbs and decomposes VOCs and formaldehyde.
The manufacturer recommends changing the filters every 4 months or 3000 hours of usage. Depending on usage and air quality, you may need to replace them more often.
Sleek Design
The Hathaspace HSP002 Air Purifier has a sleek and modern design. As a smart air purifier, the intakes are on the side. It sucks unfiltered air through the filtration system and distributes clean air from its back upward. Since the outlet is at the top, you can place the unit anywhere in the room.
As a floor model, it weighs 25 pounds and has the following dimensions 16.5″ L by 9″ W by 27″ H. The base is wide, which provides stability to the purifier.
At the top of the unit, you have the touchscreen control panel. Easy to use has six controls: auto, sleep, light, speed, timer, and max. Besides the touch controls, you have a display that shows the air quality score. To activate or change a setting, touch or/and hold the button for a couple of seconds. Besides ease of use, the touchscreen makes it comfortable to operate the smart air purifier.
The purifier has 3 fan speeds. At the lowest fan speed, the sound level is 30 dB, and at the maximum fan speed, the sound level is 60 dB. On average, the unit runs quite. Even when it runs all night, the purifier will not interrupt your sleep. This is why the Hathaspace HSP002 Air Purifier is perfect for the baby's room. To make sure the purifier will not interrupt your sleep, activate sleep mode.
While in sleep mode, the purifier will dim the display light and continue eliminating airborne pollutants.
Large Coverage Area
The Hathaspace HSP002 Air Purifier has a CADR of 450 m³/h or 265 cfm. Perfect for large rooms, it can clean a 400 square feet room five times in an hour. It comes with a state-of-the-art motor and fan. They deliver clean, fresh air efficiently in your bedroom, living room, basement, and kitchen.
Hathaspace HSP002 comes with a laser sensor that detects airborne particles in real-time. It continuously monitors air quality in your home and diagnoses via an air quality indicator light and index display.
The air quality index is EPA-based and gives your air quality a score of between 1 to 500. Between 0 to 50, the air quality is good, but between 301 to 500, it's hazardous. When the sensor detects no contaminants in the air, the indicator light on the front turns green. But when the air quality is hazardous, it turns red.
The sleek touch screen displays the Air Quality Index score.
In Auto mode, the purifier will change the fan speed according to the air quality. If it's good, there are no fan speed changes, but the purifier will select the maximum fan speed if it's bad. At this speed, the purifier will trap and eliminate contaminants in the air while delivering clean air to the room.
Suitable Room Size for Hathaspace HSP002:
*The room size calculation is based on an ideal situation. For best practice, consider the size of the room a little less than the calculated value.
If you have higher ceilings, then use our Air Changes per Hour Calculator to calculate the suitable room size.
Hathaspace HSP002 Operating Costs:
Filter Replacement Cost: ~ $64, 4 months (3000 hrs) usage (check availability & filter price).
Monthly Energy Consumption: ~ $1.7 (based on 12 cents per kWh and 12 hours use on turbo mode per day). Use our Energy Usage Calculator to find out the bill based on your usage and the local energy rate.
Official Introduction Video:
Last update on 2023-01-27 at 12:31 / Affiliate links / Images from Amazon Product Advertising API
Pros & Cons:
Check out our review >>> The 7 Best H13 HEPA Air Purifiers.
Hathaspace HSP001 vs. HSP002:
Hathaspace Air Purifier
Compact with Remote Controller
HSP001
More Coverage & 100% Ozone-free
HSP002
Image
Room Coverage
140 sq ft 5 times per hour (CADR 94 cfm)
400 sq ft 5 times per hour (CADR 265 cfm)
Compact with Remote Controller
Image
Room Coverage
140 sq ft 5 times per hour (CADR 94 cfm)
More Coverage & 100% Ozone-free
Image
Room Coverage
400 sq ft 5 times per hour (CADR 265 cfm)
Last update on 2023-01-27 at 12:31 / Affiliate links / Images from Amazon Product Advertising API
Final Thoughts
The Hathaspace HSP002 Air Purifier is a worthy investment. Suitable for medium to large rooms, the premium-looking design will also enhance your indoor aesthetics. The purifier is a perfect combination of efficiency and design that also runs whisper quiet.