Inofia true HEPA air purifier is one of the top-rated air purifiers that comes with all the ideal air purifier features with greater flexibility in control. This air purifier can be operated both manually and remotely. The dual air inlet and two large filters can deliver clean air at a very high rate. This in-depth review will discuss the features with the pros & cons of Inofia air purifier 1539 and will give you some insights about its larger version 1608.
Jump to: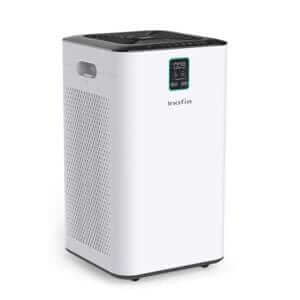 Inofia 1539 Specifications:
Filtration: 2 sets of combined HEPA with an activated carbon filter.
HEPA class: True HEPA
Filter life: 3000 hrs or 6 months
Maximum CADR: 330 cubic feet per minute (cfm)
Sensor: Particle sensor PM 2.5, Temperature and Humidity
Coverage: 500 sq ft with 5 air changes per hour
Number of manual fan speed: 5
Automatic mode: Yes
Size: 23″H x 13″W x 13″D
Device weight: 23 lbs
Rated power: 61 W
Noise range: 27 – 52 dB
Voltage: 110-120 V AC 60 Hz
Inofia HEPA Filter Air Purifier for Home Large Rooms (PM1539)
✔️【Composite Filter Performance】Highly efficient activated carbon and HEPA composite in the same filter. (NOTICE: Replacement...
✔️【Powerful Coverage】Inofia adopt 2 filter to purify the air around you at the same time, more quickly and powerful than normal...
✔️【Smart Air Monitoring】Adopts advanced sensor continually analyzes ambient air quality, a colored LED visually shows indoor...
✔️【Automatic Mode】Touch the auto button to switch back and forth between auto and manual. How to download APP? Search inofia in...
✔️【Safe And Reliable】 The air purifier has undergone rigorous quality testing and meets stringent requirements. Have FCC...
Last update on 2022-05-24 at 07:42 / Affiliate links / Images from Amazon Product Advertising API
Inofia true HEPA (1539) is a modern-looking decorative air purifier made with a high quality of plastic. It takes air from the left and right sides and delivers the clean air from the top with a centrifugal fan. The control panel is on top and an LCD placed on the front to display air quality and other measures. The device is easily portable between rooms with its wheels.
Filter replacement is very convenient with the magnetically locked covers. The air quality sensor vented at the bottom of the backside. The power cord is detachable, and it's about 7 feet in length.
Now let's talk about the features in detail.
In-depth Review of Inofia Air Purifier:
Let's talk about the filters first. It includes two sets of combined HEPA with activated carbon filters for air cleaning. There are no other filtrations used, like ionizers or UV-C lights. Also, it doesn't have any pre-filters.
HEPA filtration: Inofia comes with a true HEPA filter that can easily trap larger allergens like pollen, dust, pet dander, mold spores to smaller pollutants like smoke and bacteria. HEPA has the capability of removing particles of 0.3 microns at a 99.97% rate. So, the air purifier can trap all kinds of airborne pollutants that are sized down to 0.3 microns.
Activated carbon filter: Activated carbon filter packed with HEPA filter, and it acts as the second step filtration. Inofia didn't tell details about the number of activated carbon pellets they used in the filters though it looks pretty thicker. This thick, activated carbon filter layer will help you to trap odor from smoke, cooking, pets, or a paint job.
This filter got saturated quickly than the HEPA filter. Since the activated carbon is packed with HEPA, so don't select it if your primary concern is removing different types of odors frequently. Because after 2/3 months, the capability will decrease, but the HEPA might have a couple of months left. So, your filter replacement cost per year will rise.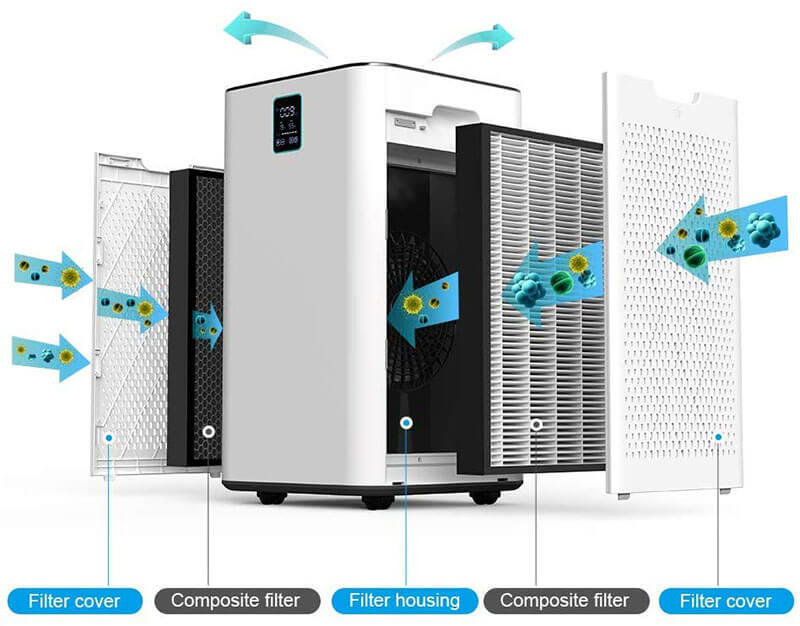 The air purifier didn't use any other filtration techniques, which are not necessary basically. But, it has no pre-filters before the HEPA filters rather than the filter covers with large air vents. This is a downside for HEPA filter life as the HEPA filters are not washable. A pre-filter trap larger pollutants like pet hair, dust, and it can be easily cleaned, which prolongs the primary HEPA filter efficiency.
Clean Air Delivery Rate (CADR) with Air Changes per Hour: The clean air delivery rate or CADR is 330 cfm or cubic feet per minute, which is very high compared to others in its pricing category. You will get almost five air exchange in a massive 500 square feet room. For allergy suffers or smoke removal, it will help in a bigger space.
Check out our best picks >>> The 7 Best High CFM Air Purifier
Particle sensor, automatic mode: Inofia air purifier comes with a built-in particle sensor that counts PM 2.5 on the surrounding air. In automatic mode, it adjusts the fan speed based on the surrounding air quality as the particle sensor is located at the bottom of the backside so that it might sense the air slowly because of the lower air circulation. Most of the modern air purifiers put it on either side.
Wi-Fi Connectivity: You can pair it with the native mobile app via Wi-Fi so you can monitor the air quality and control the air purifier remotely. Though the app support is inferior, and you might not like it. Don't select it primarily for the Wi-Fi control feature.
Manual Control: Manual control is excellent otherwise. It has a five-level fan speed control and the timer with a 1-hour interval. The sleep mode dims the lights on LCD. It also features a child lock to avoid any unwanted keypress.
LCD Screen: It has a beautiful display on the front with an LED color band around it. The LCD shows the particulate matters (PM2.5) count, temperature, and relative humidity. It also displays the filter life in a bar indicator. The temperature shows on the Celsius scale, and there is no option to change it to Fahrenheit, which is a downside for USA users. Although, most of the air purifiers don't have built-in temperature and humidity sensors. Air Quality Index (AQI) shows as color LED ring placed around the LCD.
Noise: The noise level on the lowest fan speed is 27 decibels, and the maximum level is 52 decibels on the highest fan speed, which is reasonably good. As it has 5 fan speeds, and you can easily set it to a pleasant noise level. Up to 3rd fan speed, its noise is pleasant.
Certifications: Inofia true HEPA air purifier (1539) does not have an AHAM certified CADR. Also, it is not Energy Star certified. This model is entirely ozone-free, but we found only its identical bigger version (1608) on the CARB approved list for ozone-safe air purifier.
Suitable Room Size for Inofia 1539:
If you have higher ceilings, then use our Air Changes per Hour Calculator to calculate the suitable room size.
Inofia 1539 Operating Costs:
Annual Filter Replacement: ~ $140 based on 6-months usage per filter (check availability & filter price *unofficial).
Monthly Energy Consumption: ~ $2.6 (based on 12 cents per kWh and 12 hours use on the top speed per day). Use our Energy Usage Calculator to find out the bill based on your usage and the local energy rate.
Last update on 2022-05-24 at 07:42 / Affiliate links / Images from Amazon Product Advertising API
Pros & Cons:
Similar air purifier reviews:
Last update on 2022-05-24 at 07:42 / Affiliate links / Images from Amazon Product Advertising API
Inofia 1539 vs. Inofia 1608 Air Purifier:
The main difference is in the size and air delivery rate. Here is a comparison between two models:
Image
Coverage at 5 air exchange per hour
Image
Coverage at 5 air exchange per hour
Image
Coverage at 5 air exchange per hour
Last update on 2022-05-24 at 07:42 / Affiliate links / Images from Amazon Product Advertising API
Questions and Answers
Q. How often do I need to change filters.
A. Filters need to be changed every 6 months depends on usages and the room air quality. There is a filter life indicator that displays on the front LCD.
Q. Is it ozone-free?
A. Yes, completely. As it uses only a mechanical air filtration and doesn't have any electric filtration that might produce ozone, which is harmful to our lungs.
Q. Is it suitable for allergies?
A. Yes, as the filters are true HEPA, it will remove all types of allergens that are sized down to 0.3 microns. The moderately low noise profile helps you to run it overnight.
Q. Is it suitable for smoke and odor?
A. Inofia true HEPA has two large filters that are capable of removing smoke particles as well as the odor with its thick activated charcoal layer effectively. A high 330 cfm will clean efficiently from a large room.
Q. What is the room coverage?
A. It can clean 800 square feet of room with 3 air changes per hour. You can use it larger rooms that will give you less air exchange per hour or need much time to clean. You can find out exactly how many air exchanges you will get in a specific room with our ACH Calculator.
Final Thoughts
Inofia true HEPA is a beautifully made air purifier loaded with features, unlike others. A very high CFM with a large two filter set is effective and efficient at the same time for air cleaning. If you need performance and greater flexibility in control, then you can bring it to your home as an allrounder air purifier.