As a homeowner, what experts recommend is buying an air purifier. Air purifiers help to remove more than 99% of the pollutants in the air. As such, they improve the quality of your indoor air while reducing the risks of respiratory diseases.
You too can enjoy fresh, clean air whether you are working from home, watching TV or movies with your family or sleeping.
In this post, we review the Medify MA-14 Air Purifier. To help you make a smart decision, we delve into its specs, features, operating costs, pros, and cons.
Jump to: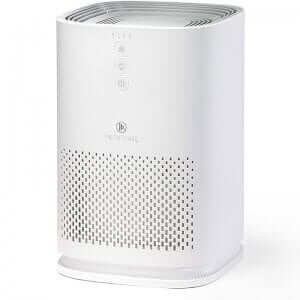 Medify Ma-14 Specifications:
Filtration: Pre-filter and HEPA filter combined in a package
HEPA class: H13 HEPA
Filter life: 1500 hrs. or 3 months
Maximum CADR: 120 cubic meter per hour (m³/h) or 71 cubic feet per minute (cfm)
Sensors: N/A
Room Coverage: 178 sq ft with 3 air changes per hour or 106 sq ft with 5 air changes per hour
Number of manual fan speed: 3
Automatic mode: No
Size: 12.20"H x 8.26"W x 8.26"D
Device weight: 5.3 lbs
Rated power: 26 W
Maximum Noise: <55 dB(A)
Voltage: 110-120 V AC 60 Hz
Deal Alert
Medify MA-14 Air Purifier with H13 True HEPA Filter | 200 sq ft Coverage |...
MAXIMUM COVERAGE: Cleans small spaces up to 400 sq ft in one hour, 200 sq ft in 30 minutes (CADR 120). Ideal for homes, apartments,...
HEPA H13 FILTRATION: Trusted to remove 99.9% of harmful particles including allergens, odors, VOCs, smoke, pollen, pet dander, dust,...
ULTRA QUIET: Choose from 3 fan speeds, with the lowest setting operating virtually silent. Runs at 110 Volts at a maximum noise level...
EASY TO USE FEATURES: Control panel includes fan speed, night light, sleep mode, and a filter replacement indicator so you know when...
QUALITY TESTED & BACKED: CARB, ETL, and Energy Star certified. Backed by a USA registered Lifetime Warranty when genuine Medify...
Last update on 2022-05-24 at 15:38 / Affiliate links / Images from Amazon Product Advertising API
Check out other Medify air purifiers:
In-depth Review of Medify Ma-14 Air Purifier:
Design
What you like about this air purifier is that it comes in a sleek design. The air purifier has a box design. The air purifier is compact enough to sit on your tabletop or work desk.
As a high-end device, you can place it at the center of your bedroom stand. Alternatively, you have the option of placing it at the corner of your desk at the office. The air purifier takes the air from the front panel. The air purifier draws in the dirty air, captures the contaminants, and releases clean air.
A lot of people may doubt the cleaning power of this air purifier due to its compact design. What you ought to know is that it can clean a ten by ten square feet bedroom in 15 minutes. If you have a 200 square feet bedroom, the air purifier takes 30 minutes to clean the air.
Check out our top picks >>> Top 10 Best Air Purifiers for Desk.
Cleaning Efficiency
What many people do not know is that the HEPA filter was first introduced in the 1940s to help reduce radioactive contaminants in nuclear research facilities.
Today, innovation improved its performance, and now, it's capable of capturing particles of 0.3 microns and more prominent. If you are curious about air purifiers' evolution, read our post about air purifiers history (included an infographic).
This air purifier comes with a multi-stage filtration system. It uses a pre-filter and a HEPA H13 filter. The pre-filter is the first line of defense. It removes large particles. Such pollutants include fibers, pet dander, and hair.
The second stage of the filtration system is the HEPA filter. The HEPA filter is a pleated mechanical filter. It can remove 99.9% of air pollutants.
Such pollutants include mold, bacteria, pollen, dust, and other airborne particles of size 0.1 microns. If any large particles escape the pre-filter (which is not possible), the HEPA filter captures them efficiently.
The type of HEPA filter installed in this air purifier is the medical-grade – H13.
It removes PM2.5 particles like pollen, dust mites, and mold spores, including tiny dust particles from the room. The air purifier has a CADR of 120 m³/hr or 71 cfm. Besides, the filtration system is efficient; it's easy to change the filters.
This is because the filtration system comes as a single set.
The new generation filter includes an activated carbon layer to neutralize odors and VOCs from the air.
Last update on 2022-05-24 at 15:38 / Affiliate links / Images from Amazon Product Advertising API
Controls
Let's face it. Not many people are fun of systems with lots of buttons and settings. We all prefer appliances with easy to use controls. In fact, if the gadget has a one-button design, the better. You can turn it on and off as well as change the fan speed and other settings.
While this air purifier does not have a one-button design, the controls are easy to use. You can access the controls on the front-facing panel. There are three controls – power button, night light function button, and fan speed control.
The power button allows you to turn on/off the purifier. Once you press the button to start the air purifier, you should hear the fans spinning. To change the speed of the fans, press the top button. You have the option of three fan speeds.
If you choose a high fan speed, the fans will generate noise with a rating of 55 decibels. This is slightly higher than a conversation or a refrigerator at 50 decibels. The good news is, you can select low or medium fan speed, which means less noise.
The mid button is for controlling the night light function. Once you press the button, ambient blue light illuminates the area close to the air purifier. This light helps you relax, but if the light makes it difficult for you to sleep, press the button to turn it off.
Other Unit Specs
The rated power for this air purifier is 26 W, with a working voltage of 120 volts. This means the unit consumes less electricity saving you money on your monthly energy bills. It also means you can run the unit 24/7 to remove pollutants and keep your indoor air clean.
This portable unit weighs 5.3 pounds and comes with an easy to carry handle. So, if you want to move the air purifier from room to room, you can do so with ease. The air purifier has a lifetime warranty coverage.
But to continue enjoying the lifetime coverage on all parts and services, you must first register the air purifier with Medify Air. Once you do so, you must also change the filter every 3 to 4 months with genuine Medify Air filters. Using other filters will void the warranty.
Suitable Room Size for Medify MA-14:
*The room size calculation is based on an ideal situation. For best practice, consider the size of the room a little less than the calculated value.
If you have a high ceiling, find out how fast it can clean your room with our Air Changes per Hour Calculator.
Medify Ma-14 Operating Costs:
Annual Filter Replacement: ~ $149 based on 3-month use per filter (check availability & filter price)
Monthly Energy Consumption: ~ $1.9 (based on 12 cents per kWh and 20 hours use on top speed per day). Use our Energy Consumption Calculator to find out the bill based on your usage and the local energy rate.
Last update on 2022-05-24 at 15:38 / Affiliate links / Images from Amazon Product Advertising API
Pros and Cons:
FAQs
Q. What is the purpose of the sleep mode?
A. The sleep mode's purpose is to ensure the air purifier uses less energy, makes less noise, and no lights from the control panel. When you choose this setting, the air purifier runs at a low fan speed. As such, it helps to ensure you have a good night's sleep.
Q. Does this air purifier have Bluetooth connectivity?
A. No, it does not have Bluetooth connectivity. This means you cannot sync the air purifier with your smartphone or tablet. To control the air purifier, use the buttons on the front-facing panel.
Q. Does it emit ozone?
A. No, the air purifier does not emit ozone. This a CARB certified air purifier.
Final Thoughts
The Medify MA-14 Air Purifier is a must-have gadget for your home or office. Not only should you buy it for its sleek and simple design. But because it has a multi-stage particle filtration system able to remove 99.97% of pollutants from your indoor air.