Medify MA-25 is a moderate size air purifier, perfect for small to medium rooms.
You can use this 14 inches tall air purifier as a desktop or floor model. It is the mini version of Medify's most popular MA-40 model. Available in White, Black, and Silver, the purifier is suitable for kids' rooms, dorm rooms, or even small bedrooms.
If you are looking for a small but not-that-small air purifier with higher-grade filters, then the Medify MA-25 is a great choice.
In this post, I will show you the useful features of the Medify MA-25 air purifier, including the pros and cons.
Let's dive right in.
Jump to: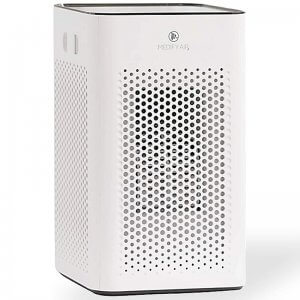 Medify MA-25 Specifications:
Parameter
Value
Filtration Technology

Mechanical 3-Stage: Two sets of 3-in-1 pre-filter, HEPA filter, and activated carbon filter.
Electronic: none.

Common air cleaning technologies of air purifiers.
HEPA Class
H13 HEPA (claimed efficiency: 99.9% at 0.1 microns)
Filter Life
Up to 4 months (2,500 hours)
Maximum CADR
147 cfm or 250 m³/h
Room Coverage (8 ft ceilings)
220 sq ft with 5 air changes per hour (calculate ACH for your room).
Sensors
❌
Fan Speeds
3
Automatic Mode
❌
Noise Level
35 - 52 dBA
Rated Power
28 Watt
Weight
7.3 lbs
Dimensions
13.5″H x 8″W x 8″D
Sale
Medify MA-25 Air Purifier with H13 True HEPA Filter | 500 sq ft Coverage |...
MAXIMUM COVERAGE: Cleans spaces up to 1,000 sq ft in one hour, 500 sq ft in 30 minutes (CADR 230). Ideal for homes, apartments,...
HEPA H13 FILTRATION: Trusted to remove 99.9% of particles including odors, smoke, pet dander, dust, and more down to 0.1 microns in...
ULTRA QUIET: Choose from 3 fan speeds, with the lowest setting operating virtually silent. Runs at 110 Volts at a min noise level of...
EASY TO USE FEATURES: Includes a sleek touch screen operation panel with 0-8 hour timer, fan speed, sleep mode, filter replacement...
QUALITY TESTED & BACKED: CARB, ETL, and Energy Star certified. Backed by a USA registered Lifetime Warranty when genuine Medify...
Check out other Medify air purifiers:
In-depth Review of Medify MA-25 Air Purifier:
The Medify MA-25 Air Purifier is a powerful desktop-grade purifier with dual air filtration. Perfect for apartments, residential rooms, and offices, it's compact in size and easy to move. Thanks to its strong punch, it comes in a sleek, modern design that fits almost anywhere.
Efficient Design
The Medify MA-25 Air Purifier is a lightweight and compact purifier at 7.3 pounds. You can carry it from room to room with ease. It has recessed handles, which eliminate the burden of moving the unit.
You can place it on the floor or your dresser, office desk, and nightstand. The purifier has dual-side air intakes with an outlet at the front. As such, the unfiltered air will come from side air intakes.
It will pass through the filtration system, where pollutants get trapped before the clean air gets released via the front air outlet.
You have the control panel at the top of the model, where the outlet is commonly featured in most purifiers. Covered by tempered glass, it allows easy access to the controls. You need to know that tempered glass is scratch-resistant, unlike plastic.
Available in white, black, and silver, it's made of ABS plastic.
Effective Filtration System
The Medify MA-25 Air Purifier is an ideal purifier for everyone. It has a three-stage physical filter, and it is 100% ozone-free. Since it has dual side air intake, it comes with two sets of a 3-in-1 composite filter.
The first stage is a protective pre-filter net. It traps larger particles such as fibers, hair, and pet dander. It will help to protect the main HEPA filter from being clogged earlier. You can also clean the pre-filter surface using a soft brush or vacuum to increase efficiency.
After the pre-filter, you have the H13 HEPA filter. This higher-grade filter traps fine particles, including fine dust, airborne allergens, virus-carrying droplets, and other airborne germs.
The 3rd stage is an activated carbon filter. Composed of real activated carbon pellets, it efficiently adsorbs pet and cooking odors and household VOCs.
The composite filter is meant to use for up to 2,500 hours on normal usage. This means you can use it for 7 months with 12 hours of daily use. For continuous running (24/7), the filter will last up to 104 days or three and half months.
The filter replacement indicator will also notify you on time. After replacing, reset the filter by pressing and holding the Dimmer button for 3 seconds.
CADR, Noise Level, and Certifications
Since the air purifier has a dual air intake, it provides more filter surface area. It has a maximum CADR of 250 cubic meter per hour or 147 cfm. As such, it will clean a 500 square feet room in 30 minutes and 180 square feet in 10 minutes at the top fan speed.
When it comes to fan speed, it has three settings. At the lowest fan speed, the sound level will reach 35dB, slightly higher than the noise of rustling leaves at 30dB. This means you can use the Medify MA-25 in a bedroom without disrupting your sleep.
To set the purifier to the lowest fan speed, select the Night mode.
At the highest fan speed, the air purifier's noise level is 52dB. This level is higher than the average home noise at 40dB. As a low-to-medium size air purifier, the noise level is reasonably quieter.
The Medify MA-25 Air Purifier is CARB approved, Energy Star certified and ETL listed. Since it has no optional ionizer or UV-C, it does not emit any ozone. At the highest fan speed, it consumes only 28 watts of energy.
Since it's Energy Star certified, the purifier will save you on energy costs.
Suitable Room Size for Medify MA-25:
*The room size calculation is based on an ideal situation. For best practice, consider the size of the room a little less than the calculated value.
If you have higher ceilings, use our Air Changes per Hour Calculator to calculate the suitable room size.
Medify MA-25 Operating Costs:
Annual Filter Replacement: ~ $45 per filter pair, up to 2,500 hours or 4 months usage (check availability & filter price).
Monthly Energy Consumption: ~ $1.2 (based on 12 cents per kWh and 12 hours use on the top speed per day). Use our Energy Usage Calculator to find out the bill based on your usage and the local energy rate.
Pros & Cons:
Medify MA-25 vs. Medify MA-40 v2.0:
The Medify MA-25 is similar to the Medify MA-40 v2.0 in many ways. Both have console tower designs, glossy-top control panels, dual composite filters, and no air quality sensors.
The key differences are the Medify MA-25 comes in a smaller form factor and has no ionizer option. Here are others at a glance:
Medify Air Purifier
4-Stage Filtration
MA-40 v2.0
Image
Room Coverage (8 ft ceiling)
220 square feet 5 times per hour
336 square feet 5 times per hour
3-Stage Filtration
Image
Room Coverage (8 ft ceiling)
220 square feet 5 times per hour
4-Stage Filtration
Image
Room Coverage (8 ft ceiling)
336 square feet 5 times per hour
Questions and Answers
Q. Does the air purifier change its fan speed automatically?
A. No, it doesn't. Medify MA-25 has no built-in air quality sensor to do that.
Q. Can I wash the composite filters?
A. No, the composite filters are not washable. Medify recommends vacuuming the pre-filter side (white) of the filters once a month.
Q. Where should I place the Medify MA-25 air purifier?
A. You can place it on the tabletop, nightstand, or floor. Make sure no objects are blocking the purifier's air circulation.
Final Thoughts
Medify Air is a trusted brand that guarantees quality and reliability. This reflects on the Medify MA-25. The purifier has dual composite filters with an H13-grade HEPA filter at the core.
The unit is lightweight and compact, making it ideal for any small to medium-sized room. Also, you can use multiple units in a large living room, and it will be more effective for clean air distribution.