The primary job of an air purifier is to remove pollutants from the indoor air. It also shouldn't create any secondary level pollution while doing the primary job. Furthermore, as it is a home appliance, it should not be of an odd industrial-type shape.
Molekule Air Mini uses a nanoparticle-coated PECO filter, which activates by ultraviolet (UV-A) light to oxidize airborne pollutants. Testified at Berkeley Lab, Molekule's air purifiers effectively reduce common indoor air pollutants without producing ozone or other byproducts, and it is also CARB compliant.
In this Molekule Air Mini review, we discuss its specs, features, how it works, pros, and cons. We also include a comparison between its plus version and answer a few queries about this air purifier.
Jump to…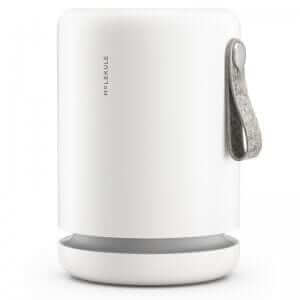 Molekule Air Mini Specifications:
Filtration: Nanoparticle-coated PECO filter
Filter life: 6 months
CADR: N/A
Recommended Room Coverage: Up to 250 sq ft
Sensors: No (particle sensor available on Air Mini+)
Number of manual fan speeds: 5
Automatic mode: No (available on Air Mini+)
Size: 12″H x 8.26″W
Device weight: 7.3 lbs
Noise level: 39 – 62 dBA
Rated Power: 55 Watt
Wi-Fi Band: 2.4 GHz only
Sale
Molekule Air Mini - FDA-Cleared Medical Air Purifier with PECO Technology...
FDA-cleared to destroy viruses: Molekule Air Mini is FDA-cleared as a 510(k) Class II medical device to destroy viruses & bacteria, and...
Made for smaller spaces: designed for smaller spaces up to 250 sq. ft. like studio apartments, kids' bedrooms & home offices
PECO-powered: Uses Photo Electrochemical Oxidation (PECO) nanotechnology to destroy viruses, allergens, bacteria, mold, chemicals &...
With 5 fan speeds to choose from, you can customize your purification needs, from whisper quiet, to boost. For home-or-commercial...
PECO-Filter status indicator: Easily track the replacement schedule for your PECO-Filter
In-depth Review of Molekule Air Mini:
PECO Filtration
Unlike traditional HEPA air purifiers, the Molekule Air Mini used PECO technology as its primary filtration method.
Molekule claims, this patented filter works at the molecular level to trap and kill airborne pollutants. PECO stands for Photo Electrochemical Oxidation, an advanced method of the well-known PCO (Photocatalytic Oxidation) technology, which is very effective at neutralizing gases and VOCs.
The PECO filter is treated with nanoparticles to act as catalysts, which forms free radicals (OH−) in the presence of low-energy UV-A light. The generated free radicals are then oxidized (neutralize) the incoming air pollutants and convert into harmless chemical elements such as water, nitrogen, carbon dioxide, etc. These pollutants include airborne bacteria, allergens, viruses, and VOCs.
How PECO Filtration Works
Thanks to the use of nanotechnology, PECO can destroy airborne pollutants of 0.1 microns. This is unlike true HEPA filters, capable of trapping pollutants of 0.3 microns and cannot neutralize VOCs and odors.
We liked the PECO process because it can destroy both particulates and gaseous pollutants without releasing ozone or other chemical byproducts. Also, there is no chance of off-gassing, which is pretty common in the activated carbon filter.
In a 2018 study, researchers sought to find out the effects of PECO on ocular and nasal allergy symptoms. The study involved 46 participants with self-reported allergies. They were each given a portable PECO air purifier to use for four weeks.
What they discovered after four weeks is a significant change in self-reported allergies. The use of the PECO air purifiers helped to decrease nasal and ocular allergy symptoms.
Molekule recommends replacing the PECO filter after 6 months of normal use.
Check out our top picks >>> The 7 Best Air Purifiers for VOCs.
CADR and Room Size
Molekule has not released the CADR data of the Molekule Air Mini. They are recommended for use in rooms up to 250 square feet. As such, this air purifier is best for home offices, studio apartments, and even your kid's bedroom.
Thanks to its intuitive design and easy cable management, you can place it on your nightstand or office desk. It has a natural felt handle that allows you to carry the air purifier from room to room with ease.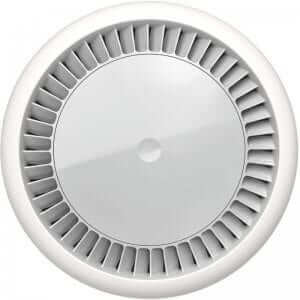 Smart Compatibility
What you also like about the Molekule Air Mini is that it's a smart compatible air purifier. You can track and control your air purifier using your smartphone. The native app, available in both App Store and Google Play, will allow you to control the air purifier remotely.
Besides controlling the air purifier remotely, the app allows you to check the filter status. As you already know, the Molekule Air Mini has a PECO filter. While it's excellent at trapping and destroying air pollutants, you need to change it every 6 months.
Molekule Air Mini Operating Costs:
Filter Replacement Costs: ~ $75, up to 6 months usage (check availability & filter price on Amazon, Molekule).
Monthly Energy Consumption: ~ $2.4 on the highest speed, $1 on the lowest speed (based on 12 cents per kWh and 12 hours use per day). Use our Energy Consumption Calculator to find out the bill based on your usage and the local energy rate.
Pros & Cons:
Molekule Air Mini vs. Air Mini+
Here are the key differences between Molekule Air Mini vs. Air Mini Plus:
Molekule Air Mini Series
Built-in Sensor
Air Mini+
Image
Cost-effective
Image
Molekule Air Mini vs. Blueair Blue Pure 211+
Both the Molekule Air Mini and the Blueair Blue Pure 211+ Air Purifier are fantastic products. They work as advertised and help to purify your air. One significant difference between the two air purifiers is the filter.
The Molekule Air Mini has the PECO filter, which traps and destroys airborne pollutants. The Blueair Blue Pure 211+ Air Purifier has a 3-stage filtration system. It's composed of a pre-filter, particle filter, and activated carbon filter.
If you compare both filters, the PECO filter traps and destroys 99.99% of pollutants while the 3 stage filter traps 99.97% of pollutants.
Another difference is the smart features. The Molekule Air Mini is WiFi-enabled, while the Blueair Blue Pure 211+ Air Purifier is not. As such, you can remotely control the Molekule Air Mini and check the filter status on your smartphone.
In-depth review >>> Blueair Blue Pure 211+ Air Purifier
Questions and Answers
Q. Does the Molekule Air Mini have a UV-C light inside to kill bacteria and viruses?
A. No, the Molekule Air Mini does not have a UV-C light inside. Instead, it has a low-energy UV-A light, which activates chemical reactions on the PECO filter. As a result, the filter generates free radicals that destroy airborne pollutants such as viruses and bacteria.
Q. Can the Molekule Air Mini get rid of tobacco smoke?
A. Yes, it can. The multi-layered PECO filter traps visible particles such as soot and ash, while the PECO filter destroys the gaseous pollutants. These gaseous pollutants include benzene and others.
Q. Is the PECO filter washable?
A. No, the PECO filter is not washable. You need to change the filter every 6 months.
Final Thoughts
If you are looking for a beautiful and compact air purifier that will neutralize air pollutants rather than just collecting into filters, then you can go for this unconventional Molekule Air Mini. Although PECO filtration is a slower process, it will help to capture and destroy airborne pollutants such as VOCs, odors, airborne bacteria, viruses, and black mold from small to medium-sized rooms.