Most of the modern mechanical air purifiers you will see today that use two filtrations only, one is the primary HEPA filter, and another one is the odor filter. We found this sleek and compact mid-range true HEPA air purifier that uses 4 stage core filtrations, which seems pretty uncommon. Today we are going to review the Mooka True HEPA Air Purifier (GL-FS32) about its effectiveness, worthiness, and a little comparison with a similar air purifier at this price range.
Jump to: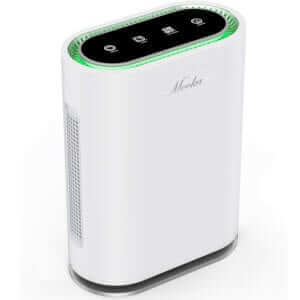 Mooka GL-FS32 Specifications:
Filtration: Pre-filter, HEPA, and activated carbon filter in a package, UV-C sanitizer, ionizer
HEPA class: True HEPA (H12)
Filter life: 2000 hrs
Maximum CADR: 300 cubic meter per hour (m³/h) or 177 cubic feet per minute (cfm)
Sensor: VOC sensor
Room Coverage: 265 sq ft with 5 air changes per hour (ACH)
Number of manual fan speed: 3
Automatic mode: Yes
Size: 18.3″H x 13.8″W x 7.1″D
Device weight: 12.3 lbs
Rated power: 75 W
Lowest Noise: 28dB
Voltage: 100-120V AC, 60 Hz
Mooka True HEPA+ Air Purifier, Large Room to 1,350 Sq Ft, Auto Mode, Air...
6D Filtration System: Mooka GL-FS32 Air Purifier might just be the most versatile air purifier you have ever seen. Equipped with a...
Air Purifier For Large Room: GL-FS32 is capable of completely clean a room of 1350 sqft in just 1 hour. It's also great for use in a...
Auto Mode & Sensor: Supported by a built-in smoke and odor sensor, this HEPA air purifier is also a smart odor eliminator. When set at...
Convenient Features: This air purifier has many other convenient features, such as remote control, built-in timer(1 to 8 hrs), night...
Quality Assurance: Every unit comes with 30-day No-hassle refund provided by seller and 3-Year Warranty and life time customer support...
Last update on 2022-06-27 at 16:12 / Affiliate links / Images from Amazon Product Advertising API
Mooka GL-FS32 true HEPA air purifier is a sleek and glossy finished air purifier loaded with multiple filtration techniques. The flat and sideways air inlet design will allow you to use it everywhere, even against the walls. This design is very convenient when you have a little more space in your room to place it. It doesn't seem so many features in the touchscreen control panel on top, but it includes a beautiful remote controller. Mooka GL-FS32 is lightweight, easily portable with carrying handles, and the maintenance is super easy.
In-depth Review of Mooka GL-FS32 Air Purifier:
Compact HEPA and Activated Carbon Filter: The core filtration is a composite filter, which includes an H12 class true HEPA filter, activated carbon filter, and a layer of pre-filter. True HEPA performance will deliver 99.97% efficiency on particulate pollutants as small as 0.3 microns. So, you can use it against all kinds of particulate air pollutants like pollen, pet dander, dust mites, mold spores, and smoke particles.
The 3rd stage filtration is an activated carbon filter combined to the HEPA filter package. This filter will absorb odors, VOCs, and gas pollutants. An antibacterial cotton pre-filter includes on the first stage of the composite filter, which will block the large air pollutants and increase the HEPA filter efficiency.
They said the composite filter includes some materials that absorb formaldehyde mainly, but they didn't uncover about it.
Filter Replacement: The manufacturer recommends changing the filter every 3 to 6 months based on usage and indoor air quality. A timer-based filter life indicator will light up after 2000 hours of use. It seems a good filter life as it is a composite filter. However, it might be saturated early or last longer, which depends on air quality primarily. You can also vacuum only the carbon filter side.
UV-C Air Sanitizer: An ultraviolet light turns on automatically when you switched on the air purifier. This UV light will destroy any leftover microorganisms like mold spores and bacteria that pass the core HEPA filter pack. You can only control it from the remote controller, and it goes off automatically every 4 hours.
Last update on 2022-06-27 at 16:12 / Affiliate links / Images from Amazon Product Advertising API
Ionizer: A negative ion generator or ionizer included its filtration steps. Negative ion adds some efficiency in particle removal from the air. Like the UV light, it turns ON by default when you power ON the device each time. But, unlike the UV light filter, the ionizer can be controlled through the device touch panel, and there is an indicator light.
Ionizer produces a small amount of ozone, and they claim it's below the safe level. Mooka also claimed it got CARB certifications for the ozone-safe air purifier list, but we did not find it on the list. Most possibly as it's a new air purifier, and CARB still didn't update their list yet. If someone has asthma or breathing issues, don't turn it ON.
Check out our top picks >>>  The 7 Best Ozone-free Air Purifies
Coverage, CADR, and ACH: The Clean Air Delivery Rate or CADR of Mooka GL-FS32 is 177 cfm, which is excellent for a mid-range air purifier. The 177 cfm airflow is suitable to use in a room-sized of 265 square feet with five air changes per hour. If you want more air exchange per hour (ACH), then you need to select the room size smaller.
Live Air Quality Display: Mooka GL-FS32 air purifier has a built-in air quality sensor to measure air quality. Although it can only detect VOCs and odors as the sensor lacks a particulate sensor to detect particulate matters (PM). It displays the indoor air quality with three colors: Blue for good, Green for moderate, and Red for worst.
Mode of Operations: The touch control panel and display on top have some basic features only. It features a power button, four timer setting, three fan speed mode with sleep mode, and the ionizer button. It turns on with automatic mode where all the four fan mode indicator lights up. In auto mode, the air purifier adjusts its fan speed automatically based on the air quality sensor. On the sleep mode, the fan speed settles at the lowest settings, and all the led indicators turn OFF.
Noise: From the noise perspective, this is not a great air purifier. Although it's very tranquil at the low fan speed, which is only 28dB, it is deafening on the highest fan speed setting. In low-speed settings, it's pleasant, but the efficiency will reduce.
Check out our top picks >>> The 7 Best Quietest Air Purifiers
Suitable Room Size for Mooka GL-FS32:
*The room size calculation is based on an ideal situation. For best practice, consider the size of the room a little less than the calculated value.
If you have higher ceilings, then use our Air Changes per Hour Calculator to calculate the suitable room size.
Mooka GL-FS32 Air Purifier Plus Operating Costs:
Annual Filter Replacement: ~ $60 per year based on 6 months use per filter (check availability & filter price).
Monthly Energy Consumption: ~ $3.2 (based on 12 cents per kWh and 12 hours use on the top speed per day). Use our Energy Usage Calculator to find out the bill based on your usage and the local energy rate.
Pros & Cons:
Mooka GL-FS32 Air Purifier vs. Colzer BKJ-33 Air Purifier:
Name
Mooka Air Purifier GL-FS32
Colzer Air Purifier BKJ-33
Image
Name
Mooka Air Purifier GL-FS32
Image
Name
Colzer Air Purifier BKJ-33
Image
Last update on 2022-06-27 at 16:12 / Affiliate links / Images from Amazon Product Advertising API
Final Thoughts
if you are looking for multiple additional filtrations along with a true HEPA filter and a moderately high airflow rate in a midrange priced air purifiers, then this would be a better investment for indoor air cleaning.