Oransi Mod is the latest air purifier from Oransi. The model is the second-largest highest CADR rated air purifier after the Oransi Erik. You can use it to filter the air in a large bedroom or a conference room at the office. As the noise level is also low, it won't interrupt your sleep or meetings.
In this Oransi Mod review, we discuss its features, operating costs, pros, and cons. We also include a comparison between the Oransi Mod and the EJ120 model.
Jump to…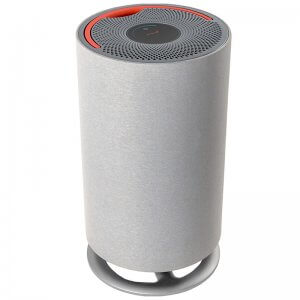 Oransi Mod Specifications:
| Parameter | Value |
| --- | --- |
| Filtration Technology | 3-in-1 Pre-filter, HEPA filter, and activated carbon filter |
| HEPA Class | True HEPA |
| Filter Life | 6 – 12 months (4500 hours) |
| Maximum CADR | 338 cubic feet per minute (cfm) |
| Room Coverage (8 ft ceilings) | 505 sq ft with 5 air changes per hour (calculate ACH for your room) |
| Sensors | ❌ |
| Fan Speeds | Variable touch dial |
| Automatic Mode | ❌ |
| Noise Level | 20 – 60 dB |
| Rated Power | 77 Watt |
| Weight | 23 lbs |
| Dimensions | 25″H x 14″D |
Sale
Oransi mod Air Purifier, 14"x14"x25", Grey
LARGE ROOM AIR PURIFIER - Ideal for schools, classrooms, offices, and living areas. Quality sleep and clean air makes a happier and...
ROOM COVERAGE OF 1,250 SQ FT - HEPA filter efficiency: 99.97%+ (MERV 17). Buy with confidence - Oransi filters were rated #1 in the...
FRESHER AND CLEANER HOME - Say goodbye to your stuffy nose and say hello to a home that smells fresher and cleaner. Sleep peacefully...
SIMPLE TO USE - Just plug it in and breathe easier in your home or office. The mod has easy filter access and an intuitive user...
PEACE OF MIND - Comes with 10 year warranty. Unlike other warranty programs, there's no requirement to purchase filter replacements to...
In-depth Review of Oransi Mod Air Purifier:
The Oransi Mod Air Purifier is a powerful air purifier that comes in a smart design. Perfect for large spaces, its powerful filtration system can eliminate pollutants as small as 0.3 microns. Equipped with an integrated handle, you can move the unit from room to room with ease.
Want to know more about Oransi Mod Air Purifier?
Here are its features.
Smart Design
The Oransi Mod Air Purifier has a cylindrical shape with a low profile exterior. Its dimensions are as follows: 25 by 14 inches. As such, it doesn't take much space. As a floor model, it has a stylish base that ensures the unit's stability.
When it comes to controls, they are easy to use. The glass interface is on top of the unit and allows users to customize the unit's settings at the touch of a button. For example, if you want to change the fan speed, all you need to do is slide your fingertip across the speed control dial.
If you slide your fingertip to the left, the control will lower the fan speed, and if you slide towards the right, fan speed will increase. You need to know that the unit has an energy-efficient and long-lasting EC motor. As such, it'll take a few seconds for the fan to change speed.
You also have a power button and filter replacement indicator icon. To turn on/off the unit, press the power button once. At 4500 hours of usage, the filter indicator will illuminate red. Once you change the filter, it should reset itself.
It comes with an integrated handle that's orange in color. Not only can you use the handle to move the unit from room to room. But it eliminates the need to touch a dirty filter. Like other cylindrical air purifiers, this model has a 360-degree air intake and outlet.
The air intake is at the bottom, while the outlet is at the top of the unit. The bottom to top airflow concept allows the unit to clean more air and distribute clean air evenly in the room.
Multi-stage Filtration System
As the perfect choice for removing airborne pollutants, it has a 3-stage filtration system. The filters include a pre-filter, a True HEPA filter, and an activated carbon filter.
The pre-filter traps large particles such as dust, pet fur, hair, and lint. It also helps to extend the life of the True HEPA filter and carbon filter. The next line of defense is the MERV 17 True HEPA filter.
Made from fibrous media, it traps fine particles that can wreak havoc on your health. These pollutants include pollen, allergens, mold spores, and fine dust. The HEPA filter can trap 99.97% of contaminants as small as 0.3 microns.
Lastly, we have a layer of activated carbon. Composed of granular carbon, the layer absorbs odors from cooking and pets. It also absorbs VOCs, chemicals, and gases. You need to know that the filters have a lifespan of 6 to 12 months.
Replacing the filters is easy. Unplug the unit, place it upside down on a surface like a carpet or a rug. This helps to prevent scratches. To unlock, move the slide switch to the right. Turn the metal base counterclockwise.
This will loosen the metal base. Remove the base and pull the handle to remove the used filter. Make sure you bought the correct filter. Insert the new filter with the rubber seal facing in.
Twist the handle to ensure the new filter is fully seated inside the unit. Reassemble the unit, press and hold the filter reset button for 3 seconds. The light should turn off. Plug the unit, power it on, and continue enjoying clean air.
Remember, the unit has a safety feature that turns the power off if the cover and filter are not correctly placed.
Performance and Noise Level
The unit has a CADR of 338 for Smoke. Recommended for airborne allergens and light odors, it can clean up to 505 square feet with 5 air exchanges per hour.
Check out our top picks >>> The 7 Best High CADR Air Purifiers
The fan speed is variable between 97 to 338 cfm. At the lowest fan speed, the sound level of the unit is 20 dB. This is lower than a whisper and rustling leaves at 25 dB. The whisper-quiet sound level has a calming effect. In fact, it acts as white noise. This helps to drown surrounding noises and ensures sound sleep.
At the highest fan speed, the unit's sound level is 60dB. This is higher than the average home noise at 20 dB but equivalent to a normal conversation at 60 dB. The reason why the unit is so quiet is that it comes with the latest Japanese engineered EC motor. This motor is not only whisper-quiet, but it uses up to 90% less energy.
The unit is Energy Star certified. When it runs at the highest fan speed, it consumes 77 W.
Suitable Room Size for Oransi Mod Air Purifier:
*The room size calculation is based on an ideal situation. For best practice, consider the size of the room a little less than the calculated value.
If you have higher ceilings, then use our Air Changes per Hour Calculator to calculate the suitable room size.
Oransi Mod Air Purifier Operating Costs:
Annual Filter Replacement: ~ $75 based on 12-month use per filter (check availability & filter price on Sylvane)
Monthly Energy Consumption: ~ $3.3 (based on 12 cents per kWh and 12 hours use on top speed per day). Use our Energy Usage Calculator to find out the bill based on your usage and the local energy rate.
Pros and Cons:
Oransi Mod vs. Oransi EJ120:
The Oransi Mod and Oransi EJ120 are among the high coverage purifiers. Both have almost the same air delivery rate; however, they have their own advantages and disadvantages.
Here are the differences between the Oransi Mod and Oransi EJ120.
Oransi Air Purifier Model
Best for Particulates
Oransi Mod
Best for Particulates + Odors
Oransi EJ120
Image
Room Coverage
505 sq ft with 5 air changes/hr
490 sq ft with 5 air changes/hr
Best for Particulates
Oransi Air Purifier Model
Image
Room Coverage
505 sq ft with 5 air changes/hr
Best for Particulates + Odors
Oransi Air Purifier Model
Image
Room Coverage
490 sq ft with 5 air changes/hr
Questions and Answers
Q. Will airborne bacteria and viruses be released into the room if the unit is not running?
A. No, Oransi HEPA filters trap and hold airborne bacteria and viruses. Once trapped, they cannot be released back into the room.
Q. Does the unit have a programmable timer?
A. No, it does not have a programmable timer. Since the unit is Energy Star certified, you can run it all day without worrying about energy costs.
Q. Can I run this unit with a humidifier in the same room?
A. Yes, you can use the air purifier with a humidifier in the same room but keep them in the distance. The evaporative-type humidifiers are the best fit to use with air purifiers.
Final Thoughts
If you're looking for an air purifier with a higher-grade True HEPA filter and can remove allergens without making a lot of noise, this is for you. The Oransi Mod Air Purifier can remove dust, bacteria, mold spores, smoke, and light household odors. It also ensures a high airflow rate in your home.
Easy to use and quieter than other air purifiers, it fits anywhere in your home.