Indoor air pollution is a global problem. Many people think that a large percentage of indoor air pollution originates outdoors. Well, this is far from the truth. In fact, sources of indoor air pollution are primarily influenced by the poor choice of building materials and poor ventilation practices.
To save your health, that of your family and pets, you must invest in an air purifier. What we recommend is the Renpho AP088 Air Purifier. Want to know why?
In our Renpho AP088 Air Purifier review, we look at the air purifier's specs, features, pros, and cons.
Jump to…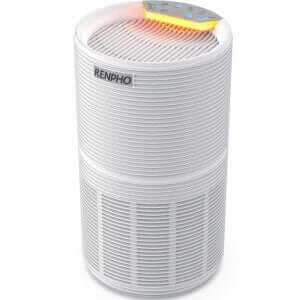 Renpho AP088 Specifications:
Filtration: Compact pre-filter, antibacterial coated HEPA, and activated carbon filter
HEPA class: H13 grade True HEPA
Filter life: 6-8 months
CADR: 170 cubic meter per hour (m³/h) or 100 cubic feet per minute (cfm)
Room Coverage: 150 square feet with 5 air exchange per hour
Sensors: No
Number of manual fan speed: 3
Automatic mode: No
Size: 8.5″D x 14.3″H
Device weight: 6.9 lbs
Noise level: 26 – 52 dB
Rated Power: 32 Watt
Voltage: 120 V AC 60 Hz
RENPHO HEPA Air Purifiers for Bedroom Up to 480 Ft², True HEPA Air Cleaner...
Upgraded 5-Stage Filtration: Compared with the 3-stage filtration system of other brands, RENPHO HEPA air purifiers for bedroom...
Effective Purification: The compact frame and 360° air intake help RENPHO Air Purifier 088 the air wherever you put it, refreshing the...
Quiet Sleep Operation & Timer: With the lowest 26db white noise, this air purifier for bedroom won't affect your sleep, work or study....
Filter Change Indicator: The replacement indicator flashes in red to remind you to replace the air filter. We highly recommend...
Soothing Night Light: With the white light and multi-color changing light mode, Renpho air purifier for pets offer a gentle and calming...
Last update on 2022-05-24 at 07:42 / Affiliate links / Images from Amazon Product Advertising API
In-depth Review of Renpho AP088:
Each day, we expose ourselves to a variety of risks at home as we go about our day to day lives. In fact, we expose ourselves to several environmental pollutants such as tobacco smoke, dust, pollen, airborne bacteria, and viruses.
Studies have shown that the air within our homes is more seriously polluted than the outdoors. Do you want to change that?
Keep reading!
5 Stage Filtration System: The Renpho AP088 Air Purifier 5 stage filtration system includes an ultra-fine pre-filter, antibacterial coating, true HEPA filter, activated carbon filter, and net filter. The ultra-fine filter helps in removing large particles of 1 micron or more. They include hair, dust, and pet dander.
Renpho has not specified the material used to make the ultra-fine pre-filter. But we can assume it's a material with ultra-fine fibers. These fibers help in capturing large particles. The next filter is the antibacterial coating.
It helps to prevent any mold or bacteria growth on the HEPA filter. After the antibacterial coating, you have the true HEPA filter.
Recommended by EPA, the true HEPA filter effectively traps particles smaller than the width of human hair. In fact, it traps 99.97% of particulate matter as small as 0.3 microns. Such particles include dust mites, smoke particles, pollen, some bacteria, and dust particles.
Next, we have an activated carbon filter. This filter removes VOCs, household odors, and more. As such, the air purifier ensures clean air in your home. Last, we have the net filter.
It helps to capture any carbon grains leaking from the activated carbon filter. However, it has no direct effect on air filtering.
360-Degree Air Intake: The Renpho AP088 Air Purifier has a 360-degree intake. Together with the 5-stage filtration system, the air purifier is effective in trapping pollutants.
If you were to place the air purifier in a 190 square foot room, it would clean the air in 15 minutes per time. With a CADR of 100 CFM, it can clean a room of 150 square feet in 12 minutes.
It helps in distributing clean, fresh air in the room. What Renpho has failed to disclose is if the air purifier has an ionizer. Modern ionizers help to freshen up the air as it exits the filtration system and into the outlet.
Basically, it releases negative ions in the air, maximizing purification efficiency.
Whisper-Quiet Operation: Research shows that exposing ourselves to loud sounds increases the risk of health issues.
Lucky for you, this air purifier has a sound level of 26 decibels. This sound level is lower than leaves rustling or a whisper, that have an average sound level of 30 decibels. To experience the whisper-quiet operation, choose Sleep Mode on your air purifier.
The Sleep Mode button on Renpho AP088 Air Purifier is labeled "Sleep." It's between the Lock and Light buttons. To activate Sleep Mode, tap the button once. When you choose this setting, the fan speed will reduce.
To deactivate sleep mode, tap the button one more time.
Check out our review >>> The 7 Best Quiet Air Purifier
Timer and Lock Functions: If you want to save money on your monthly energy bills, we recommend using the Timer button. This button allows you to set the auto-off timer on. You have the choice of two hours, four hours, and eight hours. Once you select your preferred option, the air purifier will run for that duration. Once the time elapses, it will automatically turn off.
While this feature is useful, it would have been more helpful if the auto-off timer did not turn off the air purifier. Instead, it would revert to sleep mode. As such, it would consume less power while still cleaning your air.
Apart from the timer function, you have the Lock function. We all know children are curious. If they come across a gadget, and they will want to press the buttons just to see what it does. If they happened to do this to your air purifier, they would change settings such as fan speed or timer.
As such, your air purifier may consume more energy or become louder. The lock function helps to prevent any accidental operation caused by pets and children. To activate this function, press the Lock button once. To turn it off, press the button again.
Suitable Room Size for Renpho AP088:
*The room size calculation is based on an ideal situation. For best practice, consider the size of the room a little less than the calculated value.
If you have higher ceilings, then use our Air Changes per Hour Calculator to calculate the suitable room size.
Renpho AP088 Operating Costs:
Annual Filter Replacement: ~ $38 based on 6-month use per filter (check availability & filter price)
Monthly Energy Consumption: ~ $2.8 (based on 12 cents per kWh and 24 hours use on top speed per day). Use our Energy Consumption Calculator to find out the bill based on your usage and the local energy rate.
Last update on 2022-05-24 at 07:42 / Affiliate links / Images from Amazon Product Advertising API
Pros & Cons:
FAQs
Q. How do I replace the Renpho AP088 Air Purifier filter?
A. Turn off the Renpho AP088 Air Purifier by pressing the Power button. Unplug the air purifier from the power source and remove the under the air purifier. Remove the old filter and clean the interior part of the air purifier. Use a damp cloth to do so.
Once the inside is dry, insert a genuine Renpho AP088 Air Purifier filter. Place the cover back, plug the air purifier, and press the power button. Now, you can continue enjoying the fresh, clean air in your home.
Q. Can this air purifier be shipped to Northern California?
A. Yes, the Renpho AP088 Air Purifier can be shipped to California. The product has already passed all safety and energy tests, which means its recommended for home and office use in California.
Q. How do I turn off the Renpho AP088 Air Purifier's night light?
A. When the Renpho AP088 Air Purifier is on, tap the light button on the control panel. This will turn on the blue light on the air purifier. To turn it off, tap the light button again.
Final Thoughts
Protecting your family and pet's health should be a top priority. To do so, we recommend buying the Renpho AP088 Air Purifier. This fantastic gadget has a multi-stage mechanical filtration system capable of trapping 99.97% of particles and light odors in the air.
Remember, to ensure the air purifier save your health and that of your family, you must run it 24/7. At night, turn on sleep mode for whisper-quiet operation. The air purifier will allow you to sleep while purifying the air.