Shark is one of the most respected brands on the market when it comes to home cleaning. They've released a tremendous array of useful products, including vacuums, mops, and irons. Some of the products they've recently focused on have been air purifiers.
The Shark Air Purifier 6 is the Shark's most powerful air-cleaning unit. If you need a quiet and sleek air purifier with large coverage matched with a trusted home appliances brand, the Shark Air Purifier 6 may be exactly what you're looking for.
Let's get started!
Jump to:
Shark Air Purifier 6 Specifications:
Parameter
Value
Model No.
Shark Air Purifier 6 (HE600 Series)


HE601 - White
HE602 - Gray

Filtration Technology

Mechanical 3-Stage: 3-in-1 pre-filter, HEPA filter, and activated carbon filter. (Advanced Odor Lock)
Electronic: none.

Common air cleaning technologies of air purifiers.
HEPA Class
True HEPA (efficiency: 99.97% at 0.3 microns)
Filter Life
6 to 12 months (4400 hours)
Maximum CADR
275 cfm (Smoke)
Room Coverage (8 ft ceilings)
410 sq ft with 5 air changes per hour (calculate ACH for your room).
Sensors
✔️ (Particle sensor)
Fan Speeds
4
Automatic Mode
✔️
Noise Level
-
Rated Power
80 Watt
Weight
22.18 lbs
Dimensions
32″H x 17″W x 8.9″D
Sale
Shark HE601 Air Purifier 6 True HEPA Covers up to 1200 Sq. Ft, Captures...
6-FAN AIRFLOW: Six high-speed micro-fans work together to evenly distribute airflow across the filter.
ULTRA-FAST MEETS ULTRA-QUIET: With multiple smaller fans, you get a remarkably quiet clean, and an incredibly fast clean air delivery...
TRACKS & ADJUSTS AUTOMATICALLY: Clean Sense IQ tracks air quality and auto-adjusts power to constantly maintain clean air in your home....
ANTI-ALLERGEN HEPA MULTI-FILTER: Shark's Anti-Allergen Multi-Filter captures 99.98% of dust, dander, allergens, smoke, and household...
HEIGHTENED ODOR PROTECTION: An advanced odor guard on the filter protects against household odors from cooking, cleaning products, and...
In-depth Review of the Shark Air Purifier 6:
The Shark Air Purifier 6 comes with an impressive list of features and benefits for the home. Check out the most notable ones below!
6 Fans Increase the Power of This Purifier
The Shark Air Purifier 6 is named for the powerful fans inside of the appliance. These 6 fans help distribute air evenly throughout the room.
The micro-sized fans even help to distribute airflow across the filter efficiently. Because of their compact size, they can do their job quietly, never disrupting you or your home.
A Specially Designed Filter For a Number of Uses
The Shark Air Purifier 6 uses a filter that was specifically designed to enhance its usability. The filter that comes with it is the Shark Anti-Allergen HEPA filter with Advanced Odor Lock. This 3-in-1 filter effectively locks in airborne allergens, including odors.
It's based on the HEPA filtration standards, meaning that it achieves 99.7% filtration down to 0.3 microns when the air passes through the filter.
The pellet-based activated carbon filter helps to guard against household odors. This includes cooking smells, pet odors, and the odors that you get from smoking indoors.
There are three different replacement filters available:
Anti-Allergen HEPA Filter: True HEPA-based filter; only captures particulate pollutants. It has no odor filtrations. You can save money when you don't need to control odorous pollutants by selecting this filter. (check on Shark)
Anti-Allergen HEPA Filter with Advanced Odor Lock: The default filter that comes with the purifier. Additionally, it has a honeycomb layer filled with activated carbon pellets to remove household odors. (check on Amazon)
Anti-Allergen HEPA Filter with Advanced Odor Lock & Fumes Lock: This is the highest-rated filter for the Shark Air Purifier 6, which has an enhanced odor filtration. It specifically targets the formaldehyde found in flooring, furniture, and plants. (check on Amazon)
All the filters come with 4,400 hours of lifespan, which is impressive! This means, if you run the air purifier 12 hours a day, the filter will last up to 12 months.
You can check the remaining filter life in hours at any time from the control panel. Plus, it will notify you when the filter runs out.
Perfect Companion in a Large Bedroom
The Shark Air Purifier 6 is reasonably quieter at most of the fan speed settings. This is possible because of the 6 micro fans instead of a single powerful fan. You also have the option to dim the display lights, even completely.
Also, it delivers clean air a lot faster. The Smoke CADR is 275 cfm, more than average. Check out our room size recommendations for different scenarios.
These combined functions will allow you to use the air purifier in your master bedroom without disturbing your sleep.
Smart Features That Anyone Can Use
The Shark Air Purifier 6 comes with a host of smart features for convenience. The front display will tell you the indoor air quality in a simple readout. You can choose to display one of the following metrics on the front display – the estimated air cleaning time, overall air quality, or a specific pollutant level (PM1, PM2.5, or PM10).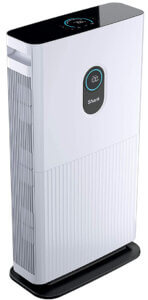 The touch-based control panel on the top will allow you to change settings with ease. If you're not near the purifier but want to change settings, the Shark Air Purifier 6 comes with a handy remote controller.
However, the Shark Air Purifier 6 is not smart enough to control it from your smartphone.
Size Matters, and So Does Fashion
The Shark Air Purifier 6 is tall and slim. It stands at 32 inches high, 17 inches wide, and about 9 inches deep. It weighs just over 22 pounds. It's pretty big, but it does its job effectively. It also comes in a sleek gray or classic white colorway, meaning that it will fit most rooms in style and decoration.
Suitable Room Size for Shark Air Purifier 6:
*The room size calculation is based on an ideal situation. For best practice, consider the size of the room a little less than the calculated value.
If you have higher ceilings, then use our Air Changes per Hour Calculator to calculate the suitable room size.
Shark Air Purifier 6 Operating Costs:
Filter Replacement Cost: ~ $99 for the Advanced Odor Lock filter, up to 12 months usage (check availability & filter price on Amazon, Shark).
Monthly Energy Consumption: ~ $3.5 (based on 12 cents per kWh and 12 hours use on turbo mode per day). Use our Energy Usage Calculator to find out the bill based on your usage and the local energy rate.
Official Introduction Video:
Pros & Cons:
Questions and Answers
Q. Does the Shark Air Purifier 6 come with washable filters?
A. The Shark Air Purifier 6 doesn't come with washable filters. The HEPA-based filter must be purchased from Shark or an authorized retailer and are disposable.
Q. How often does the filter need to be changed?
A. Filter is to be changed after 4,400 hours of operation. Based on how much you're using your cleaner, it'll likely need to be changed between 6 and 12 months.
Q. What kind of carbon does the Shark Air Purifier 6 use?
A. The Shark Air Purifier 6 uses activated carbon pellets in the filter that comes with it.
Final Thoughts
If you are looking for a sleek and powerful air purifier with a robust air quality monitor from a trusted brand, the Shark Air Purifier 6 may be a good fit. It's moderately powerful, can cover medium to large rooms effectively.