In the 21st century, one crucial area of concern is indoor air quality. As our quality of life improves, the global population is increasing. As such, many people are moving to cities. This has led to an increase in air pollution.
According to the WHO, outdoor sources of pollution include combustion fumes from motor vehicles and fuel burning. Others include smoke from bushfires, biogenic emissions from plants, and dust.
These pollutants get into our homes via ventilation shafts and windows. Indoors is not great either. There are many pollutants, such as VOCs, smoke, carbon dioxide, carbon monoxide, and odors.
Exposure to these pollutants increases the risk of respiratory problems. As a family, you can protect yourself by using an air purifier designed for removing pollen, pet dander, smoke, and odors.
In our TaoTronics AP002 HEPA Air Purifier review, we look at the purifier's features, pros, and cons.
Jump to…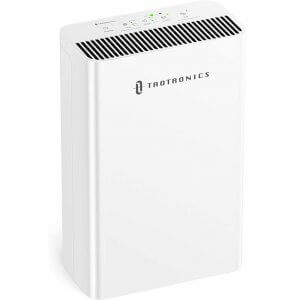 TaoTronics AP002 Specifications:
Filtration: 3-in-1 Pre-filter, Activated Carbon and HEPA filter. Optional Ionizer.
HEPA class: True HEPA
Filters life: 3 to 6 months
Maximum CADR: 300 cubic meter per hour (m³/h) or 177 cubic feet per minute (cfm)
Room Coverage: 330 square feet with 4 air exchange per hour (ACH)
Sensors: Particle sensor (PM 2.5)
Number of manual fan speeds: 4
Automatic mode: Yes
Size: 19.7″H x 12.8″W x 6.8″D
Device weight: 12.6 lbs
Noise level: 25 – 53 dB
Rated Power: 55 Watt
Voltage: 120 V AC 60 Hz
No products found.
In-depth Review of TaoTronics AP002 Air Purifier:
The TaoTronics AP002 HEPA air purifier is an amazing gadget. Safe for kids and pets, the purifier has 4 fan speeds, a smart air quality monitor, and a four-stage filtration system. It comes with a built-in carry handle allowing you to carry the purifier and move it from room to room.
Here is an in-depth look at the features of the TaoTronics AP002 HEPA Air Purifier.
3 in 1 Purification System
The TaoTronics AP002 HEPA Air Purifier has a 3 in 1 purification system. This system comprises a pre-filter, an activated carbon filter, and a True HEPA filter. The first stage is the pre-filter.
Made of fibrous material, the pre-filter is behind the intake. When the fan sucks air via the intake, the pre-filter traps large particles seen by the naked eye. They include pollen, dust, pet hair, and pet dander.
After the pre-filter, you have the second stage – activated carbon filter. This stage has granular carbon, and it helps to remove various odors and VOCs.
The carbon filter uses absorption and absorbs the molecules of the VOCs, smoke, and other gaseous contaminants. Activated carbon is useful for absorption. This is because the adsorption process occurs at lower humidity and temperatures.
However, the thinner carbon medium filter of this air purifier is not effective for heavy odors, and VOCs.
The last stage is the True HEPA filter. With an efficiency rating of 99.97%, the true HEPA filter can effortlessly remove fine particles as small as 0.3 microns. They include dust, pollen, smoke, and other airborne allergens.
The air purifier has a CADR of 300 cubic meter per hour or 177 cubic feet per minute. As such, it can clean rooms of up to 330 square feet four times per hour. Check the recommended room size later on this review.
Design
The air purifier has the following dimensions – 12.8 by 6.8 by 19.7 inches. It has a slim, modern design which makes it perfect for your living room, bedroom, kitchen, and office. The purifier has a lift handle located at the back. As a portable model, you can carry it from room to room by the lift handle. This is because it weighs 12.56 pounds.
The intake of the purifier is at the back while the outlet is at the top. When the powerful fan sucks dirty air, it passes through the grille. It goes through the filtration system before getting released via the outlet at the top.
Smart Controls and Functions
One smart feature you will like is the built-in particle (PM 2.5) sensor. The sensor detects pollutants in the air. If the sensors detect a high level of contaminants, it signals the purifier.
The air purifier then uses this information to adjust the fan speed. Usually, if the purifier detects a high level of contaminants in the room, it selects the highest fan speed – turbo. By doing so, the air purifier works more efficiently to draw dirty air into the filtration system before releasing clean, fresh air.
Thanks to this feature, you don't have to set the fan speed manually. But you can select auto mode manually. Just press the "Fan" button for 3 seconds, and you're done.
Speaking of fan speed, you can select three more settings manually. Choices include low, mid, and high. At night, you can select low or mid fan speed. The purifier will run more quietly while cleaning the air.
Alternatively, you can select "Sleep" mode.
Another smart feature you will like is the filter indicator. The filters have a lifespan of 3 months to 6 months. Thanks to the filter replacement indicator, it alerts you when to change the filters.
To buy original filters, visit the Taotronics store and make your order. Check the filter replacement price and link later on this review.
Negative Ion Generator
The purifier has a Negative Ion mode. When you select this mode, the purifier uses ionizer technology. It releases negative ions in the air, which neutralizes contaminants allowing you and your family to breathe fresh air.
However, you should not use the feature if someone has asthma. Because ionizer also produces a little amount of ozone, which is not suitable for people with asthma or anyone who has breathing issues. Also, the air purifier produces ozone below the safe level, and it is CARB approved.
Noise Level
Clean, fresh air energizes you. It helps you make better decisions and sleep better at night. The average adult spends ⅓ of his or her time in bed. As such, it's crucial to ensure the indoor air quality in the bedroom is pure.
That means running the air purifier 24/7. What about fan noise? As you probably know, each purifier has three or four fan speeds. The TaoTronics HEPA Air Purifier has four fan speeds – low, mid, high, and turbo.
At night, you will probably set the purifier to low fan speed. This does not mean that it will not produce any noise. The question is, can you tolerate the noise and still enjoy a good night's sleep?
Let's find out. The TaoTronics HEPA Air Purifier has a noise level ranging from 25 to 53 dB. At the lowest fan speed, it produces 25 decibels. This is lower than the average home noise at 40 dB. It's even lower than a quiet library or a whisper.
When you set the fan speed to the turbo, it produces 53 dB. This is slightly higher than the average home noise at 53 dB but below a normal conversation or background music (60dB). We can conclude that the TaoTronics HEPA Air Purifier is among the quietest models on the market.
We recommend it for the baby's room or your bedroom.
Check out our top picks >>> The 7 Best Quiet Air Purifier
Suitable Room Size for TaoTronics AP002:
*The room size calculation is based on an ideal situation. For best practice, consider the size of the room a little less than the calculated value.
If you have higher ceilings, then use our Air Changes per Hour Calculator to calculate the suitable room size.
TaoTronics AP002 Operating Costs:
Annual Filter Replacement: $59 per year for 3-in-1 filter, 6 months usage (check availability & filter price).
Monthly Energy Consumption: ~ $3.6 (based on 12 cents per kWh and 18 hours use on turbo speed per day). Use our Energy Usage Calculator to find out the bill based on your usage and the local energy rate.
No products found.
Pros & Cons:
Questions and Answers:
Q. Does this air purifier produce ozone?
A. Yes, it produces ozone when ionizer turned on but in only negligible amounts. The air purifier is CARB approved.
Q. Can this purifier remove pet odor?
A. Yes, it can. The activated carbon filter absorbs pet odor and breaks down the molecules allowing fresh air in the room. However, the odor filter seems not very useful.
Q. After how long should you replace the filters?
A. The manufacturer recommends that you replace the filters after 3 to 6 months. What you need to know is that replacement depends on the air quality in your home. Before replacing any filter, check the replacement indicator.
Final Thoughts:
The TaoTronics TT-AP002 HEPA Air Purifier is an excellent choice if you have allergies and breathing sensitivities. Thanks to the 3 in 1 filtration system, it traps and removes pollutants such as smoke, allergens, odors, pet dander, pet hair, and dust.
It has built-in smart air quality sensors that monitor indoor air quality. If the purifier detects an increased level of pollutants in the air, it selects turbo mode and cleans it. In general, this purifier is worth the purchase.
We recommend it because it's one of the quietest models in the market and safe for kids and pets too.