A smart air purifier might be the best investment you'll ever make towards the betterment of your health. Research shows that the concentration of pollutants indoors is 2 to 5 times higher than outdoor concentration. People who spend more than 90% of their time indoors are susceptible to respiratory issues.
Over the past few decades, indoor concentrations of some pollutants increased. This is mostly due to the use of household cleaners, pesticides, personal care products, and furnishing. You can protect your family and ensure they breathe clean air, day and night.
All you need is an effective air purifier.
Looking for an air purifier designed for allergies, dust, smoke, and odors? In this, we review the Toshiba Smart Wi-Fi Air Purifier based on market research.
Keep reading!
Jump to…
Toshiba Smart Air Purifier Specifications:
Filtration: Activated carbon pre-filter, and HEPA filter. Optional UV light.
HEPA class: True HEPA
Filter life: 3 months for Carbon pre-filter and 12 months for HEPA filter
Maximum CADR: 143 cfm (Tobacco Smoke)
Room Coverage: 220 square feet with 5 air changes per hour (ACH)
Sensors: No
Number of manual fan speed: 3
Automatic mode: No
Size: 26.6″H x 6.9″W x 10″D
Device weight: 16 lbs
Noise level: 32 – 52 dB
Rated Power: 58 Watt
Voltage: 120 V AC 60 Hz
Model: CAF-W36USW
Sale
Toshiba feature Smart WiFi Purifier, True HEPA Air Cleaner, Designed for...
Alexa Capability: The Toshiba air purifier can be turned on and off through the Alexa App or any Echo devices. It makes it easier to...
High Efficiency Purifier: 26 inch purifier filters air at max speed in medium to large rooms up to 222 sq. Feet; CADR rating: dust...
Quiet Operation: at a 32dB low setting, this feature can be used as gentle white noise at night so you can sleep in a restful and...
UV Light Sanitizer: Kills germs UV light helps kill airborne viruses such as influenza, staph and rhinovirus. Providing a healthier...
3-IN-1 Air Purifier: Includes a pre-filter, HEPA and activated carbon filter. Each filter needs to be replaced every 3 months; and HEPA...
Check out our top picks >>> The 7 Best Smart Air Purifiers
In-depth Review of Toshiba Smart Air Purifier:
Toshiba is a well-respected brand headquartered in Minato, Tokyo, Japan. Since 1875, the company has been one of the biggest manufacturers of consumer electronics and home appliances. With a long history as a technology company, Toshiba continues to innovate and build high-quality appliances.
One of the best air purifiers to come off Toshiba's production line is the Toshiba Alexa-enabled Smart air purifier.
Modern Design
The air purifier has the following dimensions: 26.6 by 6.9 by 10 inches and weighs about 16 pounds. Encased in an ABS plastic body, the purifier has a modern, space-saving, and stylish design that fits any home decor.
Thanks to the use of ABS plastic, the air purifier can withstand impact and damage. The air intake is on the front while the outlet is at the top. The bottom to top airflow concepts ensures more pollutants get trapped and clean air distributed in the room. At the top, you've got the controls.
Available controls include power, purification volume, and UV buttons. To run the air purifier, press the power button, and to shut down the unit, press it again, once. You can use the same button to enter the user-guided setup mode. All you've to do is hold the power button for 3 seconds.
Next is the UV button. When you press the button, it turns on the UV LED lights and turns it off when you press it again. The UV light's purpose is to kill airborne germs and viruses such as staph, influenza, and rhinovirus. By doing so, you and your family get to live in a healthy, germ-free environment.
Last, we have the purification volume button. Its purpose is to adjust the fan speed. Above the button, you've got the status of the fan speed. They include low, medium, and high. The higher the fan speed, the more air changes the unit can make, but the more noise it makes.
Powerful Filtration System
The air purifier has a 3-stage filtration system. This system has the following filters: an activated carbon pre-filter and a True HEPA filter. The combined pre-filter traps large particles such as dust, pet hair, and lint.
The foam type activated carbon pre-filter also absorbs odors from cooking and other sources. However, these types of filters are less effective than pelletized carbon filter.
Next is the True HEPA filter. This filter removes 99.97% of 0.3-micron airborne pollutants from the air. It removes dust, pollen, smoke particles, airborne bacteria, and other airborne allergens.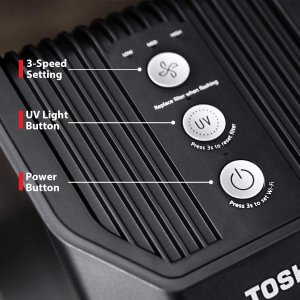 The carbon pre-filter has a lifespan of 3 months, while the True HEPA filter has a lifespan of 12 months. You can also monitor the status of the filters by checking the filter replacement indicator.
To replace the filters, buy original replacement filters. To remove the back cover, grasp the wedging block and pull outwards. You should see the filter assembly. To remove the filters, hold the drawstring on both ends and pull.
Remove the plastic packaging from your new filter(s) and install the filter assembly. Remember, activated carbon pre-filter is always on the outside. Replace the back cover and press the power button to run the air purifier.
Noise and Performance
Toshiba recommends that you place the air purifier more than 30 cm from a wall or other objects for the best cleaning effect. To avoid the influence of metal shielding, place the unit at least 50 cm from another appliance.
This 26-inch air purifier has a CADR of 145 (dust), 228 (pollen), and 143 (smoke). Best for small and medium-sized rooms, it can clean up to 220 square feet. In an hour, it can make five air changes.
When it comes to noise, it has a sound level of 32dB at the lowest fan speed. This is comparable to the sound level of rustling leaves, a whisper, or soft music. At the lowest fan speed, the air purifier will clean the air while improving sleep quality. Also, the low sound level acts as a gentle white noise creating a restful indoor environment for you.
At the highest fan speed, it has a sound level of 52dB. This is slightly higher than the average home noise at 40dB but below a normal conversation and background music at 60dB.
The air purifier is Energy Star certified. With a rated power of 58 W, it is energy efficient.
Smart Capability
As a smart air purifier, the unit is compatible with AI assistants, specifically Alexa. With Alexa, you can turn on and off the unit. All you've to do is speak any of the following commands: "Alexa, turn on/off the air purifier," or "Alexa, turn on/off Ultraviolet mode on the air purifier."
To control the Toshiba Smart Air Purifier with Alexa, download the Alexa app, launch the app, and tap sign up to create a new account. Suppose you've got an existing account, tap log in.
Press and hold the power button on your air purifier for 3 seconds. Follow the in-app instructions to sync your air purifier with the Alexa app. If successful, you can control your air purifier with voice commands. If unsuccessful, repeat the steps or contact the manufacturer support team.
You can sync the smart air purifier with Amazon's Echo devices.
Suitable Room Size for Toshiba Smart Air Purifier:
*The room size calculation is based on an ideal situation. For best practice, consider the size of the room a little less than the calculated value.
If you have higher ceilings, use our Air Changes per Hour Calculator to calculate the suitable room size.
Toshiba Smart Air Purifier Operating Costs:
Annual Filter Replacement: $50 approximately. ~ $17 for 1-year pre-filter pack (check availability & filter price), and ~ $33 for 1-year HEPA filter (check availability & filter price).
Monthly Energy Consumption: ~ $2.5 (based on 12 cents per kWh and 12 hours use on top speed per day). Use our Energy Usage Calculator to find out the bill based on your usage and the local energy rate.
Pros and Cons:
Questions and Answers
Q. Can you wash the filters?
A. No, you cannot wash the filters. The carbon pre-filter has a 3-month life span, while the HEPA filter has a lifespan of 12 months. If the filter replacement indicator starts flashing, replace the filter. It is recommended to vacuum the filters with soft brush heads frequently.
Q. Can this unit work with Google Assistant?
A. No, it can only work with Alexa. You can sync the purifier with the Alexa app on your smartphone or use Amazon's Echo devices.
Q. Why the replacement filters are from the Eureka brand.
A. Actually, this Toshiba Smart air purifier is the smart version of the Eureka NEA120 Air Purifier. Both Toshiba and Eureka are the sub-brands under the parent company Midea Group.
Final Thoughts
If you're into smart home mania and are looking for a budget-friendly air purifier, this is the unit you're looking for. Not only is it perfect for cleaning small and medium-sized rooms, but it is also Energy Star certified. You can also control it using voice commands using your Amazon Echo devices from any room in your home.