Clean air at home is an essential requirement for those who have allergies, asthma, or any other breathing issues. However, with the increasing technology modification, it becomes difficult to control the nature of air within your reach. But, that should not be an indicator that you cannot enjoy quality air even in the comfort of your home. The Vremi air purifier is designed using quality features for your personalized experience that you can get within budget. Here we are going to discuss its specs, features, pros & cons, and will give you a comparison with a similar air purifier in its category.
Jump to…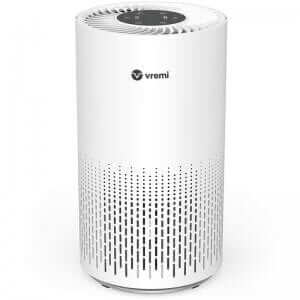 Vremi Air Purifier Specifications:
Filtration: Compact pre-filter, HEPA, and activated carbon filter
HEPA class: H13 true HEPA
Filter life: 6 months (4320 hrs)
Maximum CADR: 220 cubic meter per hour (m³/h) or 129 cubic feet per minute (cfm)
Room Coverage: 193 square feet with 5 air exchange per hour (ACH)
Air Quality Sensor: Yes
Number of manual fan speed: 3
Automatic mode: Yes
Size: 15.5″H x 8.7″D
Device weight: 6.9 lbs
Maximum Noise: 52 dB
Rated Power: 75 Watt
Voltage: 115 V AC 60 Hz
Model: VRM010685N
Deal Alert
Vremi Premium True HEPA Air Purifier for Large Rooms - Removes 99.97% of...
Have A Great Air Day: The Vremi premium air purifier utilizes a True HEPA H13 with 99.97% efficiency to purify the surrounding air in...
Powerful 3-Stage Filtration: Includes ultra-fine pre-filter, True HEPA filter and activated carbon filter for enhanced odor reduction....
Smart Air Quality Monitor and Filter Change Indicator: Features a built-in sensor that measures and displays air quality level (blue,...
Modern Design with Sleep Friendly Features: Measures 15.5 inches high and 8.7 inches in diameter, and features a 360-degree aerodynamic...
Last update on 2022-05-24 at 09:22 / Affiliate links / Images from Amazon Product Advertising API
In-depth Review of Vremi Air Purifier:
3-Stage Filtration: This unit consists of three powerful filters. The pre-filter, true HEPA filter, and the activated carbon filter. The pre-filter stage eliminates all the large particles hence ensuring to keep the second filter safe for longer usage. Anything that passes through these filters is, however, trapped at the second filter.
At the True HEPA filter, small particles, including smoke, as well as purifying the air. The last filter traps odor and other smells before releasing the air to the room. Therefore, when you have the unit on, you are guaranteed that nothing will penetrate and escape the filters and expose you to any unclean air.
Additionally, the compact filter is replaceable. Depends on usage and the indoor air quality, the filter will last 6 to 8 months.
360 Air Inlet: It is designed with a powerful eliminator providing you with 360-degree aerodynamic air intake. In other words, it can trap and purifier the air for pet dander, hair, and odor, keeping your home clean and convenient for both you and your pet. Additionally, with this machine, also dealing with other airborne particles is guaranteed. It can trap up to 99.97% of particles, including the smallest of 0.3 microns.
Air Quality Sensor & Auto Mode: The unit gives you real-time air quality readings using color indicators. Once it is on, the air quality sensor assesses the air quality and displays everything. For instance, the unit will display Blue, Green, Orange, and Red for Very Good, Good, Unhealthy, and Hazardous air quality(AQ), respectively.
It keeps changing the color on display, which helps you in making relevant decisions about purifying the air. Additionally, the different colors also assure you that your gadget is working right, and it is keeping your room as friendly as possible.
Also, the sensor-based automatic mode will set the fan speed accordingly; thus, it will save your energy usage.
Last update on 2022-05-24 at 09:22 / Affiliate links / Images from Amazon Product Advertising API
Ease of Use: Unlike other purifiers on the market, this is designed to purifier with limited complications to the users. With a single button press, you are guaranteed to turn it ON as well as controlling the fan speed. Therefore, you don't require to be tech-savvy to operate the instrument. Additionally, all other controls are labeled and displayed, making it easy for you to know where to press, etc.
When you turn it on, you can as well use the timer to set various operating intervals for easy cleaning, even in your absence. Therefore, you will enjoy clean and healthy air at all times.
Portable And Durable Design: The purifier is made of quality material for durability. The top plastic cover is scratch resistant and will not break even when it trips. It is also secure when you have kids or pets in the room since it has a child lock guarantee. This ensures that the settings you choose will not be changed even as kids play with the unit.
Moving this unit from one room to the other is quite practical thanks to its lightweight construction. This also makes it convenient for people who are often traveling. You can travel with it and be sure that you will breathe quality air regardless of where you go.
Check out our top picks >>> The 10 Best Desktop Air Purifiers
This unit is also designed to provide you with quality air regardless of the size of your room. It is ideal for use in a place measuring up to 300 square feet. Therefore, you can comfortably use the unit in an office or any small living room. Additionally, due to its portable design, you can as well clean air in a large room in various portions. Therefore, you will not have to deal with unclean air with the unit at hand.
Suitable Room Size for Vremi Air Purifier:
*The room size calculation is based on an ideal situation. For best practice, consider the size of the room a little less than the calculated value.
Vremi Air Purifier Operating Costs:
Annual Filter Replacement: ~ $30 for six months use per filter (check availability & filter price).
Monthly Energy Consumption: ~ $4.9 (based on 12 cents per kWh and 18 hours use on top speed per day). Use our Energy Consumption Calculator to find out the bill based on your usage and the local energy rate.
Last update on 2022-05-24 at 09:22 / Affiliate links / Images from Amazon Product Advertising API
Pros & Cons:
Vremi True HEPA and Levoit Core 300:
Air Purifier
Value for Money
Vremi True HEPA
AHAM Certified
Levoit Core 300
Image
Annual filter replacement cost
Value for Money
Image
Annual filter replacement cost
AHAM Certified
Image
Annual filter replacement cost
Last update on 2022-05-24 at 09:22 / Affiliate links / Images from Amazon Product Advertising API
Complete review >>> Levoit Core 300 Air Purifier
Final Thoughts
If you are working on a budget, you still deserve to enjoy quality air. Therefore, this unit is here to guarantee your air is cleansed and purified all the time. This a few entry-level air purifiers in the market that comes with an air quality monitor. The manufacturers back it with hassle-free returns and a 1-year warranty to ensure you enjoy exceptional performance all through.