Want clean, fresh air in your home or office?
Air purifiers have a unique set of features, but they have one thing in common – multi-stage filtration systems. The filters work in harmony to trap and remove contaminants from the air. Such pollutants include cooking odors, VOCs, dust, pet dander, pet fur, and lint.
By getting rid of pollutants from the air, you and your family get to breathe clean air. Besides clean air, purifiers help to prevent infections or trigger illnesses such as asthma.
One of the best air purifiers that we recommend to pet owners is the Whirlpool WPPRO2000 (Whispure Pro 2000) Air Purifier. Best in its class, this powerful air purifier can provide a healthier, cleaner home, and office environment.
Want to learn more about this air purifier.
In this post, we review the features of the Whirlpool WPPRO2000 Air Purifier.
Keep reading!
Jump to: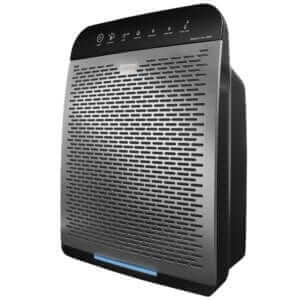 Whirlpool Whispure Pro 2000 Specifications:
Filtration: Charcoal pre-filter, and HEPA filter.
HEPA class: True HEPA
Filter life: 12 months
Filter Replacement Indicator: Yes
Maximum CADR: 328 cubic feet per minute (cfm)
Room Coverage: 490 square feet with 5 air changes per hour (ACH)
Sensors: VOC sensor
Number of manual fan speed: 4
Automatic mode: Yes
Size: 25″H x 19.45″W x 10″D
Device weight: 22.4 lbs
Lowest Noise level: 42 dB
Rated Power: 115 Watt
Voltage: 120 V AC 60 Hz
Whirlpool WPPRO2000M Whispure True Hepa Air Purifier, Activated Carbon, 508...
[ Best in its Class ] — Cleans air in a 508 sq. ft. space. For allergy sufferers, best use in 508 sq. ft. space. CADR rated 328. This...
[ Ideal for Allergen Removal ] — True HEPA filter captures 99. 97% of dust and allergens as small as . 3 microns such as household...
[ Keeps the Air Clean ] — Reduces the amount of airborne germs/viruses by filtering and continuously cleaning airborne particles away...
[ Reduce Odors ] — Breathe freely as the active carbon filter reduces odors from pets, smoking, and cooking.
[ Whispure Quiet ] — Features Quiet Partner System – the quietest high efficiency air purifier technology. Leave it running while...
Last update on 2022-05-24 at 13:22 / Affiliate links / Images from Amazon Product Advertising API
In-depth Review of Whirlpool WPPRO2000 Air Purifier:
Whirlpool is an established brand that has been praised for making reliable appliances. As one of the most trusted brands, the company makes products such as refrigerators, laundry machines, and air purifiers.
One of the best air purifiers from Whirlpool is the WP PRO 2000 Air Purifier.
Here are the features of this unit.
Touch Controls
Touch controls are now becoming a standard feature on home appliances such as this air purifier. The reason why most companies are turning to touch controls is that they allow direct accessibility and navigation. Unlike push buttons, touch controls are effective, and all one has to do is press the control only once.
The Whirlpool WPPRO2000 Air Purifier has touch controls that include the power button, fan speed, timer, child safety lock, and sleep mode. You also have the filter status lights and night light. These controls are fitted on a smart electronic touch screen, making it easier for you to interact with the icons.
To start the purifier, press the power button once. You can then select the correct fan speed as well as the programmable timer function. When you combine the sleep mode function and timer function, it helps save energy and ensure the unit runs ultra-quiet.
This is beneficial while you sleep. Besides the sleep mode button, the night light button also promotes better sleep. How you may ask. Blue light can lead to light pollution, making it difficult for you to have a sound sleep.
Powerful Filtration System
Besides, the touch controls encased in a smart electronic screen. Something else that made us fall in love with the purifier is the filtration system. The powerful filtration system consists of two filters – a charcoal pre-filter and a True HEPA filter.
The first stage of the filtration system is the charcoal pre-filter. Composed of activated charcoal, the pre-filter keeps the air clean by trapping larger pollutants such as lint, pet dander, pollen, and dust.
It also helps to reduce odors from pets, cooking, and smoking. Basically, the charcoal pre-filter pre cleans the air before it reaches the True HEPA filter.
The True HEPA filter traps contaminants as small as 0.3 microns. With an efficiency rating of 99.97%, the filter traps pollutants such as fine dust, smoke particles, and dust mite debris.
Besides the powerful filtration system, the air purifier comes with an air quality monitoring system. Close to the base of the unit (just below the front grille), you have the air quality indicator. The sensors detect VOCs, and if the air has a high level of VOCs, the red light will show. If the level of VOCs is low or non-existent, the air quality indicator will turn blue.
You need to know that the air quality monitoring system works in harmony with the purifier's smart mode. If the purifier detects high levels of VOCs in the air, it will set the fan at the highest speed.
By doing so, the purifier will draw in more air for cleaning. It also distributes more clean air in the room.
Room Coverage and Noise Level
The Whirlpool WPPRO2000 Air Purifier has a CADR of 328 CFM. Best for allergy sufferers, it can clean rooms as big as 490 square feet. In fact, it can filter the air 5 times an hour.
The purifier has four fan speeds: low, medium, high, and turbo. If you want to purify the air immediately, select the turbo function. In fact, this is the setting that the purifier sets when the VOC sensors detect high levels of pollutants in the air.
It also features the Whispure Quiet System, which ensures the unit runs ultra-quiet.
What you need to know is that it operates at a minimum noise level of 42 decibels. The sound level is similar to a peaceful area or a quiet street at night. It's also identical to the sound made by a refrigerator or a library environment.
Sleek Design
The Whirlpool WPPRO2000 Air Purifier oozes style, from the touch control to the front grille and air quality indicator close to the base. Whirlpool used ABS plastic for the body. That includes the front grille and the back.
The air purifier has the following dimensions – 25 by 19.45 by 10 inches. It weighs 22.4 pounds, which is on the heavy side. Available in Gunmetal, Pearl White, and Slate Black, you can place it anywhere in the room. Sadly, it does not come with a built-in carry handle.
Despite this small disappointment, you can carry the unit from room to room. The front grille has holes to prevent lint, pet fur, and fibers' build-up.
Like other modern air purifiers, this air purifier uses the bottom to top airflow system. With the air intake on the front, the unit can draw more air through the filtration system and out from the top outlet. This guarantees you clean, fresh air, day and night.
The control panel has touch controls that make it easy for users to navigate. Sadly, the unit does not have a remote control.
Power Consumption
Air purifiers must run 24/7. In fact, EPA recommends this to ensure no pollutants are present in the air. To ensure that users do not experience high energy bills, brands design their purifiers to consume less power.
Sadly, this is not the case with the Whirlpool WPPRO2000 Air Purifier. For such a quiet unit, you would expect that it consumes less power. Well, it consumes a lot of power at 115W.
The good news is, the purifier is Energy Star Certified. This means, at the lowest fan speed setting, the unit consumes less power.
Suitable Room Size for Whirlpool WPPRO2000:
*The room size calculation is based on an ideal situation. For best practice, consider the size of the room a little less than the calculated value.
If you have higher ceilings, then use our Air Changes per Hour Calculator to calculate the suitable room size.
Whirlpool WPPRO2000 Operating Costs:
Annual Filter Replacement: $110 per year approximately. $79 for HEPA filter, 1-year usage (check availability & filter price), $34 for Charcoal Pre-filter x 4, 1 year pack (check availability & filter price).
Monthly Energy Consumption: ~ $5 (based on 12 cents per kWh and 12 hours use on the turbo mode per day). Use our Energy Usage Calculator to find out the bill based on your usage and the local energy rate.
Last update on 2022-05-24 at 13:22 / Affiliate links / Images from Amazon Product Advertising API
Pros & Cons:
Check out our top picks >>> The 7 Best Ozone-free Air Purifiers
Whirlpool WPPRO2000 vs. Bissell Air320 Air Purifier:
Both purifiers are great. They are 100% ozone-free, have a sleek design, and pet friendly.
Here are the differences between the two purifiers.
Filtration System
While the purifiers have powerful filtrations, the Whirlpool WPPRO2000 has a two-stage filtration. It includes a charcoal pre-filter and a True HEPA filter.
The Bissell Air320 Air Purifier has a 3 stage filtration that includes a fabric pre-filter, HEPA filter, and activated filter.
Modern Leg Design
The Whirlpool WPPRO2000 Air Purifier has a flat base. The problem is, having the unit close to the ground means dust will cover the body. For the Bissell AIR320 Air Purifier, it comes with a modern leg design. The legs offer stability and allow you to pick up the unit to move from room to room much easier.
VOC Sensor
VOCs are usually released from burning fuel such as coal, natural gas, wood, and others. They are also released by products such as solvents and cigarettes. Since they are harmful to our health, it's essential to buy a purifier that can trap VOCs.
The Whirlpool WPPRO2000 Air Purifier not only traps VOCs, but it has a VOC sensor, unlike the Bissell model.
Air Purifier
Intuitive Touch Panel
Whirlpool Whispure Pro 2000
Minimalist Design
Bissell Air320 (2768A)
Image
Room Coverage
490 sq ft with 5 air changes/hr
350 sq ft with 5 air changes/hr
Air Quality Sensor
Particle sensor and ambient light sensor
Intuitive Touch Panel
Air Purifier
Whirlpool Whispure Pro 2000
Image
Room Coverage
490 sq ft with 5 air changes/hr
Last update on 2022-05-24 at 13:22 / Affiliate links / Images from Amazon Product Advertising API
Questions and Answers
Q. Does this unit have a child lock function?
A. Yes, it does. To activate the function, press and hold the sleep mode control for 3 seconds to lock. If the control indicator turns red, you've enabled child lock. To turn it off, press and hold sleep mode control for 3 seconds.
Q. Does it have a remote control?
A. No, the unit does not have a remote control.
Q. How long do the filters last?
A. The filter can last for up to 12 months, depending on usage.
Final Thoughts
Do you have pets at home? Are you suffering from any allergies? If your answer is yes to both questions, then you need the Whirlpool WPPRO2000 Air Purifier. This unit has a powerful filtration system that traps countless pollutants. They include dust, fine dust, odors, allergens, and airborne bacteria. Besides the powerful filtration, it has VOC sensors that check the quality of air.
Running this unit in your home will ensure clean, fresh air for you and your family.
Best of luck!