When looking for an air purifier, one of the things you must consider is the CADR rating of the unit. An air purifier is only as effective as its CADR ratings – the higher the scores, the bigger the space your air purifier will be capable of cleaning. For that reason, you will want your air purifier to have the highest CADR ratings in the market. But that's going to depend on your needs. If you living is small, or you intended to only use the device in bedrooms or any other small space, It won't make sense to buy an air purifier with CADR rating of say, 400 cfm. In this article, we will talk about the CADR ratings and the seven best high CADR air purifier with their capabilities, features with pros and cons.
If you're in a hurry, check out our best picks:
Air Purifier
High
Dyson Pure Cool DPO4
Image
Low
Image
Mid
Image
The market has air purifiers with the right CADR rating for everyone. Before talking about the list, let's have a more in-depth look into what CADR is:
Understanding the CADR: To determine the rate of work or efficiency of any machine, we often measure the amount of work done by the device in a given time. CADR or Clean Air Delivery Rate is the amount of filtered air delivered from an air purifier in a certain timeframe. Commonly it expresses as cubic feet per minute (cfm) or cubic meter per hour (m3/h).
Hence, CADR can be to air purifiers what horsepower is to car engines. From the CADR ratings, you can easily find out how much you will get from an air purifier for your specific room size. Also, you can find out how much CADR you will be needed for certain types of cleaning in your home.
Calculate: How much CADR do I need for my room?
The Association of Home Appliances Manufacturers (AHAM) tests air purifiers' ability to clean smoke, dust, and pollen from the air. AHAM would, therefore, print the CADR rating to tell the buyers more about the device's capabilities to eliminate smoke, dust, and pollen contaminants, which represent tiny, medium, and larger particles comparatively. Some manufacturers listed their air purifiers by their self tested CADR ratings.
Note: CADR only represents the efficiency and not the effectiveness of an air purifier. The effectiveness of an air purifier depends on the filter types and quality.
Read or top picks of air purifiers:
Top 9 Best HEPA Air Purifiers for Smoke Review
Top 7 Best Quiet Air Purifiers Review
7 Best High CADR Air Purifiers List:
1. Dyson Pure Cool DPO4 Air Purifier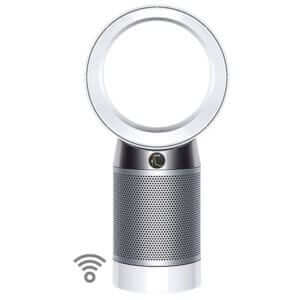 This air purifier has a CADR of 617 cfm. The aesthetic design makes the machine great to look at; the perfect oval top resting on a narrow base offers a satisfying sight. The circular topmost section acts as a bladeless amplifier capable of moving a lot of air in large rooms without requiring rotating blades.
Dyson Pure Cool DP04 (desk series) is very much like Dyson Pure Cool TP04 (tower series), its cousin, except that the latter is bigger (about 5.5 feet tall) and comes with more advanced features. If you are a fan of Dyson's aesthetically designed fans and purifiers, but you would like a much smaller air purifier that doesn't disappoint, the DP04 is the best option for you.
Top Features:
Highest air flow rate air purifier in the market. It has an oscillating and tilts feature. I will also allow you to change the airflow directions to forward or backward, which is convenient to use it year-round.
Dyson Link App: You can access the controls via this app and make adjustments. A wealth of information is also accessible via this app.
Senses: It automatically senses and makes reports about the air quality on an LCD. It has the highest number of sensors to determine the air quality: PM2.5, PM10, NO2, VOC, and also temperature and humidity.
3 Airflow Modes: Make selections from the three airflow modes: Auto mode, custom mode, and night mode.
Annual filter replacement cost: $79 (check current filter price)
Pros & Cons:
2. Medify MA-112 Air Purifier
With a CADR of 560 cfm, this is one of a small crop of air purifiers with one of the highest CADR ratings in the market at the moment. It is capable of cleaning up to 2,100 square feet of room size in just 30 minutes or 1,050 square feet in only 15 minutes. With such CADR calibration, you can quickly clean the air in your room while running the air purifier at the highest speeds. At the size of a small bucket, Medify MA-112 air purifier covers approximately 15 percent less square footage on your floor but guarantees air quality many times better than its close rivals.
Annual filter replacement cost: $260 (check current filter price)
Top Features:
The dual air inlet and filter sets, one of the top CADR air purifier.
Medical Grade HEPA H13 Filter, including an activated carbon filter. Capable of eliminating 0.3-micron particles at 99.97% of efficiency.
Touch screen display with four fan speed: You can choose from the four fan speeds and make other adjustments via a convenient touch screen.
Ionizer function has four modes: child lock, sleep, auto on/off, and on/off.
Energy Star, ETL, and CARB certified.
Eight-Hour Timer: You can save immense energy by setting the device to only run at a specific number of hours up to 8 hours.
Filter Replacement Indicator: You can't be caught by surprise. You'll be notified when the filters wear out.
Pros & Cons:
Read the full review of Medify MA-112 Air Purifier
3. Blueair Classic 605 Air Purifier
If you are into bigger air purifiers, but you would like one with more high-end features, you might want to try out Blueair Classic 605. It is a fantastic machine with a CADR of 500 cfm, which is still impressive. It uses three filters and delivers the air in 3 different directions to increase the air circulation within the room. Better yet, it comes with Blueair's propriety Blueair SurroundAirTM that serves to minimize draft.
Top Features:
HEPASilentTM Technology: A combination of mechanical HEPA and electrostatic filtration technologies to boost the filtration process.
Wi-Fi connectivity: Connect this machine to your Alexa home assistant and control it from there.
Certifications: AHAM verifies the CADR rating. California Air Resources Board has certified Blueair 605 for ozone emission safety. It is also Energy Star Certified
Annual filter replacement cost: $90 for particle filter only and $624 for dual protection (3filter x $104 x 2 times a year) (check current filter price)
Pros & Cons:
4. Alen BreatheSmart 75i Air Purifier
This air purifier has a CADR of 350 cfm. It is the latest air purifier with a dedicated HEPA after the manufacture's last model – the Alen BreathSmart 45i – seemed to underperform compared to its rivals in the market. There are just five members in Alen's family of air purifiers, and the BreathSmart 75i is the most advanced member yet. In an industry that is dominated by big-sized air purifiers (which trades small size with functionality), the BreathSmart 75i comes out as a compact yet well-performing air purifier.
Top Features:
Intuitive Intelligence: The smart laser sensor onboard detects the smallest airborne particles before adjusting the machine accordingly to eliminate them.
Quietly Powerful: You won't be bothered with whirring noise characteristics of some purifiers. While maintaining a high level of silence, it can clean air in large rooms, about 1,300 sq. ft. in about 30 minutes.
Pet Fur Cleaning: The maker avoided incorporating Activated Carbon filters and instead opted for Molecular Conversion Powder. This technology is good at removing very odors emitted by the kitchen and smelly teenagers.
Designer Color Options: It is shipped in a variety of colors carefully formulated to conform with an array of interior design concepts.
Annual filter replacement cost: $99 for particle filter only and $129-$139 for both particles and chemicals (check current filter price)
Pros & Cons:
5. Blue Pure 121 Air Purifier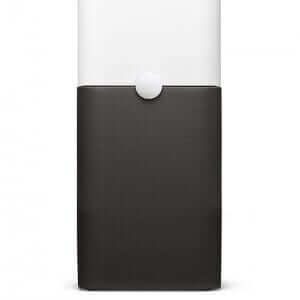 This air purifier has a CADR of 350 cfm. Standing at 2.5 feet tall, it was designed to be used in large rooms like dorms, shared office spaces, and living rooms with extensively vaulted ceilings. This air purifier is designed to suck air from both four sides instead of just one end as its characteristic with many other purifiers. This design is advantageous in ensuring maximum air is taken in and purified. With a CADR of 350 cfm, it can comfortably cover 875 square feet of space with three air exchange per hour, a lot of home spaces falls in this category,
Top Features:
HEPASilentTM Technology by Blueair: A combination of both mechanical and electrostatic filtration technologies that enhances air filtration.
360-degree air intake: Air is sucked into the machine from four sides through a specially designed high-quality steel wire mesh.
Activated Carbon filter: Activated carbon riched mesh sheet filter assembly by offering long term solutions for volatile organic compounds, odors, gases, and chemicals.
Pleated Polypropylene HEPA filters: Polypropylene is an abrasion-resistant media capable of trapping dirt for extended periods before requiring replacement. The HEPA filter eliminates 99 percent of allergens.
Energy star rated: Besides using less energy, all the filters onboard are recyclable.
Annual filter replacement cost: $159 (check current filter price)
Pros & Cons:
6. Oransi Max HEPA Purifier
This full-size Air Purifier is the size of a midsize fridge or deep freezer. The CADR is 330 cfm for the top speed. When it comes to performance, it doesn't disappoint, for it rids your room all traces of spores, dust, pet fur, and an array of other micro-particulars that could irritate your nasals. The sheer size and effectiveness of this Air Purifier make it excellent for any large room in your home, including bedroom, basement, and a big family room.
Top Features:
Intelligent Air Quality Monitoring System that checks the quality of the air and adjusts the fans accordingly.
Certified Safe: This air purifier will stop running if the cover is found to be open. Ozone Safe and certified by California Air Resources Board.
Filter Replacement Indicators: An electronic display onboard alerts the owner when the filters wear out. Additionally, the v-HEPA Max filters onboard have color-coded directions to guide the owner in knowing whether it is time to replace them.
Carbon Filter: It comes with a structured honeycomb filter filled with activated carbon pellets to remove trap odor and VOCs.
Annual filter replacement cost: $89 (check current filter price)
Pros & Cons:
7. Whirlpool WPPRO 2000 Whispure
This air purifier has a CADR of 328 for smoke, 336 for dust, and 350 for pollen. This air purifier can clean air enclosed in a 500 square feet of space in just 13 minutes! The filter system consists of a HEPA filter, which is responsible for removing up to 99.97 percent of airborne particles, and activated carbon filter. Although this air purifier has its share of flaws, you will be impressed with several impressive features on board.
Top Features:
Wildfire Smoke Protection: It has better smoke trapping capabilities, which make sit excellent for regions ravaged by wildfires.
Whispure Quite: The Quite Partner System onboard ensures that the machine runs quietly overnight without disrupting your sleep.
Smart Auto Modes: The sensors detect the surrounding air and adjust to the correct mode by changing the fan speed.
Air purification goes on as usual but at a reduced fan speed.
Reduce Odors: The incorporated activated carbon filter assembly removes much of the household odors – pet, cooking, smoking, and so on.
Annual filter replacement cost: $93 (check current filter price)
Pros & Cons:
Conclusion
An air purifier is one of the must-have appliances in any establishment you spend more time – be it at home, office, or even your camping van. The CADR rating of the air purifier is just as essential to check as its energy efficiency and compactness. This is so because CADR, to some extent, determines how effective your air purifier will be. It also helps you evaluate your needs. For instance, although you might want the cheapest air purifier in the market to purify your large-sized sitting, you'd have to opt for an expensive alternative because it has a higher CADR rating.