Compact and small air purifiers are getting popular nowadays for their performance, portability, and minimalistic design. For a small room, the Levoit Core 300 could be the best choice that emits no ozone. The airflow rate is much higher comparatively, which can cover more space.
In this review, we talk about Levoit Core 300 specs, features, pros & cons with room size calculation. We also include a quick comparison between popular compact levoit air purifiers.
Jump to…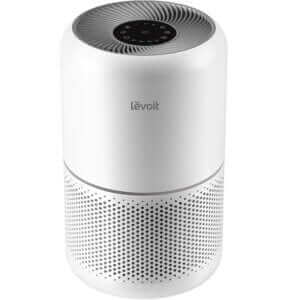 Levoit Core 300 Specifications:
Filtration: 3-in-1 Pre-filter, HEPA, and a granular activated carbon filter (standard)
HEPA class: True HEPA
Filter life: 6-8 months
Maximum CADR: 230 cubic meter per hour (m3/h) or 135 cubic feet per minute (cfm)
Room Coverage: 200 square feet with 5 air changes per hour (ACH)
Sensors: No
Number of manual fan speed: 3
Automatic mode: No
Size: 14.2″H x 8.7″W
Device weight: 7.5 lbs
Noise level: 24 – 50 dB
Rated Power: 45 Watt
Voltage: 120 V AC 60 Hz
LEVOIT Air Purifier for Home Allergies and Pets Hair Smokers in Bedroom,...
Genuine Replacement Filters: Search for core300-rf or core 300 replacement filter for Replacement Filters. Use genuine Levoit...
Higher Purify Performance: Use the Core 300 to fill your environment with crisp, clean air. Its Vortexair Technology creates a stronger...
Improved Filtration: With larger expansion area and longer length than others, the H13 Ture HEPA filter works with ultra-fine...
Most Silent Air Cleaner: The noise level is nearly voiceless at sleep mode with only 24db, its QuietKEAP Technology reduces noise so...
Ultra-long Service Life: Industry leader provider's bearing makes this levoit core300 hepa air purifier durable and reliable. The AC...
Levoit air purifier reviews:
In-depth Review of Levoit Core 300:
3-stage Filtration
Levoit Core 300 uses 3-stage filtration: pre-filter, true HEPA filter, and an activated carbon filter. Pre-filter captures large airborne particles like hair and pet fur, which also prolongs the life span of the main HEPA filter. The pre-filter is washable, and you need to vacuum it every 2 – 4 weeks.
The primary filter is a true HEPA filter that traps 99.97% of household dust, dust mites, pollen, mold spores smoke particles of 0.3 microns in diameter.
A granular activated carbon filter is placed at the 3rd step filtration, which will help you to absorb cooking smells, cigarette odor, and some VOCs. Although this is not a heavy-duty odor absorber as the filter is not deeper. So, don't select it if your primary concern is to remove odor from your room.
The filter needs to be replaced every 6-8 months, which looks great. It comes with four types of filters you can choose from. The air purifier has no UV-C or ionizer; hence it's completely ozone-free.
Check out our review >>> The 10 Best Desktop Air Purifiers
Clean Air Delivery Rate (CADR) & ACH
Levoit Core 300 has a CADR of 135 cfm, which is suitable for the small to medium-sized room. It takes air from 360-degrees and delivers the clean air from the top. You will get 5 air exchange per hour in a 200 square feet room and 8 air exchange in a 125 square feet room, which looks great.
Also, the CADR is verified by AHAM, and you can rely on it. For allergy suffer the recommended air exchange per hour is at least 5, and you need at least 8 ACH for smoke removal.
Intuitive Control Panel
The touch control panel on the top is very convenient to use, and it includes all the necessary features an air purifier needed. It featured 3 fan speed and four different timers: 2hr, 4hr, 6r, and 8hr.
You can set it to sleep mode where it goes to the lowest fan speed and turns the display off. It also has a display lock to prevent unwanted touch from a filter life indicator.
Levoit Core 300 doest have an air quality sensor.
Low Noise Profile
The lowest noise is only 24dB, which is below the whisper level, and the maximum noise level is around 50 dB, which looks a bit loud for 135 cfm air purifiers. So, you can use it in your small bedroom at night but with lower fan speed.
Aesthetics
Levoit Core 300 is a beautiful decorative and elegant looking air purifier. The lightweight, compact design is easily portable between rooms. It comes with the only white variant. The 360-degree air intake is convenient to use it anywhere in the room.
Certifications
Levoit Core 300 is an all-rounder in certifications. AHAM verifies the CADR, listed on CARB ozone-free air purifiers list and Energy Star certified.
Suitable Room Size for Levoit Core 300:
If you have higher ceilings, then use our Air Changes per Hour Calculator to calculate the suitable room size.
Levoit Core 300 Operating Costs:
Annual Filter Replacement: ~ $40 – $55 based on 6-month use per filter (check availability & filter price)
Monthly Energy Consumption: ~ $3.9 (based on 12 cents per kWh and 24 hours use on top speed per day). Use our Energy Usage Calculator to find out the bill based on your usage and the local energy rate.
Video Commercial:
Pros and Cons:
Levoit Core 300 vs. P350 vs. LV-H132:

Image
Image
Image
Image
In-depth review >>> Levoit Core P350 Air Purifier
Final Thoughts
Levoit Core 300 air purifier is an excellent and compact air purifier which is easy to use, and comparatively has high coverage than others. It is completely ozone free and can be suitable for everyone.
If you need a small and harmless air purifier to filter common allergens from the air, then you can select it.