Although most people believe air purifiers are challenging to use, the simplicity behind their functioning is simple. Anyone can efficiently operate them at their easy setting. However, if you wish to maximize their performance, these 7 best ways to use an air purifier to achieve the desired results.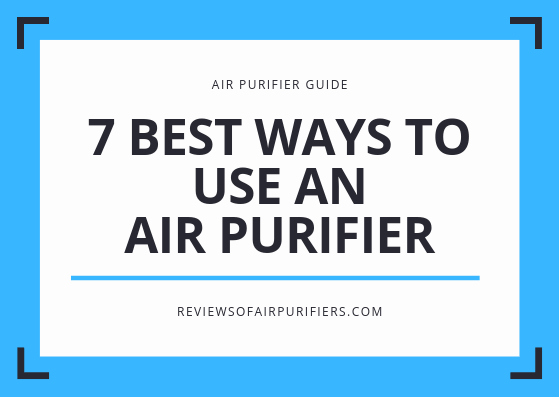 1. Let It Run Continuously
Luckily, an air purifier doesn't consume a lot of energy when setting is at 'low,' unlike a computer. Therefore, you can leave it ON, all through, and let it purify the air in your home. The atmosphere in your house keeps on changing. So, the moment you get back home, the purifier will have done its job and as a bonus consumed the least amount of electricity.
2. Set It Up in One Room
The best way to ensure your air purifier works effectively is by placing it in one room. This because it will clean the air in the set room much quicker and more effectively as compared to moving it from one room to the next. For example, your bedroom would be the perfect place to set up the purifier. Make sure the airflow through the air purifier doesn't block by any object in the room.
3. Ensure to Lock Your Windows and Doors
An air purifier works best when it runs in a confined space. As such, the air already purified will circulate only in your house, and none will escape outside. Always make sure all doors and windows are locked. And only open them occasionally to air the rooms. Later on, close the openings to allow the purifier to clean the air that is already enclosed inside.
4. Direct an Air Purifier to Your Face
If the purifier is set up in a small space, for example, your bedroom, the direction it faces might not be of much significance as compared to a larger area such as an expansive office. If the purifier is then set up in a large area, then it is advisable to set it in the direction your face is. This process will ensure you get a clean supply of air every time you breathe. And the air around you is always purified.
5. Frequently Clean the Particle Sensor
Most air purifier comes with a built-in particle sensor. This sensor helps to reveal the indoor air quality, and the automatic operation runs based on the sensor. Due to its sensitivity, it gots saturated quickly. Clean the sensor twice a month and make sure to keep it dry to operate the device smoothly.
6. Regularly Clean and Replace Your Filters
Over time, your air purifier collects a lot of pollutants. In turn, this may result in a clogged filter. Thus, the air that passes through the filter will remain polluted. Consequently, the purifier will not work. That said, we advise you to check and clean the filters regularly and unclog any foreign materials that might be stuck in the filters to ensure that the purifier supplies your rooms with clean air. Change the filters when needed. Most of the air purifiers have a filter life indicator and you will get notified.
7. Stay Clear of Ionic Air Cleaners
Ionic air cleaners (read our article on common air cleaning technologies) are potentially harmful (source) since they emit ozone gas, which, in turn, causes lung irritation and asthma attacks. HEPA air purifiers are the most effective and safe when it comes to air purification. If your HEPA air purifier has an optional ionizer, then you shouldn't turn in ON frequently. It will degrade the HEPA filter performance gradually. We have an article on 9 best HEPA air purifier for smoke and odor you can check it.
Not an air purifier can combat air pollutants of indoor alone if the concentration is high. Bring some houseplants will boost your air purifiers performance considerably. Read our article on 7 best indoor air purifying plants that remove toxins from the air.
Final Thoughts
If you care about your health or suffer from any respiratory conditions, such as asthma, or you simply want a good night sleep, then the best investment in your home would be an air purifier. Always follow the instructions manual from the manufacturer before start using and maintenance.