When it comes to purifying your air, you don't necessarily need to invest in bigger gadgets. It is still possible to buy a small compact purifier and achieve the same professional results as to when using a bigger purify. You can use this desktop-grade design for an excellent experience. It operates smoothly, and it emulates just enough amount of fresh air to service for your personal space. For better understanding, here is a brief review of Bissell MyAir and why you should consider using it.
Jump to…
Bissell MyAir Specifications:
Filtration: 3-in-1 Pre-filter, HEPA, and activated carbon filter
HEPA class: True HEPA
Filter life: 3 months
Room Coverage: Up to 100 square feet
Sensors: No
Number of manual fan speed: 3
Automatic mode: No
Size: 12″H x 8″W
Device weight: 4.71 lbs
Noise level: 30 – 46 dB(A)
Voltage: 110-120 V AC 60 Hz
BISSELL MYair Purifier with High Efficiency and Carbon Filter for Small...
3-in-1 filter includes pre-filter layer and a combination of an activated carbon and high efficiency filter that work to capture 99.7%...
Activated carbon captures common household odors, pet odors and volatile organic compounds.
Operates at a whisper-quiet level to contribute to a peaceful sleeping environment.
Choose between high or low fan speed, as well as a sleep fan speed that operates at a whisper quiet sound level.
Recommended for spaces around 100 sq. ft. , so it's great for home offices or bedrooms.
Check out other Bissell air purifiers:
In-depth Review of Bissell MyAir Air Purifier:
This gadget has a 3-in-1 filter design that includes a combination of activated carbon, pre-filter layer, and a high-efficiency filter. It is capable of giving you an exceptional experience but in a smaller space.
High Performance: This device is designed for excellence in all dimensions. The 3-in-1 filter uses HEPA as the primary filter. It catches tiny airborne particles like house dust, pollen, smoke, and other airborne allergens.
The 3-in-1 filter has an activated carbon component filter layer that will absorb any household odors from cooking and kitchen smoke to pet's fur; therefore, when they pass through the filter, the air that the purifier releases is pure and healthy.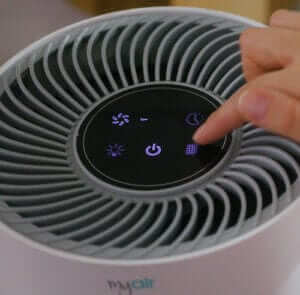 The filter change indicator alerts you when you need to change the filters. Therefore, you will not be caught by surprise when the filters need some replacement. Additionally, the alert indicator also helps you monitor the type of air you have in your home all the time. Bissell recommends changing the filter every six months.
Pleasing Sound Levels: With this tool, you not only enjoy its quality air cleaning capacity. It operates on three different speed settings for reliable experiences. You can set it on high fan speed during the day when you want more air cleaning. When at high speed, it has a little higher noise levels. However, that should not worry you when you need to relax and rest. It has a low and sleep mode setting too. Bissell MyAir allows you to set the gadget on a low-speed fan, allowing you to sleep without extra fan disturbance. Additionally, the low setting also allows you sufficient time to concentrate on other activities.
Nightlight: Typically, when an air purifier is on, it has an LED light that indicates it is in good working condition. The light also helps you understand different settings and how the gadget is operating too. When this purifier is working at night, the excess LED light can be disturbing, and it may affect your ability to sleep and rest well, especially if you don't like sleeping in a room with light. However, that is not your limitation with this Bissell 2780A. You can either turn the light on or off depending on your preference or still enjoy quality air purification.
Highly Portable: Bissell MyAir air purifier is designed in a small and compact size. So, you can move it smoothly and effortlessly to where air requires to be purified. Additionally, the small size makes this set a perfect fit for any household as it can be placed on any space without rearranging your interior decor.
Check out our review >>> The 10 Best Desktop Air Purifiers.
Durable Design: Another exciting thing to note is that this air purifier is designed to last long. The body material is top-notch, and it is impact-resistant, therefore, even when the device falls, it will still maintain its magnificent looks and will not reduce its performance. Lastly, the control panel is designed as a single unit, which makes it easy for you to set it to the required levels. The one unit style also minimizes the chances of the unit falling apart or losing particular buttons.
Bissell MyAir 2780A Operating Costs:
Annual Filter Replacement: Approximately $32 per year at six months of use per filter (check filter price on Amazon).
Official Introduction Video:
Pros & Cons:
Bissell MyAir 2780A vs. Levoit Core 300:
Image
Image
Image
Read complete review >>> Levoit Core 300 Air Purifier
Final Thoughts
With all the outstanding features of this Bissell MyAir air purifier can be a great choice to use in personal space. It is a minimalistic design, super portable, and easy to use small air purifiers. It is effective against pollutants and VOCs and odors. But the efficiency might reduce as the airflow rate is lower. So, it will be worthy of selecting if only your room pollution level is moderate. Because highly contaminated air needs a high airflow rate to clean.
You can select it to use it beside your desk or couch, baby's room, or in the kitchen in light air pollution. Also, you can use it for overnight running in your bedroom, but remember, this device doesn't have an air quality sensor for automatic mode.
If your room air quality is at a moderate level and you are looking for a small compact air purifier for personal use, then this is a good investment. For a medium to a large-sized room and for inferior air quality, this is not recommended.