Levoit Core 400S is the newest smart-controlled air purifier from Levoit, performance-wise close to the hugely popular LV-H133 model (260 cfm vs. 274 cfm). It is also the most powerful app-controlled air purifier among Levoit's smart air purifier range. The smaller app-enabled models are Core 200S and LV-PUR131S.
Want to learn more about the Levoit Core 400S Air Purifier?
Keep reading!
Jump to:
** Get an additional 15% off + Free Shipping at VeSync Store (the parent company of Levoit) using the coupon code: ADS04
Levoit Core 400S Specifications:
Parameter
Value
Filtration Technology

Mechanical 3-Stage: Nylon pre-Filter, H13 HEPA filter, and activated carbon filter.
Electronic: none.

Common air cleaning technologies of air purifiers.
HEPA Class

H13 True HEPA

Filter Life
6 - 12 months
Maximum CADR
260 cfm
Room Coverage (8 ft ceilings)
390 sq ft with 5 air changes per hour (calculate ACH for your room).
Sensors
✔️ (dust sensor)
Fan Speeds
4
Automatic Mode
✔️
Smart Control
Noise Level
24 - 52 dB
Rated Power
38 Watt
Weight
11 lbs
Dimensions
20.5″H x 10.8″W x 10.8"D
Sale
LEVOIT Air Purifiers for Home Large Room, Smart WiFi and Alexa Control, H13...
Ideal for Large Room: Powerful VortexAir 3.0 Technology increases air circulation and provides a Clean Air Delivery Rate of 260 CFM,...
High-Efficiency Filtration: Ease sneezing, congestion, and other allergy symptoms caused by airborne contaminants. The H13 True HEPA...
Sensitive Auto Mode: AirSight Plus technology scans the surrounding air for airborne particles as small as 0.3um, helping Auto Mode...
Whisper-Quiet: Rubber pads absorb sounds made by the fan vibrations, providing you with noise levels as low as 24dB and a relaxing...
Energy-Saving: Operating at just 38W at its highest fan speed when you let the air purifier run all day, consuming as little as 1kWh of...
In-depth Review of Levoit Core 400S Air Purifier:
Here are the top features of the Levoit Core 400S Air Purifier.
Sleek Design
The Levoit Core 400S is the newest smart air purifier in Levoit's Core Series. One of the features that immediately stands out is the sleek, modern design. The purifier has a cylindrical design.
The unit has the following dimensions – 10.8 by 20.5 inches and weighs 11 pounds. Available in white, it has a 360-degree air outlet at the top. It takes unfiltered air from the bottom. It's easy to move from room to room using the handles. Besides placing the air purifier on the floor, you can put it on your office desk, nightstand or table.
Smart Capabilities
This award-winning air purifier comes with smart capabilities. First off, it's Wi-Fi-enabled. As such, you can connect the air purifier to your 2.4GHz Wi-Fi network and control it remotely via the VeSync app. Compatible with iOS and Android devices, the app is available on Apple App Store and Google Play Store.
You can check real-time PM2.5 counts and see the air quality history. The app displays air quality graphs daily and weekly. It also allows you to access auto modes, customize schedules, and even set a timer (1-24 hours). Using the app, you can change the purifier's settings even while Display Lock is on.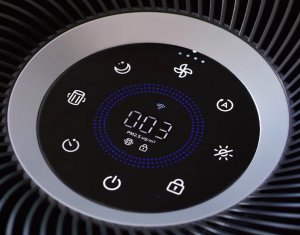 The VeSync app lets you control the unit with Amazon Alexa and Google Assistant. With the voice assistants, you can control the unit using voice commands. For example, you can turn on/off the purifier using the following voice command "Alexa or Hey Google, turn on/off the air purifier."
Thanks to the VeSync app, the Levoit Core 400S blends seamlessly into your life and allows you to experience hands-free control. You can also control the cleaner using the touch controls. The large buttons with a touch panel are easy to use. Just tap once to activate or deactivate a control.
Powerful Filtration Performance
Besides its smart features, users praise the Levoit Core 400S for its superior filtration performance. It has a three-stage composite filtration system – pre-filter, H13 True HEPA filter, and activated carbon filter.
The pre-filter is the first line of defense and captures large particles such as fibers, lint, pet fur, hair, and dust. Next is the H13 True HEPA filter that captures 99.97% of airborne particles as small as 0.3 microns in size.
It traps particles such as allergens and fine dust. By trapping these contaminants, the purifier relieves symptoms of asthma and allergy attacks. It also reduces the chances of airborne diseases such as flu and the common cold.
Lastly, we have the activated carbon filter that adsorbs odors, fumes, and smokes. To be effective for adsorbing odors from pets and cooking, Levoit added the ARC Formula. This feature extends the life of the filter. How you may ask.
It chemically decomposes molecules from odors. This prevents second-hand pollution and oversaturation. The cleaner makes your room smell fresh and neutralizes compounds such as benzene, formaldehyde, and VOCs.
Levoit recommends cleaning the pre-filter every 2 to 4 weeks using a soft brush and vacuum. Do not clean the HEPA and activated carbon filters, but you can replace them after 12 months. Check the filter indicator as it will light up as a reminder to change your filter.
Laser Dust Sensor and Two Auto Modes
The purifier has a laser-based dust sensor. Located at the back of the unit, the sensor scans your indoor air to detect the presence of airborne particles. It takes 5 seconds to detect air quality in your home. When you switch on the purifier, the air quality rings will be blue. After 5 seconds, they will change color according to the detected air quality.
It has two auto modes: Quiet Auto Mode and Efficient Auto Mode. The Quiet Auto Mode doesn't use turbo speed, unlike the Efficient Auto Mode. To remove odors, use the Efficient Auto Mode as the purifier has no gas or VOC sensor.
Suitable Room Size for Levoit Core 400S:
*The room size calculation is based on an ideal situation. For best practice, consider the size of the room a little less than the calculated value.
If you have higher ceilings, then use our Air Changes per Hour Calculator to calculate the suitable room size.
Levoit Core 400S Operating Costs:
Filter Replacement Cost: ~ $49, up to 12 months usage (check availability & filter price).
Monthly Energy Consumption: ~ $1.7 (based on 12 cents per kWh and 12 hours use on turbo mode per day). Use our Energy Usage Calculator to find out the bill based on your usage and the local energy rate.
Official Introduction Video:
Pros & Cons:
Check out our top picks >>> The 5 Best Levoit Air Purifiers.
Levoit Core 400S vs. LV-H133:
Image
Room Coverage
390 sq ft 5 times per hour (CADR: 260 CFM)
410 sq ft 5 times per hour (CADR: 274 CFM)
Wi-Fi-enabled
Image
Room Coverage
390 sq ft 5 times per hour (CADR: 260 CFM)
More Coverage
Image
Room Coverage
410 sq ft 5 times per hour (CADR: 274 CFM)
Questions and Answers
Q. Does it help to remove cigarette smoke odors?
A. The purifier has the H13 True HEPA filter and activated carbon filter to remove fine particles and neutralize light to medium odors. Cigarette smoke contains mostly gases (90% gases/vapors vs. 10% particles). So, if you want to remove the active cigarette smell, don't select it.
Q. Can I have my window open while running the air purifier?
A. To effectively trap airborne particles and maximize its efficiency, close the windows and doors. Running the purifier with the doors and windows open will weaken the purification. It will also take the purifier more time to clean the air.
Q. What's included in the box?
A. When you purchase the air purifier, you'll find a smart air purifier, a user manual, and a quick start guide inside the box. Levoit will also include a 3-in-1 original filter, pre-installed.
Final Thoughts
The Levoit Core 400S Air Purifier is an excellent addition to your home. It detects PM2.5 particles in 5 seconds. If the air quality is terrible, the cleaner will adjust fan speed automatically. At high speed, the quieter aerodynamic fan blades will purify your indoor air faster.
If you're looking for a smart air purifier that's energy-efficient and stylish, we recommend the Levoit Core 400S Air Purifier.
** Get an additional 15% off + Free Shipping at VeSync Store (the parent company of Levoit) using the coupon code: ADS04