TruSens Z-3000 air purifier is a futuristic-looking air purifier that comes with some unique features. One is remote SensorPod, which you can use to judge the air quality anywhere in the room without moving the air purifier. Also, it has a UV-C bulb (not useless-LED) at the core to sanitize the filtered air effectively.
The 360-degree air intake and dual airflow stream are also super-efficient for better air circulation in the room.
In this TruSens Z-3000 review, we talk about the specs, features, pros, and cons. We also add a useful comparison table with the two other size variants.
Jump to:
TruSens Z-3000 Specifications:
Parameter
Value
Model
Z-3000
Filtration Technology

Mechanical 3-Stage: 3-in-1 pre-filter, carbon filter, and HEPA filter.
Electronic: UVGI (UV-C bulb).

Common air cleaning technologies of air purifiers.
HEPA Class

True HEPA

Filter Life

HEPA: 12 - 15 months
Carbon: 3 - 4 months
UV-C bulb: 1 - 3 years

Maximum CADR

191 cubic feet per minute (cfm) for Smoke

Room Coverage (8 ft ceilings)
285 sq ft with 5 air changes per hour (calculate ACH for your room)
Sensors
✔️ (detached particle sensor)
Fan Speeds

5

Automatic Mode
✔️
Noise Level
30 - 60 dB
Rated Power
68 Watt
Weight
13.2 lbs
Dimensions
28″H x 10″W x 10″D
Deal Alert
TruSens Air Purifier with UV-C Light + True HEPA Filtration | Large |...
CAPTURES AND DESTROYS POLLUTANTS: 360-degree DuPont True HEPA filtration captures pollutants such as airborne viruses, allergens, and...
SMARTER SENSING: Most traditional purifiers don't know the air quality in the room. TruSens does, and reacts. Our remote SensorPod will...
DUAL AIRFLOW: PureDirect proprietary technology splits clean air into two air streams, delivering purified air more comfortably and...
DETAILED LED DISPLAY: Air conditions in your home can change rapidly. Information is power and TruSens purifiers give you the power to...
CLEANER AIR EVERYWHERE: The Z-3000 Air Purifiers are recommended for spaces up to 750 sq ft at 2 air changes per hour (ACH) or 1,425 sq...
Last update on 2022-11-27 at 05:53 / Affiliate links / Images from Amazon Product Advertising API
In-depth Review of TruSens Z-3000 Air Purifier:
TruSens Z-3000 is a cylindrical-shaped air purifier with a 360-degree air intake at the bottom and a two-way air outlet at the top.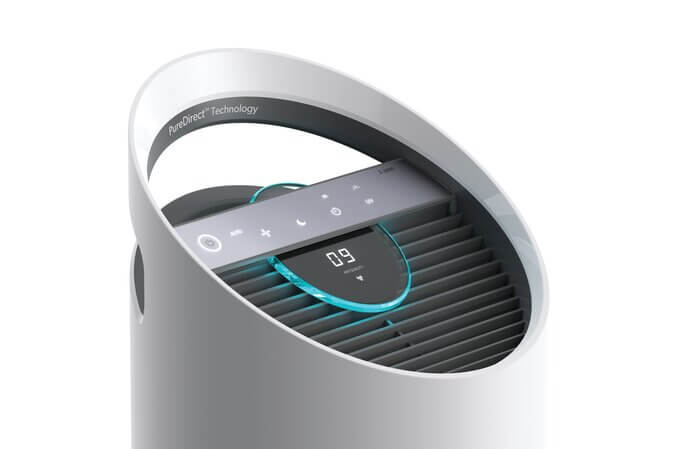 Unlike common air purifiers, it uses a detached air quality sensor to measure the air quality conveniently in the room.
The touch control panel, air quality indicator, and carrying handle are placed beautifully on the top. The body is made with high-quality plastic with a glossy finished design.
Here are the top features:
Washable pre-filter
The filter set's outer layer is a fibrous sheet filter that captures larger pollutants such as pollen, pet dander, lint, and hair.
The pre-filter is attached to the main filter with adhesive, also removable. It can be washed softly by hand in the water. TruSens suggests cleaning the pre-filter once every month.
The pre-filter comes with the HEPA filter. So, you will get one free with the HEPA filter replacement set.
Impregnated carbon filter sheet
After the pre-filter, you have the carbon filter sheet. The filter is impregnated with activated carbon to remove light household odors. The carbon filter Dupont branded. Since it is an impregnated carbon sheet filter, it is less effective than activated carbon pellet-based filters.
The carbon filter has a shorter lifespan, 3-4 months. It has a separate indicator for replacement.
The carbon filter is placed in between the HEPA filter and the outer pre-filter. So, you need to remove the pre-filter to replace the carbon filter, secured by an adhesive layer. For someone, the replacement process might be troublesome.
However, TruSens offers 4 types of replacement filters you can purchase:
True HEPA as the core filtration
The core particle filter is a Dupont branding true HEPA filter. The true HEPA filter captures 0.3-sized particles with 99.97% efficiency.
This includes ultrafine airborne dust, smoke particles, viruses, and bacteria. The filter has a longer lifespan; with normal use, it lasts up to 15 months. However, you might need to change it prior if you live in a poor AQI city.
TruSens Z-3000 also has a separate filter replacement indicator for the HEPA filter.
UV-C sanitizer
The model also has a UV bulb at the core that acts as an air sanitizer at the last stages of air filtration. The UV light bulb deactivates molds, viruses, and bacteria in the filter. This helps to prevent any secondary pollution from the filter.
Also, the UV light is optional, and you can turn it off. The UV bulb lasts 1 to 3 years, and it also has a separate indicator for replacement alert.
Detached particle sensor
Unlike conventional air purifiers, Trusens Z-3000 comes with a detachable air quality sensor to monitor the air quality remotely, known as SensorPod. This unique air quality sensor will allow you to run the air purifier automatically based on remote air quality sensing.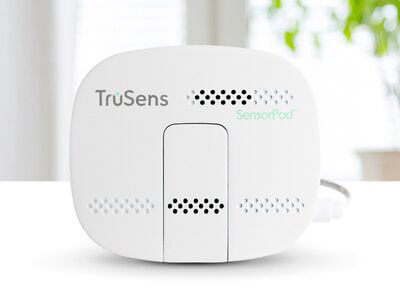 This feature is useful, especially when you cannot place the air purifier close to the source of air pollution. In this case, you can put the SensorPod near the source of contamination and place the air purifier elsewhere in the room.
The SensorPod automatically pairs with the air purifier when you plugged-in into a power outlet. However, it works only within a 15-meter range, and for a better connection, don't put obstacles in between them.
The SensorPod only detects dust particles using an infrared-based particle sensor. It lacks a VOC sensor to monitor odors and chemicals in the air.
You have to clean the sensor lens once every month.
Auto mode
TruSens Z-3000 automatically adjusts the fan speed based on the SensorPod data when set on automatic mode. Besides the auto mode, it has five-level fan speed settings you can set.
Low noise profile
Noise is an important aspect when you are going to get an air purifier. During allergic seasons, you may have to run the purifier all night at lower speeds. The TruSens Z-3000 has a whisper-quiet noise level at the lowest fan speed settings, only 30 decibels. The manually-activated sleep mode feature dims all the lights, perfect for a profound sleep.
However, the noise level at the maximum fan speed is 60 decibels, close to air conditioners.
Intuitive control panel
The control panel bar at the top looks neat and futuristic. Here you can find the options for changing modes, set fan speeds, sleep mode, power, UV light, and timers (2h, 4h, 8h, & 12h).
A circular panel is placed below the control bar, which shows the Air Quality Index (AQI) with numeric and glowing color. They are blue, yellow, and red for good, moderate, and poor air quality.
Dual airflow streams
TruSens Z-3000 incorporates a two-way split air outlet instead of unidirectional delivery. The two airflow streams from the top are efficient to circulate the air throughout the room.
It delivers the air by 30:70 ratio with its split airflow design.
Suitable Room Size for TruSens Z-3000:
*The room size calculation is based on an ideal situation. For best practice, consider the size of the room a little less than the calculated value.
If you have higher ceilings, then use our Air Changes per Hour Calculator to calculate the suitable room size.
TruSens Z-3000 Operating Costs:
Filter Replacement Costs:
Mechanical: ~ $59 for standard HEPA filter, 12 – 15 months usage, and ~ $29 for 3-pack standard carbon filter, 3 x 4 months usage (check availability & filter price on Amazon: Pre + HEPA and Carbon Filter. Check on TruSens).
Electronic: ~ $29 for UV bulb, 1 – 3 years usage (check current price on TruSens).
Monthly Energy Consumption: ~ $3 (based on 12 cents per kWh and 12 hours use on the top speed per day). Use our Energy Usage Calculator to find out the bill based on your usage and the local energy rate.
Video Commercial:
Pros & Cons:
Check out our review >>> The 7 Best UV Air Purifiers & The 7 Best Stylish Air Purifiers.
TruSens Z-1000 vs. Z-2000 vs. Z-3000:
TruSens Air Purifier Model
Small without SensorPod
Z-1000
Medium with SensorPod
Z-2000
Image
Room Coverage
85 sq ft 5 times per hour
140 sq ft 5 times per hour
285 sq ft 5 times per hour
Small without SensorPod
TruSens Air Purifier Model
Image
Room Coverage
85 sq ft 5 times per hour
Medium with SensorPod
TruSens Air Purifier Model
Image
Room Coverage
140 sq ft 5 times per hour
Large Form Factor
TruSens Air Purifier Model
Image
Room Coverage
285 sq ft 5 times per hour
Last update on 2022-11-27 at 05:53 / Affiliate links / Images from Amazon Product Advertising API
Final Thoughts
TruSens Z-3000 is an aesthetic air purifier that will easily blend into any modern interior. The detached air sensor will give you more convenience to use this air purifier. The dual airflow design will help increase the efficiency of air cleaning.
If you are looking for a modern and effective air purifier with UV light, then TruSens Z-3000 could be a perfect fit for you.