TruSens Z-3000 air purifier is a futuristic unconventional design air purifier that comes with some useful features. The remote air quality monitoring makes it completely different from others. The 360-degree air inlet and split air outlet design will add some efficiency in the air cleaning effort. In this article, we are going to breakdown its specs and features from different room sizes and air pollution scenarios with pros & cons and a comparison with its two size variants.
Specifications and Features:
At first, let us check the specs below:
Filtration: Pre-filter, HEPA, Carbon, and UV light.
HEPA class: True HEPA
Filter life: 12-15 months for HEPA, 3-4 months for Carbon, and 2-3 years for the UV bulb
CADR: 200 cfm
Sensor: Particle sensor (infrared light)
Coverage: 750 sq ft at 2 air changes per hour or 300 sq ft at 5 air changes per hour
Number of manual fan speed: 5
Automatic mode: Yes
Size: 28.6″H x 10.4″W x 10.4″D
Device weight: 12.6 lbs
Rated power: 68 W
Noise level: 32-66 dB
Voltage: 110-120 V AC 60 Hz
TruSens Air Purifier | 360 HEPA Filtration with Dupont Filter | UV Light...
SMARTER SENSING: Most traditional purifiers don't know the air quality in the room. TruSens does, and reacts. Our remote SensorPod will...
CAPTURES AND DESTROYS POLLUTANTS: 360-degree DuPont filtration captures pollutants such as allergens, VOC gases and microscopic...
DUAL AIRFLOW: PureDirect proprietary technology splits clean air into two air streams, delivering purified air more comfortably and...
DETAILED LED DISPLAY: Air conditions in your home can change rapidly. Information is power and TruSens purifiers give you the power to...
TOTAL ROOM COVERAGE: Most traditional purifiers can leave rooms with areas of little to no air circulation, or dead zones, by only...
Trusens Z-3000 is a cylindrical shaped design air purifier that uses a 360-degree air intake at the bottom and a two-way split air outlet at the top.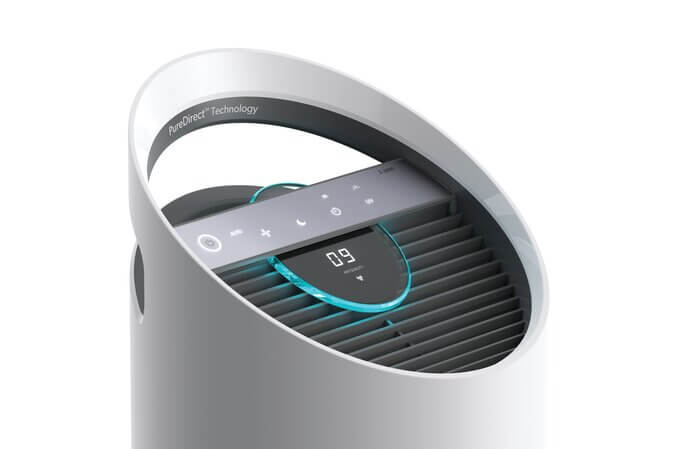 Unlike the other air purifier, it uses a detached air quality sensor that will be needed to plug into the power outlet through a power cord.
The touch control panel, air quality indicator, and a carry handle placed beautifully on the top. The body is made with high-quality plastic with a glossy finished design. The cylindrical filter is replaceable from the base.
In-depth Review of TruSens Z-3000 Air Purifier:
Core True HEPA Filter: The primary air filter is a cylindrical true HEPA filter, which is made by Dupont. The HEPA filter is capable of removing airborne particle pollutants that are sized down to 0.3 microns in diameter with a high 99.97% efficiency. So, it will capture all household dust and allergens like dust mites, pollen, mold spores, dust particles, and smoke particles. It has a surprisingly excellent filter life, which is 12 to 15 months. Trusens Z-3000 has a filter replace indicator for the drum HEPA filter.
HEPA drum filter price: $59 (check the current filter price at amazon)
Activated Carbon Filter: Truesense Z-3000 uses a filter sheet impregnated with activated carbon substances to absorb odors, VOCs, and chemicals from the air. The carbon filter also comes from Dupont. Since it is an impregnated carbon sheet filter, so it is less effective than honeycomb structured carbon filter for chemical absorption. Although, the 3-4 months lifecycle of the carbon filter indicated its effectiveness. There is an indicator of this filter on the control panel.
The carbon filter is placed in between the drum HEPA filter and the outer layer pre-filter. So, you need to remove the pre-filter to replace the carbon filter, which is also secured by an adhesive layer. For someone, the replacement process might be troublesome.
Carbon filter price: $29 per 3 pack (check the current filter price at amazon)
Washable Pre-filter: The outer layer of the combined drum filter is a fibrous sheet filter that will absorb the more significant pollutants like hair, pet dander, lint, and so on. The filter sheet is attached to the filter drum with adhesive, and it is removable. This filter can be washed softly by hand in the water. Trusens suggests cleaning the pre-filter once every month.
The pre-filter comes with the HEPA filter. So, you will get one FREE with the HEPA filter replacement set, which needs to be replaced in 12 to 15 months.
UV-C Sanitizer: There is a UV bulb that acts as an air sanitizer placed at the 4th level of air filtration. The UV light will purify any leftover microbes, which passes the core filtration. Also, it will help to reduce the secondary level of air pollution by stopping the microbial growth in the filter. Although, the UV filtration is optional, and you can keep it turned off.
The UV bulb needs to be replaced in 2 to 3 years, and like the HEPA and the carbon filter, it also has an indicator for UV bulb replacement.
SensorPod: Unlike the traditional air purifiers, Trusens Z-3000 comes with a detachable air quality sensor to monitor the air quality remotely, which they called a SensorPod. This unique remote air quality sensor will allow you to run the air purifier automatically based on the remote air quality sensing. Sometimes, it is not possible to put the air purifier close to the source of air pollution. In this case, you can place the SensorPod near the source of contamination and put the air purifier conveniently somewhere in the room.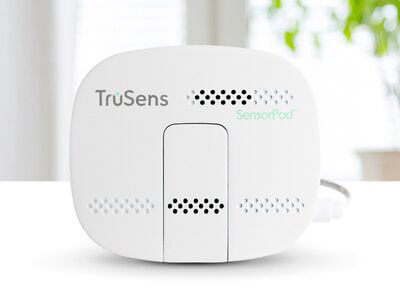 The SensorPod also needs to plug-in to the power outlet, and it will pair with the air purifier automatically. You can put the SensorPod within a 15-meter range, and obstacles should be avoided in between them to build secure communication with the air purifier.
The detachable SensorPod design is useful for many, but it lacks a VOC sensor to monitor odors and chemicals in the air. SensorPod uses only a particle sensor.
You will need to clean the sensor once every 1 to 2 months to get optimum results.
Automatic Mode: Trusens Z-3000 automatically adjusts the fan speed based on the SensorPod data when set on automatic mode. Besides the auto mode, there are five-level fan speed settings you can set.
Control and Display Panel: The control dashboard looks very modern and futuristic. You can change the fan speed, set the dimmer for the night or set a timer (2h/4h/8h/12h), or control the UV bulb from the touch control panel bar.
A circular display panel placed below the control bar, which shows the air quality index (AQI) with numeric and also three types of color glow, which are blue, yellow, and red for good, moderate, and poor air quality respectively.
Dual airflow direction: Trusens Z-3000 uses a two-way split air outlet instead of unidirectional airflow. The two airflow streams from the top will increase efficiency to circulate the air throughout the room. It delivers the air by 30:70 ratio with its split airflow design.
Coverage, CADR, and ACH: Trusens didn't provide the CADR directly. However, we can calculate the CADR as they say It can be used in a room size of 750 square feet where you will get 2 air exchange per hour. From the data, the CADR is 200 cfm, which is not very impressive for a large room or if you need a more air exchange per hour.
You can find out the number of air exchanges per hour for your room you will get from this air purifier using our ACH Calculator.
Official Introduction Video:
Our Recommendation to select Trusens Z-3000:
Annual Maintainance Cost:
Filter Replacement: ~ $90
Energy Consumption: ~ $36 (based on 12 cents per kWh and 12 hours use on turbo mode per day). Use our Energy Consumption Calculator to find out the bill based on your usage and the local energy rate.
Certifications: TruSens Z-3000 air purifier is CARB certified for ozone safety. Although AHAM does not verify the CADR.
Pros and Cons:
Comparison between the Trusens Z-1000, Z-2000, and Z-3000:

Image
Coverage
120 sq ft at 4 air changes/hr
180 sq ft at 4 air changes/hr
360 sq ft at 4 air changes/hr
Small
Image
Coverage
120 sq ft at 4 air changes/hr
Medium
Image
Coverage
180 sq ft at 4 air changes/hr
Large
Image
Coverage
360 sq ft at 4 air changes/hr
Is it worth it to buy?
Trusens Z-3000 is a futuristic design air purifier that will easily blend into any modern house as decor. The remote air sensor will set you free for you to put the air purifier near the source of air pollution. The dual airflow design will help increase the effectiveness of cleaning the air. If you care about these, then this air purifier is the one you are looking for, and it will definitely be a worth decision to own it.