When it comes to purifying the indoor environment, nothing does a better job than an air purifier. Numerous things contribute to the pollution of indoor air. Some of these things include pollen, smoke, and pets, just to name a few. While these purifiers do a great job, most have one huge demerit- the noise. If you have children in the home, this noise can make them uneasy and fussy.
Investing in a quiet air purifier is one of the best decisions a homeowner can make because you eliminate allergens in the air, keeping everyone comfortable. You reduce the unwanted pollutants without having to deal with the noise. But, there are some factors that you need to consider when you are looking for the best quiet air purifier. This review will look at seven of the best whisper-quiet air purifiers and a guide on the essential features to look for when purchasing.
If you're in a hurry, check out our best picks:
Air Purifier
Our Top Pick
RabbitAir BioGS 2.0 Air Purifier
Best Trending
TruSens Air Purifier Z-2000
Best Mid Range
RENPHO Air Purifier
Image
Our Top Pick
Air Purifier
RabbitAir BioGS 2.0 Air Purifier
Image
Best Trending
Air Purifier
TruSens Air Purifier Z-2000
Image
These Air purifiers are suitable for those:
Who wants to use air purifiers in the bedroom during sleep.
Who suffers from allergic rhinitis (symptom: morning sneezing and runny nose) needs to use air purifiers all night.
Who needs to use air purifiers on baby rooms to remove allergens from the air.
HEPA air purifiers are effective in removing both particulates and house dust mites allergens from the air. (Source)
The factors that we took into account:
True HEPA filter air purifier
Super quiet operation at lowest settings
Sleep mode (automatic would be better)
Automatic mode based on air quality, and timer mode
Energy Efficient
A quick comparison of the noise level in decibel (dB) scale:
Read our review >> The 5 Best Ozone-free Air Purifiers
7 Best Quiet Air Purifiers List:
1. RabbitAir MinusA2 Ultra Quiet HEPA Air Purifier
If you are looking for a quality product that will purify indoor air without disturbing your peace, then RabbitAir MinusA2 is all you need. It is also designed with advanced HEPA filtration technology and operates on 6-stages of deodorization and purification.
Unlike other purifiers, MinusA2 runs on 20.8 dB low noise, which ensures you can have it in an office or even the bedroom. The low profile operation with true HEPA filtration allows you to have the consistency of fresh air without interfering with your concentration. The light sensor and the particle sensor will help to run this air purifier for overnight without consuming much energy.
This device is designed to either stand alone in a room or mounted on the wall. Therefore, it gives you the freedom to set it according to your specifications. This air purifier has 2 variants based on coverage. The SPA-700A is for 700 square feet room, and the SPA-780A variant is capable of cleaning a room of approximately 815 square feet with 2 air changes per hour.
The larger variant also has black and white color options with wifi and non-wifi connectivity. Another great thing about this air purifier has four flexible filter choosing options for buyers' specific needs, although all 4 types of replacement filters cost the same.
Recommendations: It will cover approximately 325 square feet with 5 air changes per hour. The energy-efficient DC motor and the low noise operation is suitable for use in medium to large bedrooms. The comparatively low noise at the highest speed and the activated carbon filter will eliminate indoor pollution silently, even in higher fan speed settings.
Pros & Cons:
Complete review >>> RabbitAir MinusA2 Purifier
2. RabbitAir BioGS 2.0 Ultra Quiet HEPA Air Purifier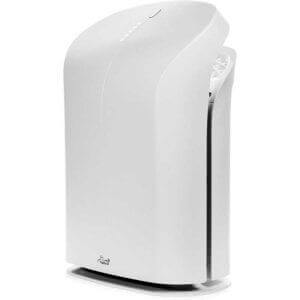 The purifier filters the air with 4-stages of deodorization and purification. It also features 5-speed variation to ensure you can set it to meet personal specifications. The noise level ranges between 22.8 – 48.6 dBA allowing you and other people in the house to enjoy silent air filtration.
In other words, you can comfortably set this gadget in the bedroom and enjoy quality sleep as the air is filtered too.
RabbitAir BioGS 2.0 has two base variants based on room coverage. The SPA-550A can be capable of clean the air in a 550 square feet room, and the SPA-625A can do the job in 625 square feet room with 2 air exchanges per hour (ACH) when setting on high speed. The larger variant has two design options. It has an integrated air quality monitor, and the automatic mode with an energy-efficient motor is suitable for use it in bedrooms during sleep.
The filters last for three years based on daily 12 hrs of operation as they claim. Though, it has a filter life indicator that will tell you when to replace the filters.
Recommendations: It will cover approximately 220 square feet (SPA-550A) and 250 square feet (SPA-625A) with 5 air changes per hour. If your primary concern is only for allergens and not for odor, then you can select it rather than the RabbitAir MinusA2 model. The rated power is only 29 watts for SPA-550A and 39 watts for SPA-625A, so you can use it all day long without getting worried about bills.
Pros & Cons:
3. Okaysou AirMax8L Air Purifier
Okaysou AirMax8L HEPA air purifier produces complete natural airflow with no ionizer and UV-C lights, which ensures you enjoy 100% ozone free air.
When you buy this purifier, you will enjoy the services of true HEPA filtration as it captures up to 99.97% of 0.25 microns airborne particles.
Additionally, it operates on noise levels of 28dB at the lowest fan speed, which makes it comfortable to use during the night as you sleep.
Recommendations: You will get 5 air exchanges per hour in a small size room of 160 square feet. Since it is ozone-free, it has a sleep mode, with low noise profile and child lock features, that is suitable to use in the kids' room.
Pros & Cons:
Complete review >> Okaysou AirMax8L Air Purifier
4. Pure Enrichment PureZone 3-in-1 Air Purifier
Apart from breathing quality air, it feels good when you are sure the air is free from germs and bacteria. This is what you get when you invest in this Pure Enrichment Purezone air purifier. It purifies the air for quality room air and enhanced health. The purifier features a true HEPA filtration that captures up to 99.97% of pollen, mold spores, pet dander, smoke, and other household dust.
When switched on, it produces UV-C light, which safely destroys micro-organisms such as viruses, mildew, and germs. These micro-organisms are always present in the air, and unless you have something to trap and destroy them, your risk is breathing them in. However, this device keeps you and the entire household safe from bacteria and germs.
The device sets up in seconds, and it is easy to operate. Therefore, you don't have to acquire particular skills to purify your air. It also features whisper-quiet operation with a noise level of 30dB. Consequently, it is suitable for use even during the night as it will not disturb your resting mode.
Recommendations: The coverage is very small, you will get 5 air changes per hour in 120 square feet room. This is a small desktop-grade air purifier, and the portability with a low noise profile is suitable to use your desk where you spend most of the time.
Pros & Cons:
5. InvisiClean Claro Air Purifier
Nothing purifies the air better than when you have a real-time air quality monitor. InvisiClean Claro air purifier has an advanced PM sensor that detects and measures even slight changes in air quality. Additionally, you will get room temperature and humidity reading on its display, which is not so common in air purifiers. It also has an auto setting mode that automatically enhances fan speed depending on the air quality at a particular hour. Therefore, you don't necessarily have to be in the house to purify the air.
Although it has a compact design, this gadget is designed to purifier large rooms and save you energy. It's four-speed variation supplies you with sufficient air within a short time.
Also, when you invest in this purifier, you can customize its uses to meet your specific expectations. Its advanced features allow you to adjust every setting from fan speed to filtering mode. Additionally, it comes with a 3-year warranty and lifetime support, allowing you the confidence of operations at all times.
Recommendations: It will cover 300 square feet with 5 air exchanges per hour. Suitable for medium to large bedrooms, use at night to remove allergens since it has low noise profile, sleep mode, and automatic mode based on air quality. Though its odor filter is not great so don't select it if you want to remove some unwanted smells or gases.
Pros & Cons:
6. TruSens Air Purifier
What makes this air purifier a good option for most households is its ability to sense and react to the quality of air in a room. It has a remote sensor pod, which actively monitors the quality of air from across the room and takes appropriate action.
TruSens air purifier captures pollutants with HEPA filtration and destroys microbes with UV-C light in a room by taking the air from 360-degrees. The odor removal filter is not great, though.
It also splits the delivered air into two streams to achieve better air circulation throughout the room. Another benefit of investing in this purifier is that it has a compact design and easily portable.
Recommendations: This futuristic design comes with 3 size variants you can choose from. This quiet, energy-saving and super portable air purifier is suitable for using it anywhere in your house. Choose it to remove pollen, pet dander, dust, dust mites, and other particulate allergens. Don't select it for smoke, cooking odor, VOCs, or gases.
Coverage:
Small Z-1000: 65 CFM, 120 sq. ft. at 4 air changes/hr
Medium Z-2000: 100 CFM, 180 sq. ft. at 4 air changes/hr
Large Z-3000: 200 CFM, 360 sq. ft. at 4 air changes/hr
Pros & Cons:
Complete review >>> TruSens Z-3000 Air Purifier
7. Renpho AP001 Air Purifier
Renpho AP001 air purifier operates on 4-stages of filtration system: pre-filter, activated carbon filter, charcoal filter, and true HEPA filter. All these stages effectively eliminate up to 99.97% of airborne pollutants sizes down to 0.3 microns, including pollen, dust, mold spores, smoke particles, household odors, and VOCs.
A great feature of this air purifier has a separate filter replacement indicator. Therefore, you don't have to replace all filters when the only one requires replacement. The indicator flashes to show, which filter should be replaced at a particular time.
Recommendations: This is perfect for use in your kids' room to ensure allergens-free air. It features a sleep mode, child lock with no ozone generation at quieter operation. Also, the moderate airflow rate of 135 CFM is suitable for a room-sized of 200 square feet at 5 air changes per hour.
Pros & Cons:
How to Choose the Best Quiet Air Purifiers:
HEPA filter: To effectively capture tiny airborne particles, you need to select HEPA filters equipped air purifier. HEPA filters are great at capturing airborne allergens sizes down to 0.3 microns at 99.97% efficiency. Be sure the filter is true HEPA, not HEPA-type or HEPA-like.
Noise level: These purifiers will be used both day and night. You always want your personal space to be as silent as possible. This is why you should always check the noise level on the purifier you buy. The quietest air purifiers have a noise level of about 15 – 25 dB while the noisiest range between 65 – 75 dB. Normally, anything above 35 dB will create a noise that some people cannot sleep through.
Automatic mode: For these sensors, you will have to pay a little extra. These will tell you how clean the air is and inform you when the filter needs to change. If you want these features, you may have to pay a little extra, but it is worth it. The auto mode enables the device to adjust the fan speed according to the pollution level in the room. The sensor also minimizes energy usage and the noise level by ensuring that the air is always adequately clean, so the fan speed does not go to high.
Night mode: Of course, if you want a silent air purifier, you want one that can be in the room while you sleep. This feature ensures that the purifier's lights are dim enough to allow you to sleep comfortably. Dim lights ensure that you have a restful night without having to deal with any disturbances.
Coverage: You need to know what amount of space the air purifier can clean at a time. Of course, the bigger the unit, the more area it can cover. You do not want to buy one that is too small for the room, and it keeps working excessively, trying to cover more ground. Find out your required CFM with our CADR calculator and try to buy an air purifier that is closest to the CFM.
Energy-efficient: Additionally, an energy-efficient air purifier will give you tension free about the electric bill while running all day and night. Check out the energy rating level before buy.
Final Thoughts
Cleaning the home is not always about washing, dusting, and vacuuming. Clean air is free from allergens and harmful toxins. A silent air purifier can comfortably reduce the allergy and asthma triggers from indoor air.