Clean air is the most vital element of human life to avoid health problems such as asthma and other respiratory illness. Due to industrialization coupled and urbanization, pollutant concentration indoors and outdoors is rising.
According to EPA, one of the best ways to remove airborne contaminants after source control is to run an air purifier. Before buying an air purifier, there are several factors to consider. They include:
Filtration efficiency
Clean Air Delivery Rate
Ozone emission-free
Air quality sensor
Maintenance costs
One of the most critical factors that you should always consider is brand. Which brand of air purifier is the best?
In this post, we'll discuss what air purifier brand is best for your needs.
Top 5 Air Purifier Brands
Here are the top 5 air purifier brands based on our in-depth analysis.
1. IQAir
History: IQAir is a Swiss company that specializes in the making of high-quality air purifiers and air quality monitors. Founded in 1963 by brothers Klaus and Manfred Hammes, the company was the first to introduce an air filtration system for Germany's coal ovens. Thanks to their innovative system, they helped to reduce the black dust build-up on oven walls.
Manfred Hammes was living with asthma. Upon research, he discovered that a filter helped to reduce his asthma attacks during the cold months of winter. His brother took the idea of an air filter and incorporated it into other heating systems.
In the 1980s, Klaus relocated the company to Switzerland from Germany. A decade later, his eldest son, Frank Hammes, joined the company. He helped to expand the research and development division and the in-house manufacturing division.
As a result, the company was able to ship its first high-performance air purifier in 1998. The company employs a variety of particle removal technologies.
Core Air Filtration Technology: The primary filtration technology is the IQAir's patented HyperHEPA system. This is a particulate filter that effectively removes 99.5% of ultrafine particles as small as 0.003 microns.
Today, the company has 500 employees with offices in Asia and North America.
Best Selling Model: IQAir HealthPro Plus Air Purifier
IQAir HealthPro Plus features a 3 stage filtration system: pre-filter, activated carbon filter, and HyperHEPA filter. It has a maximum CADR of 300 cfm, can clean a 450 sq ft room five times an hour.
As such, it's perfect for living rooms, bedrooms, and office spaces. To deliver a stream of fresh, clean air, the purifier uses EvenFlow Diffuser technology. However, it lacks an air quality sensor and smart home compatibility.
In-depth review >>> IQAir HealthPro Plus Air Purifier
2. Honeywell
History: Honeywell is a technology company serving customers with mostly air control and aerospace products. We can trace the company's roots back to 1885.
Albert Butz, an inventor, patented the furnace regulator and alarm. To market his new invention, he founded Butz Thermo-Electric Regulator Co., headquartered in Minneapolis. He later invented the damper flapper, the predecessor of the modern thermostat.
After some accusations, the company rebranded to Electric Heat Regulator Co. It later became Minneapolis-Honeywell Regulator Co. They became the biggest producer of high-quality jeweled clocks. The company grew quickly and began catering to customers in the aerospace industry.
Honeywell partners with NASA since the 1960s.
The company also developed the:
Analog Flight Computer
Vehicle Stabilization
Environmental Control System
Terrestrial Telecommunications
These technologies contributed to the success of missions by Apollo 11. In fact, the ECS provided pure oxygen and drinking water to Neil Amstrong, Buzz Aldrin, and Michael Collins.
Core Air Filtration Technology: Honeywell air purifiers use True HEPA filters that trap 99.97% of pollutants as small as 0.3 microns. They also use low efficient HEPA-Type filters and permanent Electrostatic ifD Filter in their air purifiers.
Best Selling Model: Honeywell HPA300 Air Purifier
The Honeywell HPA300 is a worthwhile investment. Energy Star Certified, it captures 99.97% of pollutants as small as 0.3 microns. It has a powerful filtration system that includes a composite activated carbon pre-filter and a True HEPA filter.
The filtration system can trap large and small particles such as dust, pollen, pet dander, pet fur, and odors from cooking and pets. Recommended for a 465 square foot room, where it can clean five times in an hour. The downside is, the impregnated carbon filter is less effective than pelletized carbon filters.
Check out our review >>> The 5 Best Honeywell Air Purifiers
3. Blueair
History: Blueair is a Swedish brand founded in 1996 by Bengt Rittri. Currently headquartered in Stockholm, Sweden, the company designs and manufactures air purifiers. They do so to help people living with asthma and allergies reduce flare-ups and create a healthy living environment.
Bengt Rittri initially worked for Electrolux, a Swedish multinational. He worked with Wennerstrom, a filter development expert who designed the first Blueair purifiers.
What inspired Bengt to start the company is to ensure his children breathe fresh Swedish air while at home. The company manufactures a broad range of air purifiers for filtering airborne pollutants.
Core Air Filtration Technology: Blueair purifiers use a patented technology called HEPASilent. Traditional True HEPA filters use dense materials, which means less air passes through.
With HEPASilent technology, the purifier uses electrostatic and mechanical filtration. Basically, the fan pulls air into the purifier. It goes through an ionization chamber. Ions charge the particles, which makes it easy for them to stick on the filter layers.
Once the particles get filtered, the purifier distributes the clean, fresh air in the room.
Best Selling Model: Blueair 211+ Air Purifier
If you're a fan of Scandinavian decor, this is an excellent addition to your home. The Blueair 211+ Air Purifier has a sleek, modern design with clean lines. Simple to place, the purifier has a 360-degree air inlet. This means you can place the unit anywhere without compromising its performance.
It features a one-button control making it easy for you to turn on/off the purifier. The unit has a built-in warning system. When it's time to change the filters, it glows red. You can customize the pre-filter colors. There are five colors available that include dark shadow and diva blue.
4. RabbitAir
History: RabbitAir is a Los Angeles based company that designs and makes air purifiers to improve quality of life. Founded in 2004, the company founders began fulfilling customers' orders from their garage.
In 2005, RabbitAir launched the BioGS Classic air purifier. They also moved their operations from their garage to Monterey Park in California. In 2008, they introduced their second air purifier, the MinusA2.
Five years later, after launching the MinusA2 and winning the Inc 5000 Award, RabbitAir launched the BioGS 2.0 air purifier.
Core Air Filtration Technology: The core purification technology for all RabbitAir air purifiers is the BioGS HEPA filter. This is an advanced filtration system that's an improvement of the traditional HEPA filter. It's composed of electrostatically charged fiber material. This material traps pollutants as small as 0.1 microns at 99.9% efficiency.
Best Selling Model: RabbitAir MinusA2 Air Purifier
The MinusA2 has a 6 stage filtration system that includes a pre-filter, medium filter, and a BioGS HEPA filter. It also has a customized filter, an activated carbon charcoal filter, and a negative ion generator.
The air purifier has a low-noise fan that can clean a room of 400 square feet five times in an hour.
5. Coway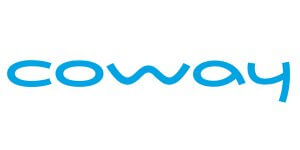 History: Coway started as a water purifier business and venture company back in 1989. The company sold door to door before they started the air purifier division. The water purification business enabled many households to drink clean water.
In fact, the company made the water purifier a household product just like a TV or refrigerator in the Republic of Korea.
After the company started the air purifier business, they adopted Cody Service and entered the Trillion sales club. Since adopting Cody services, Coway grew to become the #1 company in the industry. It was also ranked #1 in brand awareness and market capitalization growth in Korea.
Today, it has 4,781 employees and has made more than $2,004 million in sales.
Core Air Filtration Technology: The core air purification technology found in Coway air purifiers is True HEPA technology. The True HEPA filter can trap 99.97% of airborne pollutants. That includes fine particles as small as 0.03 microns.
Best Selling Model: Coway AP-1512HH Air Purifier
This compact model with a 4-in-1 filtration system includes a pre-filter, deodorization filter, True HEPA filter, and ionizer. As such, the purifier can capture and reduces both particulates and odorous pollutants.
It features pollution sensors that detect concentration levels of particles in the air. The unit has a brightly colored LED that lets you know how dirty or clean the air is each day. Energy-efficient and stylish, the sound level of the unit is 24.4 to 53.8 dB.
Final Thoughts
When shopping for top air purifier brands, it's recommended that you check online reviews. Past customers can offer insight into the functionality and durability of a particular model. This does mean that you should avoid new models. It's better to be safe than sorry.
Besides the air purifier's brand, we recommend looking for models with CARB, AHAM, Energy Star, FCC, and ETL approvals.
Such models do not emit ozone excessively, which can irritate your throat and lungs if inhaled. Also, they save on monthly energy costs.