Who doesn't like the aroma of frying bacon out of the kitchen before dinner, everyone does! However, the odor can still in your living room or the bedroom after dinner, even the next day. Especially when you have a poorly ventilated kitchen or you live in a small apartment. The kitchen odor can easily be stuck to clothes, curtains, or other fabrics for its sticky nature. The best way to get rid of the cooking smell is to use an exhaust fan properly. Some unique kinds of air purifiers can prevent odor from spreading to the other rooms from the kitchen. Here we are going to review five best air purifiers to get rid of cooking odors used in the kitchen.
If you're in a hurry, check out our best picks:
Air Purifier
Our Best Pick
Levoit Vital 100 Air Purifier
Best in Compact
Bissell 2780A MyAir
Best in Premium (All round)
Dyson Pure Cool DP04
Image
Our Best Pick
Air Purifier
Levoit Vital 100 Air Purifier
Image
Best in Compact
Image
Ingredients to find out the best air purifiers for the kitchen: Most of the air purifiers are designed to capture particles and not for odors. The cooking odors are made of multiple volatile organic compounds (VOCs), gases, vapors, and few particles. The vaporized oil is sticky and can easily be trapped to walls, clothes, and furniture.
To find out the best kitchen air purifiers, we were looking at the factors: HEPA filter with a thick layer of activated carbon substances, other safe technologies to fight against odor, high air delivery rate, integrated air quality sensor (VOCs and gas) and portability.
5 Best Air Purifiers for Kitchen
Related: 9 Best Air Purifiers for Smoke Review
1. Bissell 2780A MyAir Personal Air Purifier
Bissell MyAir Personal Air Purifier is a compact and super portable that is suitable to use in a small kitchen to reduce the odorous smell. Along with its core HEPA filter, it has an activated carbon filter to capture odors. For regular use, the filter will last no more than three months, and the replacement filter cost is much less comparatively. It takes air from the front and back so you can put it anywhere. As it is a minimalist air purifier, so it lacks an air quality sensor. Although you can set 3 levels (1, 3 & 8 hr) timers and put the air purifier to your preferred fan speed low, medium, or high. Bissell 2780 MyAir is suitable to use in a small kitchen no more than 100 square feet.
Annual filter replacement cost: $64 (check current filter price)
Read the complete review of Bissell 2780A MyAir Air Purifier
Pros & Cons:
2. Winix 5500-2 Air Purifier
A very few HEPA air purifier has plasma wave filtration technology for removing odors and VOCs. Winix 5500-2 air purifier has an additional plasma wave filtration along with a washable AOC carbon filter to neutralize odors. Also, it has a VOC detector to determine indoor air quality, which will trigger when for kitchen odor as the smell is mostly volatilized oil odors. So, you can operate it smoothly in the kitchen. The CADR for tobacco smoke is 232, which is suitable to use it in a large kitchen of 350 square feet where you will get five air changes per hour. The core HEPA filter will remove household dust, pet dander, mold spore, and other tiny airborne particles as small as 0.3 microns. Washable carbon pre-filter will reduce maintenance costs as it will be saturated quickly in the kitchen.
Annual filter replacement cost: $49 (check current filter price)
Pros & Cons:
3. Dyson Pure Cool DP04 HEPA Air Purifier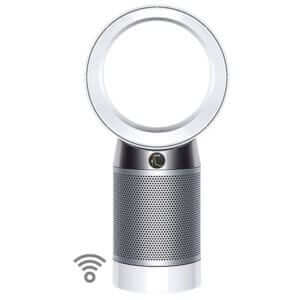 Dyson Pure Cool DP04 HEPA air purifier is a futuristic compact air purifier loaded with features. It has a built-in VOC sensor and an activated carbon filter layer to detect and remove the odorous smell from the kitchen. Also, it has a sensor to detects Nitrogen Oxide (NO2) gas, which may emit from unvented gas stoves or kerosene heaters. Although no air purifier can remove NO2 from the air effectively, you can take appropriate action from the reading. The core true HEPA filter will remove tiny airborne particles. Check out the impacts of indoor nitrogen oxide pollution.
Dyson DP04 has a 350-degree oscillating feature, and you can set in various flexible angles. You also can tilt it to upward or downward directions. It delivers 617 cubic feet per minute of clean air on top speed. It has an extensive ten fan speed control, and the directions can be set to front or back.
Annual filter replacement cost: $79 (check current filter price)
Pros & Cons:
4. Levoit Vital 100 Air Purifier
Levoit vital 100 air purifier is the newest member of the Levoit air purifier family. It is a lightweight, modern and compact yet powerful air purifier for indoor use. Its simple 3-in-1 filtration includes an activated carbon filter which is suitable for absorbing kitchen odors and fumes. Air intake from sides and delivers from the top will help you to place it in a compact kitchen. The CADR of 130 cfm is capable of cleaning a kitchen size of 200 square feet at five air exchanges per hour.
The touch control panel is very convenient, which features a three fan speed setting, 3 level timers, and a timer-based filter life indicator. The filter will last 6-8 months based on usage. You need to change it earlier for poor air quality, and even the filter life indicator doesn't turn ON.
Annual filter replacement cost: $39 (check current filter price)
Pros & Cons:
5. Honeywell HPA250B Bluetooth Smart Air Purifier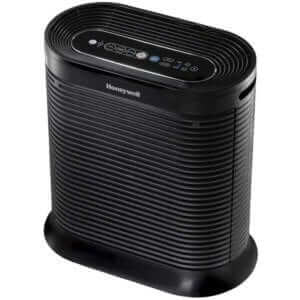 Honeywell HPA250B is the smarter version of Honeywell's most popular 200 series air purifier. The air purifier is equipped with a composite activated carbon pre-filter for absorbing odors. It can operate automatically based on a VOC sensor, which could be very helpful for detecting volatilized kitchen odors. The core HEPA filter will remove dust and other particulate pollutants from the air at a 99.97% efficiency. It delivers 200 cubic feet of clean air per minute that is suitable to use it in the space of 300 square feet.
Annual filter replacement cost: 2 HEPA filter pack $55 (current price of HRF-R2) + 4 odor filter $20 (current price HRF-AP1)
Read our review on best Honeywell Air Purifiers
Pros & Cons:
Kitchen Air Purifier Buying Guide
Odor filtration: The most common and safe odor eliminating method is using an activated carbon reached the filter. Activated carbon or activated charcoal is beneficial at trapping odors, VOCs, and gases. Also, it saturates too quickly. The amount of carbon substance present in the filter will determine the effectiveness of removing odor.
Other comparatively safe technologies are Plasmawave and Photocatalytic Oxidation (PCO). The intentional ozone generator is used for odor eliminator but not suggested to use in residential space.
VOC sensor: Kitchen odors are mostly volatilized oils with multiple particles. If you want smooth automatic operation, then you need to select an air purifier with a VOC sensor. A particle sensor will be excellent, and a combination of both will be great.
Air Delivery Rate (CADR): One big problem with CADR for odor is that the CADR is given only for particles and not for odors. Although some manufacturers use their self tested CADR for VOCs. You can estimate your room size with particulates CADR, but for odors, you have to look at the odor filter. Find your required cfm size with our advanced CADR calculator.
Air Intake and Delivery Design: A compact, flat, and sideways air intake design will help you to place the air purifier in a small kitchen and close to the wall. Some air purifiers take air from the top and push it from the back, and these might not help to place in the kitchen.
Conclusion
Proper ventilation and correctly placed exhaust fans are good enough to get the odor out of the kitchen. Also, cleaning the kitchen after the dinner will help not to linger the odor. Do your heavy cooking outdoors on different occasions. When these options are limited, a specific kind of air purifier can help to reduce most of the kitchen odors. Our carefully selected list for kitchen air purifiers will help to guide your research process in the right direction, so you can make an informed owning decision.